By Ellen Tsaprailis
Photos by Chris Roussakis
Carleton University hosted one of Ottawa's local Terry Fox Runs and raised $185,000 toward cancer research.
More than 1,000 participants ran/walked/pedalled the local route from Hog's Back Bridge to Pretoria Bridge on Sunday, Sept. 16, 2018.
President of the Terry Fox Club on campus, Michaela Kelly, described the scene at the beginning of the race, with a ribbon cutting by cancer survivors and the Raven's Rhythm cheerleaders helping participants warm up before they headed off.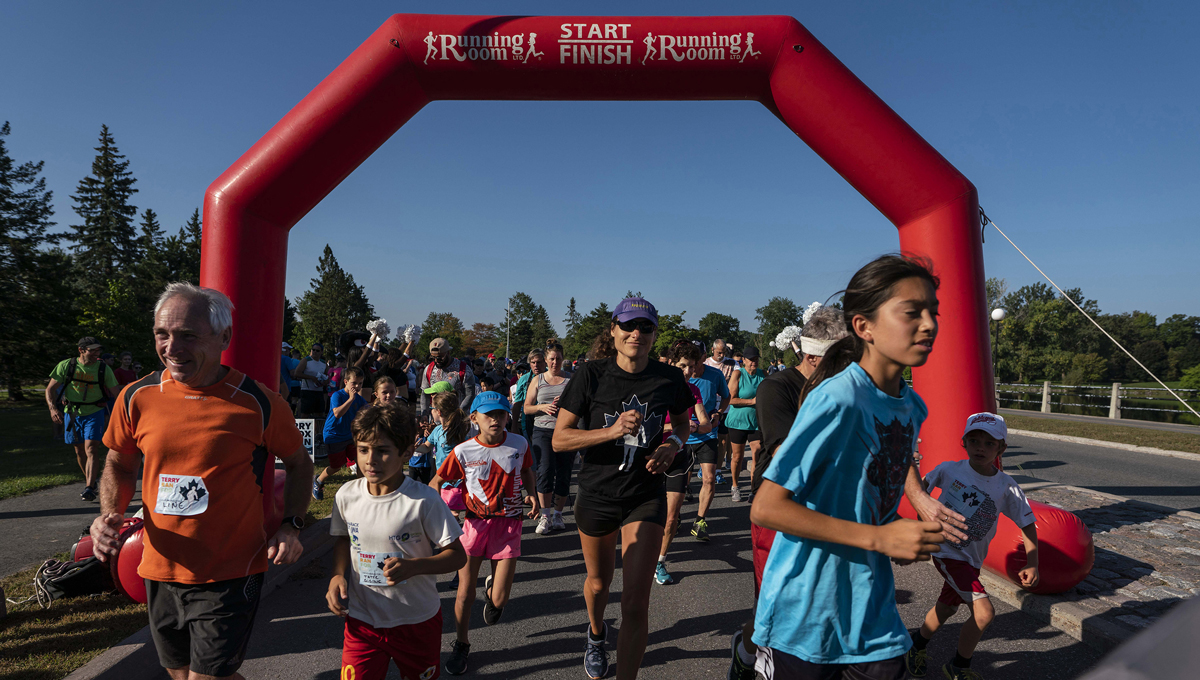 Terry Fox Race Participants Warm Up
"The run kicked off with speeches from Javier Clavelo, who shared his story about participating in Terry Fox runs as a boy in Cuba. Laurie Hospinger shared what Terry means to her as a cancer survivor," said Kelly, who was also pleased to have the run as part of Homecoming celebrations this year.
The chair of Ottawa's Terry Fox Committee, Melanie Griffin, was also on hand to thank Carleton sponsors and outline the day's route.
Carleton's Healthy Workplace (HWP) Officer, Samantha Munro, participated in the run with a team of Carleton HWP employees.
"It was a beautiful day and I was pleasantly surprised to see the large number of people who came out to participate," said Munro. "There were people of all ages and many families came together. It was well organized and clearly had the support of the community. I loved seeing the volunteers along the course cheering people on. The energy of everyone involved was amazing."
The Terry Fox Foundation is still retroactively receiving donations in the name of the Ottawa Terry Fox Run and final totals for 2018 are not yet available.