By Lisa Gregoire
Photos by Chris Roussakis
It's not every night you get to eat deer stew at Carleton University and hear folks competing for the best moose call but that was the scene at Fenn Lounge on the evening of Nov. 29, 2019.
That Friday, the Centre for Indigenous Initiatives hosted more than 150 people for what will become an Annual Round Dance in celebration of the Indigenous community at Carleton and in support of students as they headed into exams.
"It makes me feel like I'm at home," said Gina Louttit Bellefeuille, 20, a first-year psychology student.
"I'm here, surrounded by my community."
Sixteen drummers and singers, some of them young boys, created a thundering wall of sound, drawing dozens of dancers to the floor at a time. The dancers—representing a wide range of cultures and ages—held hands for each song, forming a ribbon of rhythm around the drummers.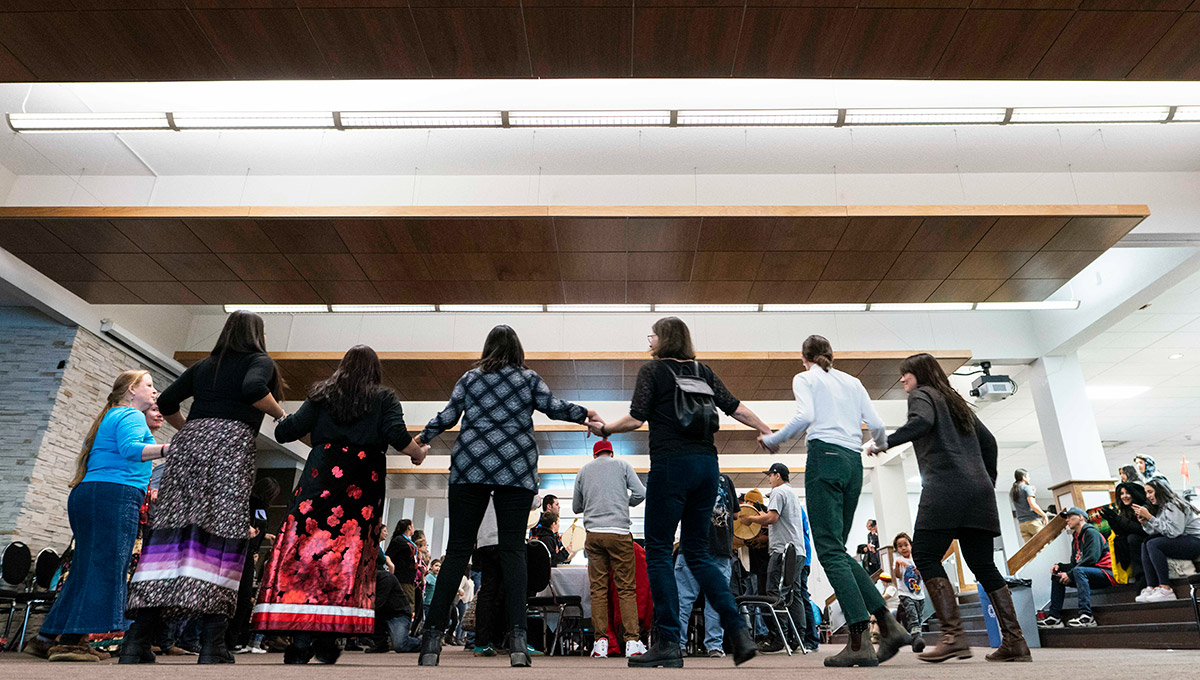 That's how a round dance works – you hold your neighbour's hand and you progress around the circle together, the vibration of the drums fanning out from the fulcrum and thumping inside your chest.
"Step left, drag right. It's round dance time tonight," emcee Greg 'Mista Wasis' Dreaver told the crowd, giving rookies a few pointers.
"If you find yourself too stretched out, take a step in and make the circle smaller. If it gets too crowded just take a step back and make room."
Moose Cree First Nation Elder, Thomas Louttit, thanked organizers for their gift of tobacco and for the pots of savoury stew and bannock offered to visitors. Then he acknowledged the challenges Indigenous students face this time of year with exams.
"I want to think about them and pray for them, that they do well," said Louttit a respected knowledge keeper who holds an honorary Doctor of Laws from Carleton. "Miigwech to all of you, for being here."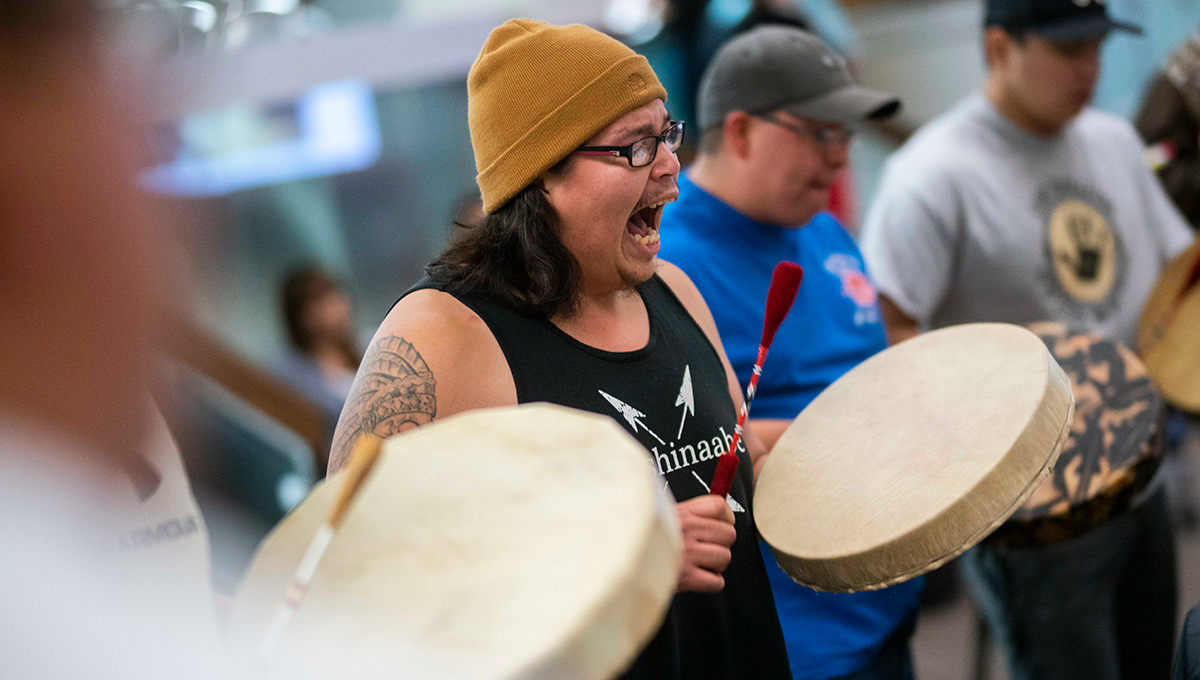 Helping Indigenous Students Feel Welcome and Supported
Aurora Ominika-Enosse, 19, a second-year social work student doing a minor in Indigenous Studies, is also the Indigenous Programs Assistant at the Ojigkwanong Centre, Carleton's Indigenous hub. She said events such as the round dance help make Indigenous students feel welcome and supported, and allows others from the larger Ottawa community to gather and socialize.
Ominika-Enosse is from Wiikwemkoong Unceded Reserve, a First Nation on Manitoulin Island in northern Ontario. It's eight hours away so she doesn't get home much.
"It's hard being away from everybody, especially if a family member is sick. I have three little siblings and a new one was just born at the end of October," she said.
"But I've made so many friends here, including all my co-workers."
Benny Michaud, who runs the Centre for Indigenous Initiatives on campus, said that it was important to bring the round dance tradition back to Carleton after a five-year hiatus.
"A critical part of the Centre for Indigenous Initiatives' mandate is to support the well-being of Indigenous students on campus so that they can be successful in their academic pursuits. A fundamental aspect of caring for students is creating opportunities for community-building and helping connect them with the urban Indigenous community in Ottawa," Michaud said.
"Most community events are inter-generational, and so you have grandmothers, aunties, uncles and children all present. It's a wonderful way of reaching Indigenous youth who might be thinking of post-secondary in the near future."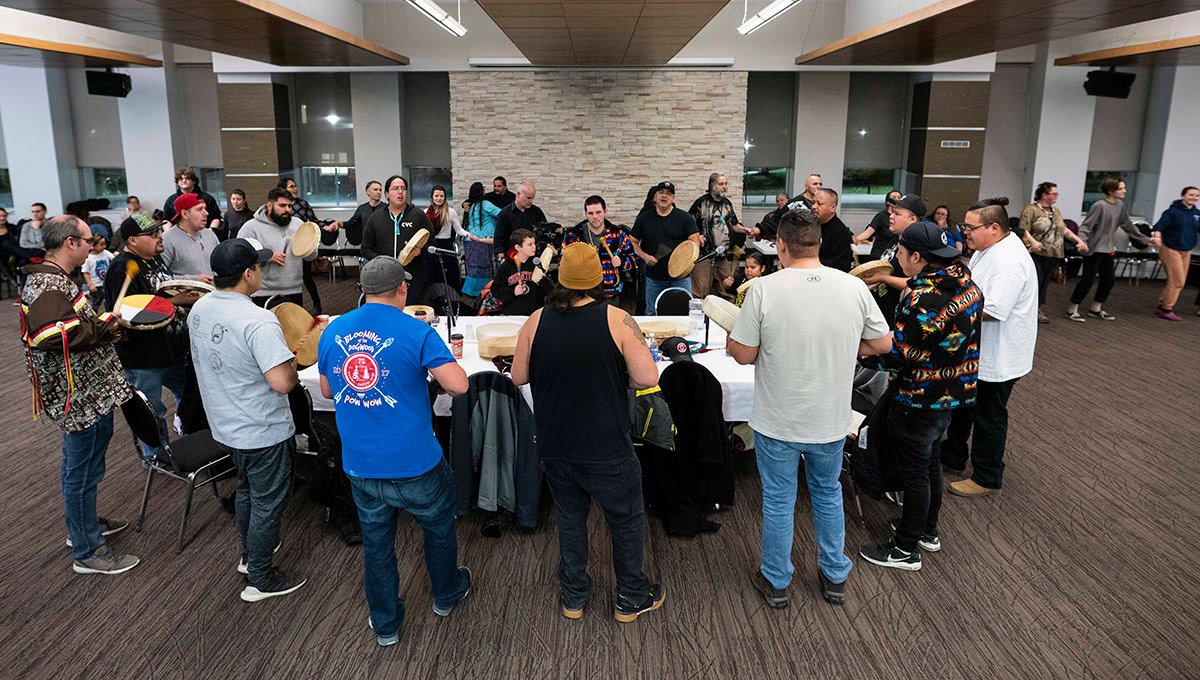 Round Dance Part of a Holistic Approach to Wellness
Roughly 850 Carleton students self-identify as First Nations, Métis or Inuit, Michaud said, though the actual number is likely higher.
Staci Loiselle, Indigenous Cultural Counsellor at the centre and main organizer of the round dance, said students need to feel a sense of safety and belonging in order to grow and prosper.
"We take a holistic approach to wellness by nourishing students' physical, mental, emotional and spiritual needs," she said.
"There is a strong sense of connection and love when you gather with others and participate in processes that your ancestors have been performing for hundreds of years."
Dreaver, originally from Mistawasis Nehiyawak First Nation in Saskatchewan and now living in Anishinaabe-Aki, the unceded and non-surrendered Algonquin territory, said it was a great honour to be the emcee at an event that brings people together.
"If our non-native settlers can hear the drum even once in their life, then they can get back to the real meaning of life, from the life givers, our mothers," he said. "Inside our mothers we heard our first drum: her heartbeat. That's why it's significant to have the round dance here, to have the heartbeat of the life givers and to support our emerging leaders—the students."
Carleton President Benoit-Antoine Bacon was one of those who heard the drum.
"It's great to have so many people on campus. The drums sound so good, the dancing is so fun. It's the best way to end a week and the month of November. So miigwech everybody," he said.
"Have a great time tonight."
Carleton is working to honour recommendations of the Truth and Reconciliation Commission. Through the Carleton University Indigenous Strategic Initiatives Committee, the university has identified 41 calls to action, which include commitments in areas such as community engagement, Indigenous student support and student experience.