By Dan Rubinstein
Photos by Chris Roussakis
Amid the contentious debates about carbon taxes, pipeline construction and the most pragmatic approach to weaning ourselves off fossil fuels, there's an often-overlooked step that Canada could take to address climate change and, at the same time, improve the economy.
Energy efficiency — reducing the energy required to run our homes and commercial and industrial buildings, as well as our transportation systems — is increasingly recognized as the cheapest and most abundant energy resource in the country.
A unique new national organization, based at Carleton University, aims to bring together a diverse array of allies, from academic researchers and private-sector businesses to utilities and governments, to advocate for public policies that move us toward a more energy-efficient future.
"Think of energy efficiency as an invisible source of energy," says Corey Diamond, executive director of Efficiency Canada, which was formally launched at a reception at Carleton on Nov. 1, 2018. "Improving our energy efficiency is by far the fastest way to reach our climate change commitments, but it will also create jobs and grow the GDP.
"Fantastic work has been done across the country for the past couple decades. Now we have the momentum to do so much more. Having a full-time voice for energy efficiency is a huge move forward."
"We've been focused since day one on the fact that the environment and economy go hand-in-hand," says federal Finance Minister Bill Morneau, who spoke at the launch on behalf of Minister of Natural Resources Amarjeet Sohi. "One of the best ways to ensure that these things go together — and that our environmental footprint is smaller — is energy efficiency.
"We're going to spend less on energy, and have more money for other stuff — that's what we're talking about today. This message is entirely aligned with what Canadians want to see in the long term. Energy efficiency is one of the cornerstones of our plan for a cleaner economy."
Efficiency Canada has ties to both Carleton's Faculty of Engineering and Design and the Faculty of Public Affairs (FPA). Shaping and implementing new public policies is its ultimate goal.
"Today, we launch a partnership to build a more productive economy and a more sustainable environment," says Carleton President Benoit-Antoine Bacon.
"Carleton researchers are doing groundbreaking research on energy efficiency in numerous areas, including policy, regulations, engineering and business," he continues, citing the university's Urbandale Centre for Home Energy Research, Energy and Emissions Research Lab and Northern Nomad tiny house project. "Efficiency Canada will be right at home in this diverse research community focused on fostering sound public policy."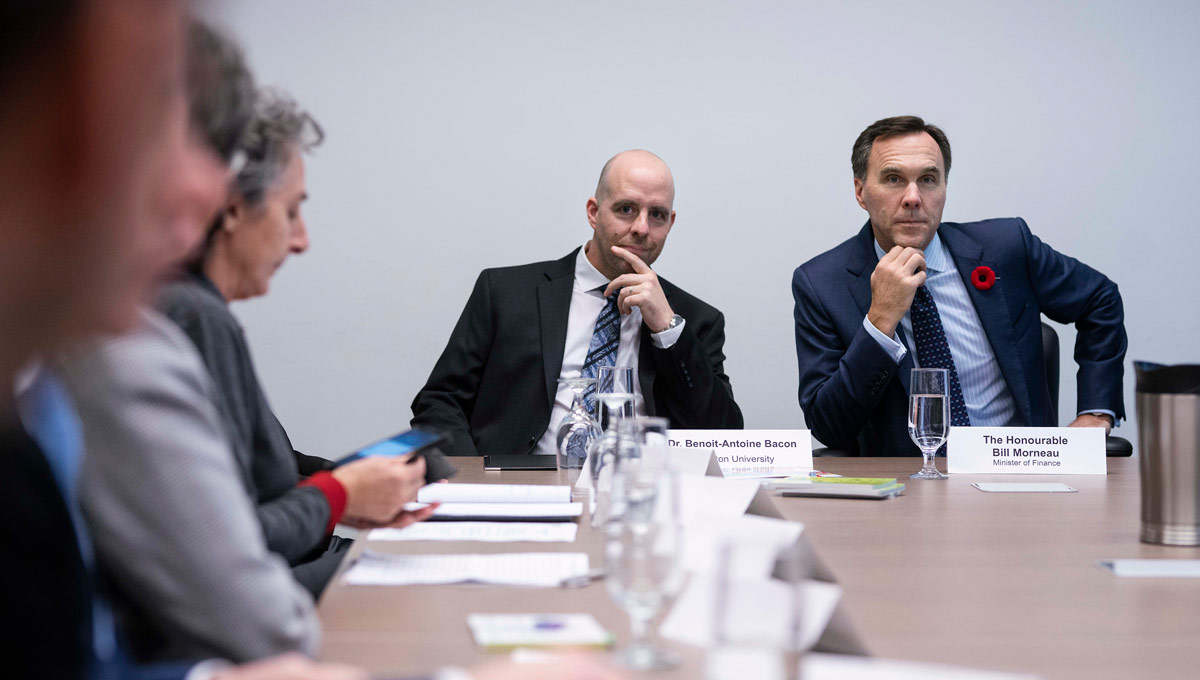 Filling the Energy Efficiency Gap
Efficiency Canada evolved out of the 20-year-old Canadian Energy Efficiency Alliance (CEEA), an industry association comprised of companies that sell energy efficiency products and services.
When a group of funders sought to become more strategic about using their giving to help Canada cut carbon emissions, they saw a gap and led the push to create a national energy efficiency advocacy and policy organization.
Carleton alumnus Jay Nordenstrom, executive director of NAIMA Canada representing the country's mineral fibre insulation manufacturers, was on both the CEEA board and the university's Board of Governors, and was the bridge that brought the newly minted Efficiency Canada to Carleton.
The organization's goals mesh perfectly with the university's "Here for Good" ethos — Carleton's commitment to contribute to social, economic and common good. FPA Dean André Plourde and Prof. James Meadowcroft in the School of Public Policy and Administration are both on its governing council.
---
More Interesting Reads:

---
"The efficient use of energy and the policy framework that encourages increased efficiency are critical components of the research agendas of a number of colleagues here in the Faculty of Public Affairs and right across Carleton," says Plourde. "This is important work."
"We're not a typical industry association," says Diamond, a University of Waterloo Environmental Studies graduate who has worked for environmental and social change organizations for two decades. "We're a hybrid of research and advocacy, rooted in the independence of a university.
"A big part of the work we do will be to convene and mobilize allies — from homebuilders to financial institutions, from small firms to large companies — who believe that having an energy efficient economy is an important priority for Canada. This is not your standard 'save the environment' conversation; it's one that includes the economy."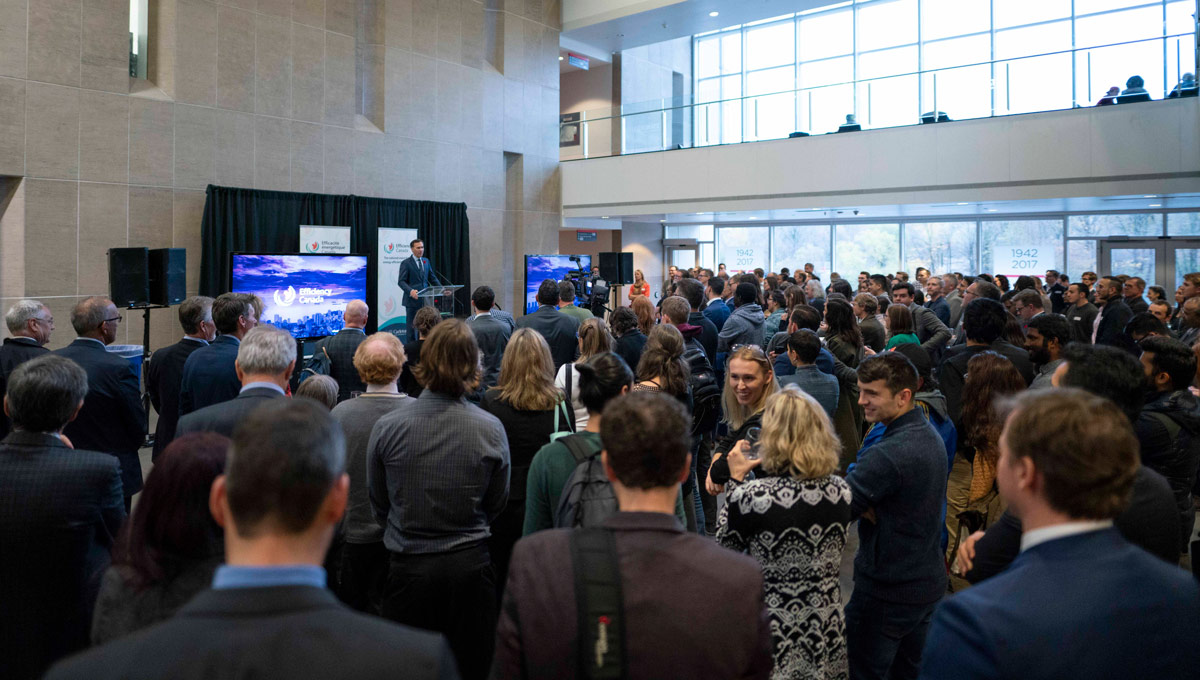 Efficiency Canada Already Making an Impact
Efficiency Canada, which came to life in May and hired its first staff members in September, will be headquartered in Carleton's soon-to-be completed ARISE building.
But the organization has already started to have an impact, releasing a report in partnership with Clean Energy Canada and Dunsky Energy Consulting last spring concluding that implementing the federal government's emissions reduction targets (the Pan-Canadian Framework on Clean Growth and Climate Change) would boost the GDP one per cent over the next 14 years and save households as average of $114 per year.
According to the report, which was titled "Less is More," every $1 spent on energy efficiency programs generates $7 of GDP — a net increase of $356 billion over the next dozen years.
Not only would this growth and savings be reinvested in the local economy, these changes would also create an average of 118,000 jobs every year between now and 2030 — for instance, window installers and heating, ventilation, and air conditioning (HVAC) contactors — thanks to the economic activity associated with energy efficiency. All of this while helping Canada cut one-quarter of the carbon pollution required to meet our international climate change commitments.
"When companies find ways to use energy more efficiency, it lowers their operational costs and improves their competitiveness and productivity," says Morneau. "It also makes for a healthier environment."
One of Efficiency Canada's challenges, says Diamond, will be to translate some of these difficult-to-understand arguments into clear ideas that media, the public and policy-makers will embrace.
The complexity around building codes is a perfect example. Builders who construct homes and commercial and industrial buildings will have to ensure they are "net-zero energy ready" — i.e., designed to produce as much energy as they consume — by 2030. But Efficiency Canada will also reach out to people who design and operate buildings, and others involved in retrofitting, which is a huge opportunity: half of today's buildings will still be in use by 2050.
We already have the ability, through more informed design practices, more efficient insulation and appliances, and renewable power generation, to reduce the amount of fossil fuel energy our buildings consume, argues Diamond.
"I see this shift as a human issue more than a technology issue," he says. "It takes a long time for people to get together and figure out how to change things."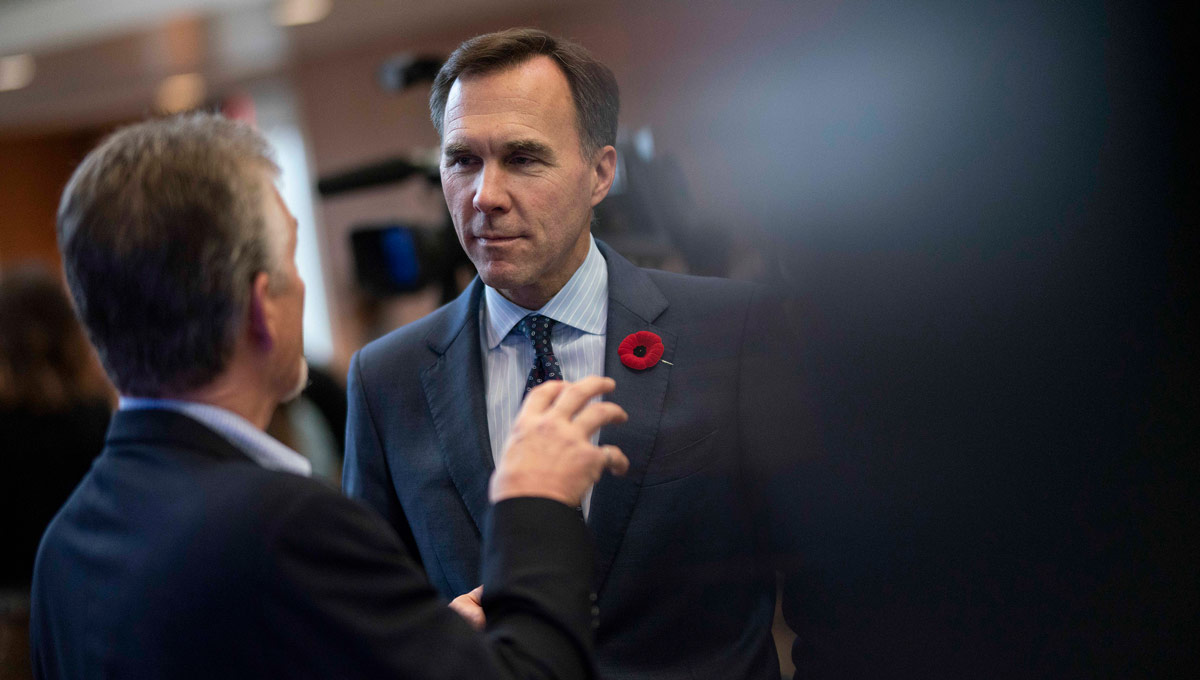 Reengineering Our Economy
There will be hurdles in this shift, Diamond acknowledges. Access to the materials needed for energy efficient buildings could be a bottleneck as demand increases, and training will be required as new construction methods are introduced.
On the flip side, more energy efficient buildings will need less power, so the amount of energy we will need to draw from renewable sources will decline.
By bringing together diverse parties, Efficiency Canada can advocate for financial tools such as loans to support energy efficiency retrofits, with the money that recipients save through lower energy usage constituting their repayment — and then going into their pockets once the loans have been paid off.
Because energy efficiency is mostly a provincial matter — the provinces manage electricity and natural gas utilities — Efficiency Canada plans to work with both provincial and federal governments to smooth over the "boom and bust" nature of energy efficiency programs that accompany election cycles and new parties coming into office.
The organization also plans to work with universities and colleges to encourage the training of energy managers and auditors and skilled tradespeople who will be increasingly in demand in the new low-carbon economy.
"This will be a huge reengineering of our economy," says Diamond. "It's part of a 'just' transition — as in 'justice' — away from high-energy resources. And compared to other solutions, it's politically much safer."
Efficiency Canada's relationships to Carleton's Engineering and Design and Public Affairs faculties will help realize these goals because of the joint focus on engineering and public policy.
"Being based at Carleton puts us at the intersection of these two worlds," says Diamond. "We'll be able to build bridges between them."
It's inspiring, he adds, to be on a campus where students work on projects such as the Northern Nomad tiny house and see themselves as part of a low-carbon future.
"I think there is great momentum in the fast growing sector of energy efficiency — all across Canada, we're seeing a lot of businesses grow year-over-year," Diamond says when asked how Efficiency Canada can make a difference amid a sea of organizations with similar goals.
"I think about my nine-year-old daughter. She'll inherit both challenges and opportunities. In doing this work, Efficiency Canada will be pulling the levers that I think will bring positive results and convince governments to change. It's a different type of approach, and I'm optimistic that it will work."