By Joseph Mathieu
Photos by Chris Roussakis
It's been two decades of butterfly magic that gets more popular each year.
Carleton University's annual Butterfly Show features some 1,300 floating beauties of 41 different varieties amid lush plants in a tropical 25 C setting. It's a big draw for people who come armed with cameras and ripe fruit – so much so that they may wait for hours to get in. Yet the wait always seems to be worth it.
"You really see the best qualities of people when there's magic happening all around them," says Greenhouse Manager Ed Bruggink, who organizes the show.
This year's event takes place from Oct. 5 to 13.
"The show gives the larger community a chance to appreciate the beauty of nature and to learn," says Prof. Owen Rowland, chair of the Department of Biology.
"It's also a great volunteering opportunity for our students."
Volunteers are integral to the show's success. Local photographers and bug lovers return each year to offer a helping hand. There are free educational "Let's Talk Science" tours performed by student volunteers from Carleton and the University of Ottawa so that kids from kindergarten to Grade 12 get butterfly biology and greenhouse etiquette lessons.
And at the centre of it all is Bruggink, who monitors and maintains all 14 Carleton greenhouses and grows about 12,000 flowers annually to brighten the campus in spring and summer. Once those annuals are in the ground, he begins to plan the autumnal Butterfly Show.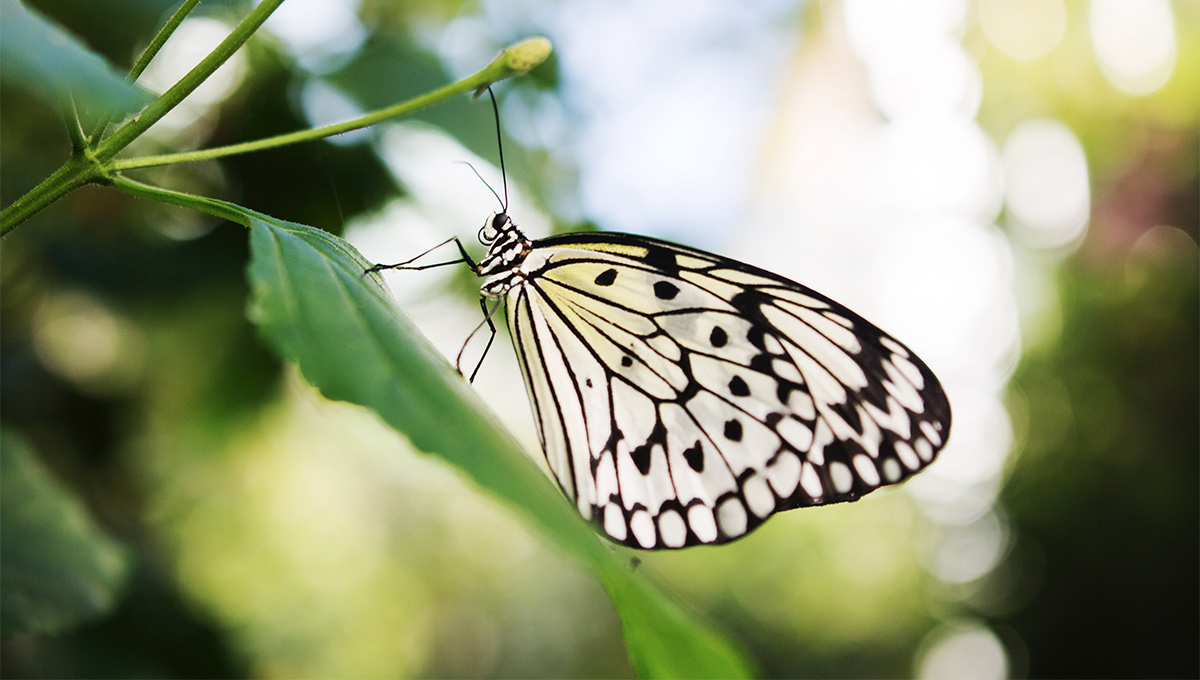 Timing is Critical
By late September, he's ready to receive the first pupae from the London Pupae Supplies, which farms species from Africa and Asia, and its affiliate LPS LLC in Denver, Colorado, which supplies species from Latin and South America.
"Timing is critical for pupae survival since they ship at a point in their lives when they will emerge within one to three days," he says.
Four small packages arrive. Inside each one, Bruggink finds hundreds of shiny carapaces under soft cotton wool. Every multi-coloured chrysalis is pined to a rod by the small piece of silk protruding at its end. If a pupa is missing its silk pad, Bruggink painstakingly makes it a new one with contact cement and cotton. All the rods hang within emergence cages where butterflies can come out in safe, ideal conditions.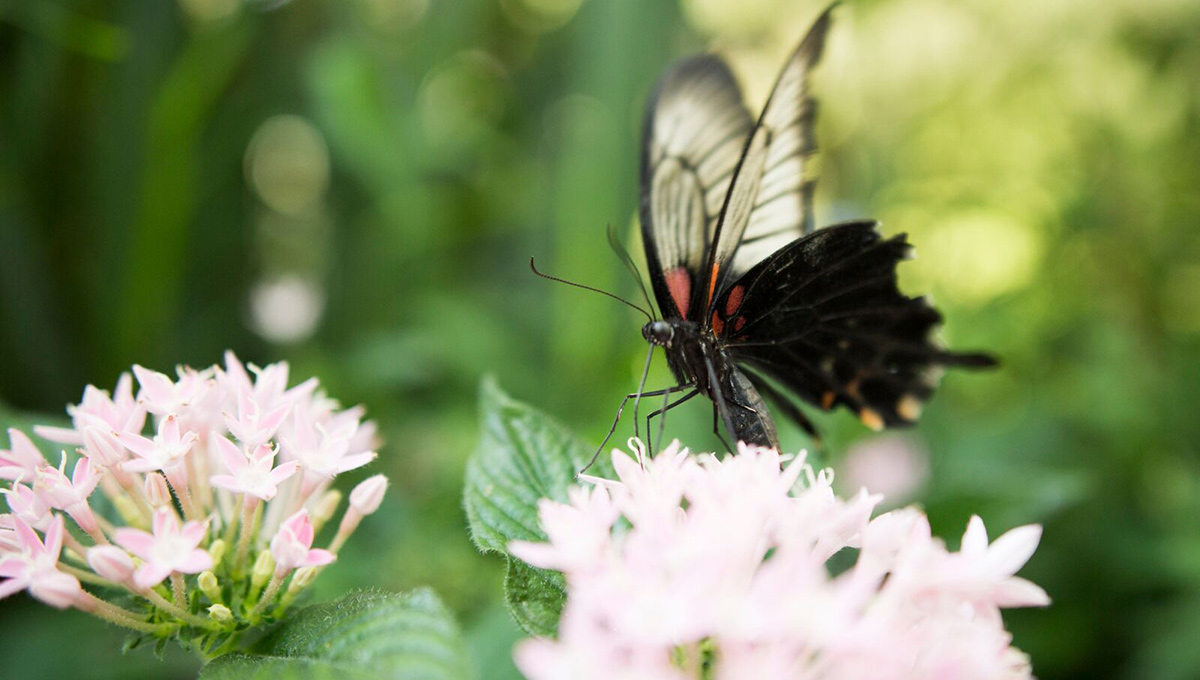 "We have to give Ed credit for really putting his heart and soul into this project every single year," says Biology Prof. Jayne Yack.
"It's good that it falls on Thanksgiving, but he also often sacrifices his own Thanksgiving just to be here."
In 1999, the first butterfly show ran in May with about 1,000 of the insects. Yack—who conducts research on acoustic communication methods of insects, particularly butterflies, caterpillars and bark beetles—helped Bruggink source the pupae, consider the right conditions for emergence and create an ideal greenhouse environment in which the butterflies could thrive.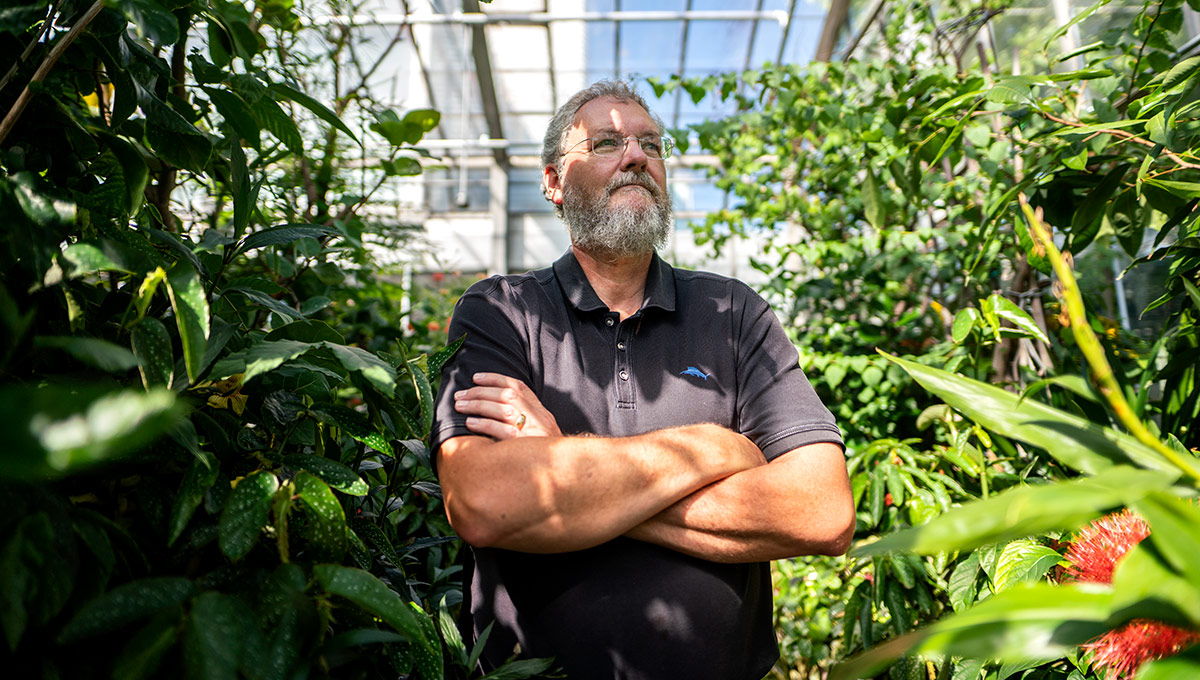 Love of Butterflies Key to Success of the Show
"It doesn't surprise me it became so popular," says Yack. "Even if people don't love insects, they love butterflies."
About 10,000 people attended last year. On one Saturday alone, 1,400 people made their way through the greenhouses.
During the show, Bruggink is on campus no later than 6:30 a.m. He puts out educational displays in the lobby and stanchions with wait times on the sidewalk. He waters all the greenhouses and checks the butterfly nursery for new arrivals. Throughout visiting hours from 9 a.m. to 3 p.m., Bruggink is greeting people in front of the greenhouse entrance in a butterfly T-shirt.
As the butterflies live out their short natural lives in the small paradise, Bruggink keeps the plants watered to keep the bugs fed. In the largest of the two display greenhouses are approximately 1,000 plants ranging widely in age and size. Nectar flowers are prominent, including butterfly favourites like lantana, hibiscus, bougainvillea, Egyptian star flower and jasmine. To help keep the butterflies fed for the show's nine days, visitors can bring ripe oranges or pineapples.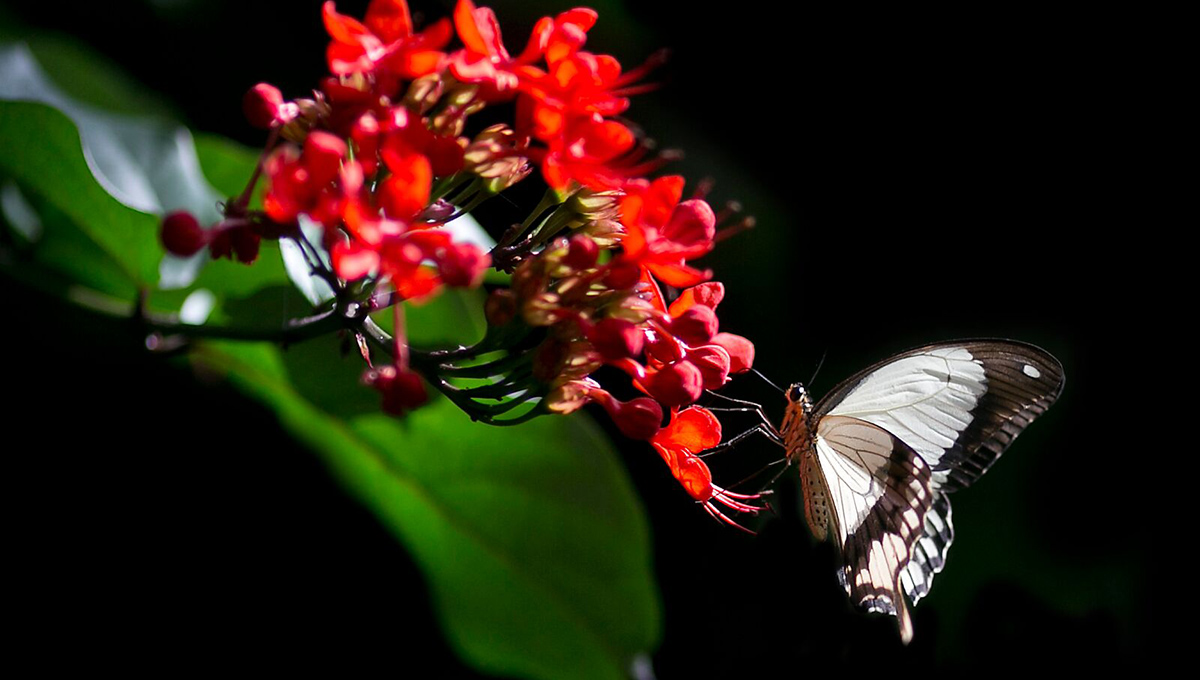 "It's also a great way for people to handle the delicate butterflies without actually handling them," says Bruggink.
It's just one of the many tricks he's learned along the way. Bruggink joined Carleton in 1981 and became greenhouse manager in 1998. That year he devised the plan: a butterfly show could attract the locals and showcase what Carleton has to offer.
"The purpose was to impress and educate visitors," he says. "We have the facilities and the expertise. Why not try?"
It paid off in spades. The show's costs have been offset by $5 and $10 donations, which Bruggink has found harder to raise in cash since cards and apps have proliferated. A FutureFunder campaign launched this year to secure the future of the Butterfly Show that has become a local Thanksgiving staple.
"We want to give back to the community and it's important that this stay free for visitors," says Bruggink. "We want to keep it accessible for everyone."
Tuesday, October 1, 2019 in Faculty of Science
Share: Twitter, Facebook