By Dan Rubinstein
Photos by Chris Roussakis
On the night of Ottawa's municipal election in October, Carleton University student Lisa Johnson went to a pub on Bank Street where David Chernushenko and his supporters had gathered to celebrate the incumbent's anticipated re-election as councillor in Capital Ward.
Things didn't go well for Chernushenko, who lost to Shawn Menard by 600 votes. But Johnson, covering the ward race for Carleton's new multimedia publication, Capital Current, still had a busy and productive evening.
The Master of Journalism student live-Tweeted as the voting results came in, filed a news brief from the pub that was incorporated into a comprehensive election write-through article, and came up with an idea for a followup story about the zone's school board trustee.
"This experience is definitely a confidence booster," Johnson says about being among the first group of students to contribute to Capital Current, a digital-only news and information site that went live in early October. "It's been great to work with my classmates and our instructors to produce local stories."
The Journalism program's flagship publication, Capital Current — tagline: "Covering Ottawa Communities" — has moved beyond the former Centretown News print newspaper and the multimedia student publication Capital News Online to create a more complete digital experience for the Ottawa audience.
Rather than spend time and energy producing a print product, which had cost the School of Journalism and Communication about $40,000 a year, the focus is now fully on creating a dynamic, interactive online publication.
Between 35 and 40 fourth-year undergraduate and second-year master's students will work on the publication at any given time, developing not only their reporting and writing abilities, but also their visual (photos and video) and data (infographics, charts) storytelling skills.
"This is a great way to tie together everything we've been learning in the program so far," says fourth-year Bachelor of Journalism student, Haneen Al-Hassoun. "It's setting us up for journalism work outside the classroom."
"We're also learning about how to use social media as journalists," adds fellow fourth-year student Jasmine Stamos, "and other elements that we'll need to know to work in digital-first newsrooms."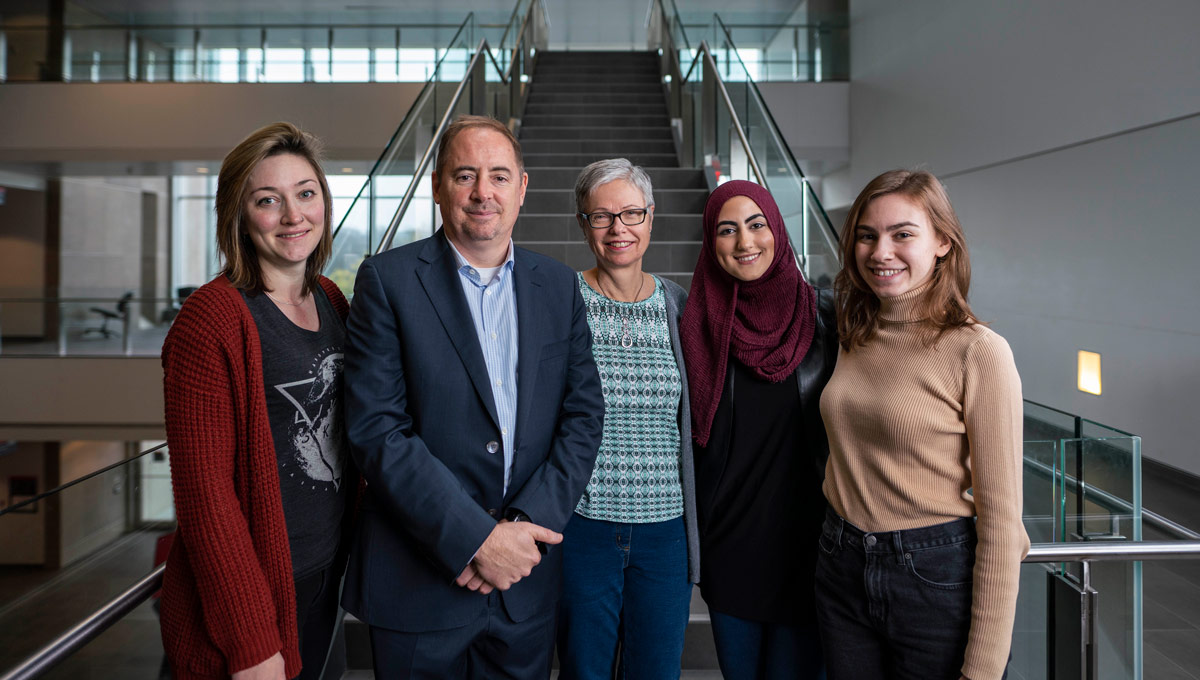 Bridging the Local News Gap
Helping graduates find meaningful careers in today's media landscape is one of Capital Current's main goals. At the same time, with additional content gleaned from the best assignments produced by Journalism students who are not direct contributors, the publication will give people in many Ottawa neighbourhoods the stories and information they may be missing as media companies pull out of the local market.
It's part of a longstanding tradition of local outreach for both the university and the school, with Capital Current now telling stories across Ottawa's geographic communities, as well as its demographic communities, such as Indigenous, immigrant and LGBTTQ+ groups.
With guidance from faculty who are seasoned professional journalists and teachers, students working individually and in teams will come up with story ideas and then do research and reporting, leading to a range of different types of content, from traditional words-and-pictures articles to photo slideshows, videos, podcasts, map-based narratives, data-driven infographics and more. Some of these stories may emerge from feedback shared by Ottawa residents who ask for coverage exploring specific issues in their communities.
"This is an evolution in several different ways," Prof. Randy Boswell said last spring, when Capital Current was under development. "It's an evolution of the way we teach journalism, an evolution of the university's relationship with the city's communities, and it's an evolution of journalism itself, which is very much a changing game.
"Digital tools and social media have enabled a richer and much more fluid conversation back and forth between the public and traditional gatekeepers of news. It's an interesting moment that we can move forward into.
"There will be an ongoing interest in and demand for print publications in the foreseeable future, and there will be news organizations that continue to fill that need," he added. "But it's not an ideal model for what we're doing at the School of Journalism and Communication. We have to prepare students for a world that's changing very dramatically and has already shifted decisively to a digital-first model for news. So, it would be problematic to continue producing a print publication that takes too much time, energy and effort away from the digital channels that we need to be commanding. Students need to have as much experience and immersion as possible in all those ways of telling stories."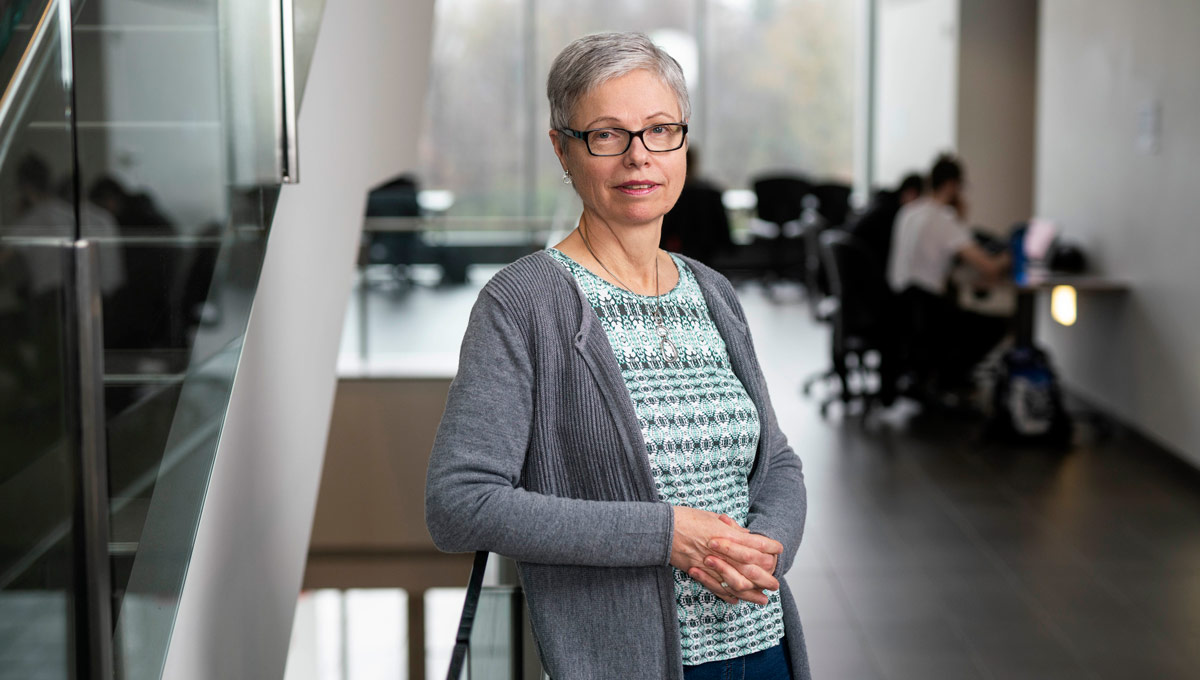 Capital Current a Breeding Ground for New Ideas
Journalism Prof. Aneurin Bosley and instructor Christina Spencer are the co-publishers of Capital Current this term.
On a recent Tuesday morning, they presided over a biweekly panel discussion with invited speakers — this particular one involved people from vulnerable and at-risk communities, while others have focused on the local music scene and local under-the-radar sports.
Then Spencer and Bosley led a post-mortem session on the panel, asking students about potential story ideas that might have emerged, or topics they might want to follow up.
One student suggested a story on plans for a new women's shelter. Another talked about community housing projects. Somebody else noted that women over 60 are the fastest growing segment of the city's homeless population.
While the panel discussions are intended to expose students to different communities within Ottawa, they're also a "sensitivity exercise," explains Bosley. "We hope students come out of the panels with a better understanding of how to approach people, how to communicate with them, better understand their lives and develop relationships."
This type of thinking will help Capital Current contributors, who often work in groups of three, create in-depth content. One student will typically handle the writing, another concentrates on visuals, and the third handles data.
"We want to encourage students to think about data visualization more broadly," says Bosley, who specializes in this type of journalism. "It might provide support to a story, but it could also lead to an original direction to explore, or help audiences understand a story more fully. The intent is to help students develop a higher level of comfort with numeracy, which is very important in society today because we're swimming in data."
Beyond in-depth reporting, breaking news briefs are a key part of the Capital Current's mandate.
"Quick news hits will keep students on their toes," says Spencer, "and it'll keep the site dynamic and active."
Incorporating social media into the storytelling, adds Bosley, "will encourage students to ensure that their work is part of a broader conversation." (The publication's Twitter handle and Facebook page are @capitalcurrent and Facebook.com/CUCapitalCurrent).
"Over time, we want the website to become a valuable source of community news and information," says Spencer. "Ultimately we'll be able to fill some gaps in the city."
As Boswell said back in the spring: "Integration with the local community is a broad ethic that Carleton values. It has always been part of what Carleton is. I would say that Capital Current is not only building on that tradition, but actually taking it in an interesting new direction because we'll be immersed much more fully in what's happening in local communities — plural — around the city, and helping to identify those communities in some ways that don't necessarily have manifestations in the media."
Wednesday, November 7, 2018 in Faculty of Public Affairs, Journalism and Communication
Share: Twitter, Facebook