Third-year Carleton University Global and International Studies student Sidney Anthony has been looking forward to Tuesday mornings every week all semester.
Every Tuesday, her class meets in Carleton's Discovery Centre for Undergraduate Research and Engagement for a lively discussion that breaks from the traditional lectures and seminars that make up the rest of her week.
Led by Prof. Marylynn Steckley, the Global and International Group Project (GINS 3100) course gives students an opportunity to gain real-world research and international project development experience without leaving the classroom. Working together as "e-volunteers" in collaboration with an overseas partner, students are tasked with developing strategies to include more women in micro-entrepreneurial work in Myanmar, Laos and the Philippines.
The first of its kind in Canada, the work-based course connects students with Cuso International, a not-for-profit organization that aims to eradicate poverty and inequality around the world.
In collaboration with Cuso International country offices around the world, students conduct research on the barriers and possibilities for gender-inclusive economic growth based on Canada's Feminist International Assistance Policy. Before the end of the semester, they will submit reports to the country offices that identify livelihood prospects for women in micro-enterprises in the respective countries.
Steckley says the course is helping to make meaningful change at the household and individual level in Southeast Asian communities that have the least access to social services and where there is significant gender inequality.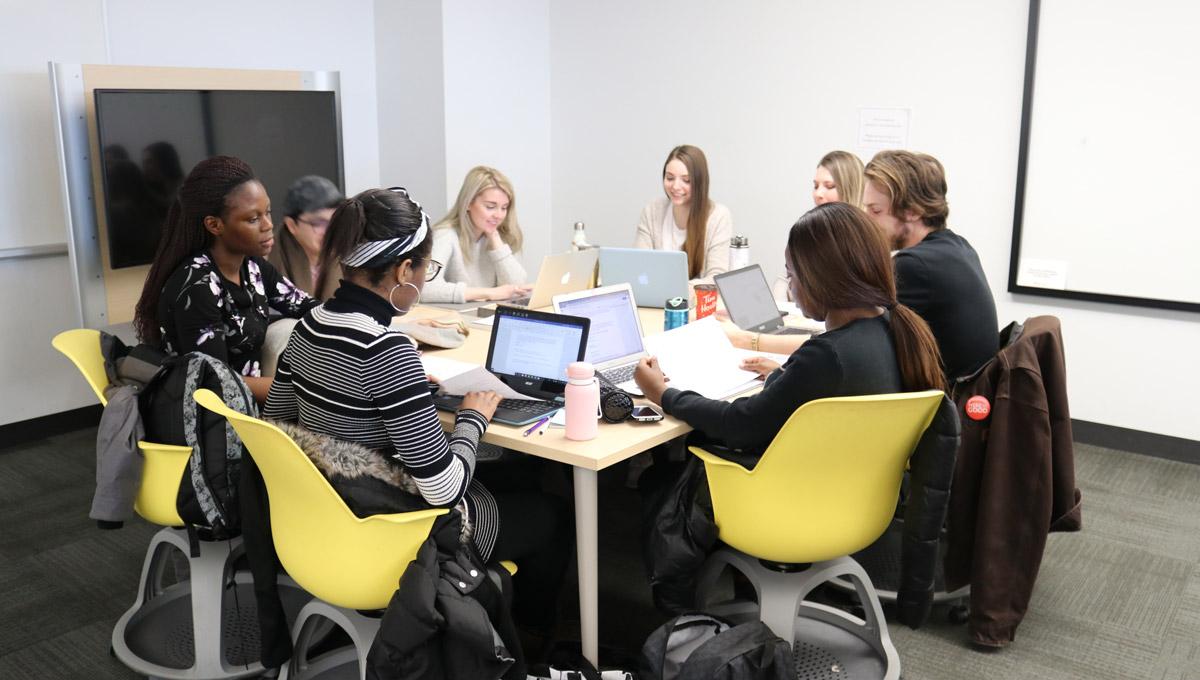 Non-Traditional Course Delivery
"The course was offered for the first time last year and I was really excited about hosting it in the Discovery Centre because of the potential for students to connect with country offices via Skype," Steckley said, adding that this model makes an environmental contribution because students do not have to rack up aviation miles to gain a valuable international experience.
"In terms of teaching pedagogy, I was really excited to have this class because it would enable us to connect with Cuso International. It does give students a different sense of contribution and motivates them in a different way than if I were describing the project."
Steckley says the physical space of the Discovery Centre's Learning Lab plays an important part in the non-traditional delivery of the course. With seating for 25, the room includes two large projection screens and four smaller screens adjacent to tables designed for group work.
"It can be difficult for students to transition from being a taker of knowledge to leading the project themselves, especially when we are on campus," she said. "They work directly for the organization, which meant that I needed a non-hierarchical space that wasn't going to put me at the front of the room. I don't need to stand up; there's no podium; there's no front of the room, so I can meet with groups specifically and take a facilitator role."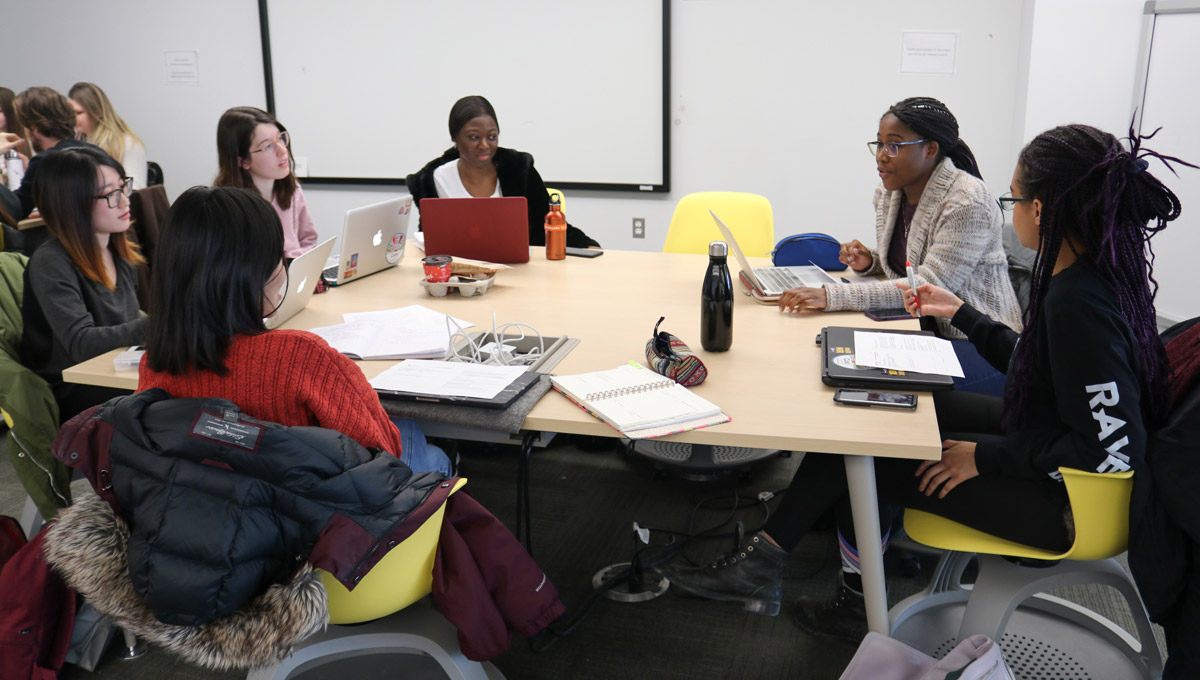 Taking an Active Role in the Learning Experience
For Anthony, the course has made her take a more active role in her own learning experience.
"This isn't a traditional course, so it seems fitting that it is held in a non-traditional classroom," she said. "The space helps in terms of my learning as a student, but also in terms of my productivity as an e-volunteer. The large tables and the open space allows us to connect and collaborate better than anywhere else on campus, and the fact that our professor is not standing at the front of the room puts us in the driver's seat of our learning."
Built in 2013, the Discovery Centre is housed on the fourth floor of the MacOdrum Library.
"This is a high-traffic space that is always busy with student activity and we are glad to open our doors to support innovative classes like Prof. Steckley's where there is an emphasis on immersive learning and group engagement," said Alan Steele, director of the Discovery Centre. "It's a perfect fit."
Friday, April 5, 2019 in MacOdrum Library, Teaching and Learning
Share: Twitter, Facebook