The discussions may be virtual—but the energy and momentum is real. The Canadian Accessibility Network's (CAN) inaugural Governing and Advisory Councils are in place and the teams have hosted their first meetings.
CAN, which launched in Dec. 2019, is a pan-Canadian initiative representing post-secondary leaders, community service providers, government champions and corporate collaborators who are invested in advancing accessibility for people with disabilities. Carleton University's READ Initiative is serving as CAN's operational hub and hosts its national office.
Suzanne Blanchard, Carleton vice-president (Students and Enrolment), is the Governing Council Chair.
"It was an honour for me to chair the first CAN Governing Council meeting in late September. After a lot of preparation, I am very pleased with the collaboration, support and engagement of all the members of the Governing Council."
The 14 Governing Council members and 30 Advisory Council members provide a cross-sectoral representation of perspectives from across Canada and share a strong commitment to leading cultural shifts and systems-level change.
Tony Labillois is a champion for people with disabilities at Statistics Canada. As Chair of the Network's Advisory Council, he led its first official meeting on Oct. 21, 2020. "My disability has pushed me to keep moving forward," he explains. "The network is supporting important conversations across the country. I was very excited and happy to participate in the first meetings. I was amazed at the vast professional and life experiences and at the wide range of competencies. It was a welcoming, supportive environment."
Fellow Governing Council member and Chair of the Employment Domain Area Committee, Jeff Agate, associate director of Student Support Services at Algonquin College, says the path is clear. "We need to define the primary challenges and put together a plan. The David C. Onley Initiative got us going on employment issues here in Ottawa and I see this as a continuation of that great work. Change can come quickly with the right advocacy and the right approach."
It's all about finding common ground, adds Robin Syme, a member of both the Governing and Advisory Councils. Syme is executive director of CanAssist in Victoria, B.C. "We know there is a lot of good work going on around the country, but we don't necessarily know about each other. CAN will help build relationships and trust. We are stronger together."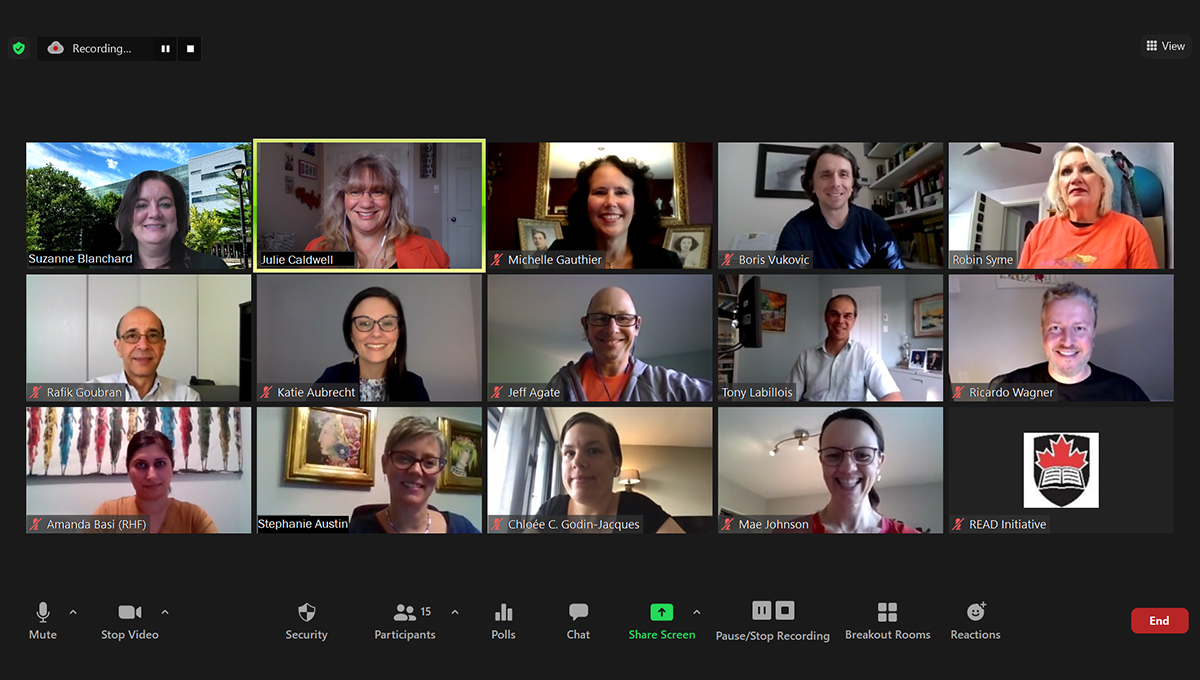 National Accessibility Network Will Share Knowledge to Shape Future
The concept for a national accessibility network was conceived by a group of colleagues at Carleton. It builds upon Carleton's culture of accessibility and the desire to bring together various accessibility initiatives, partners and resources.
In addition, the university's recently launched Strategic Integrated Plan highlights accessibility as a core value and supports Carleton's Coordinated Accessibility Strategy. The goal is to share knowledge to shape the future.
"CAN is in a prime position to be at the forefront of discussions about creating more inclusive and accessible opportunities for all people," notes Boris Vukovic, director of Carleton's READ Initiative and executive director of the CAN National Office.
Says Blanchard: "I am excited to see the future evolution of CAN and look forward to continuing to work with such a great group of individuals who are committed to empowering persons with disabilities; improving their socioeconomic and health outcomes; and changing the mindsets and behaviours regarding accessibility and inclusion. The timing is right."
CAN's work will be informed by five action-oriented committees focused on research, design and innovation; education and training; policy; employment; and community engagement. Recruitment continues for committee members for these five domains.
To learn more about the Governing Council and Advisory Council, or to find out how your organization can become a CAN collaborator, please visit: https://carleton.ca/read/can/governance/.
To learn more about the Canadian Accessibility Network, please visit Carleton.ca/read/can.