By Joseph Mathieu
Photos by Fangliang Xu
Reporting on conflict and catastrophe has never been easier with cutting-edge technology. But the best foreign correspondents know its relatable human stories, not apps or gadgets, that make their dispatches compelling.
So said CBC's Adrienne Arsenault during the third annual Peter Stursberg Foreign Correspondents Lecture on Nov. 30, 2019 at the Canadian War Museum.
"I travel very far away in order to get very, very close," she said, paraphrasing CBS correspondent Elizabeth Palmer. "If we can remember the importance of getting close, then we can connect to the hearts back home."
Arsenault, an award-winning foreign correspondent and co-host of The National, delivered the keynote lecture named after Canada's last living Second World War correspondent to a full house.
According to Arsenault, finding stories on one side of the world to share with audiences on the other is in a correspondent's DNA. The need to understand distant conflict was one of the reasons that Stursberg went overseas to cover the Second World War.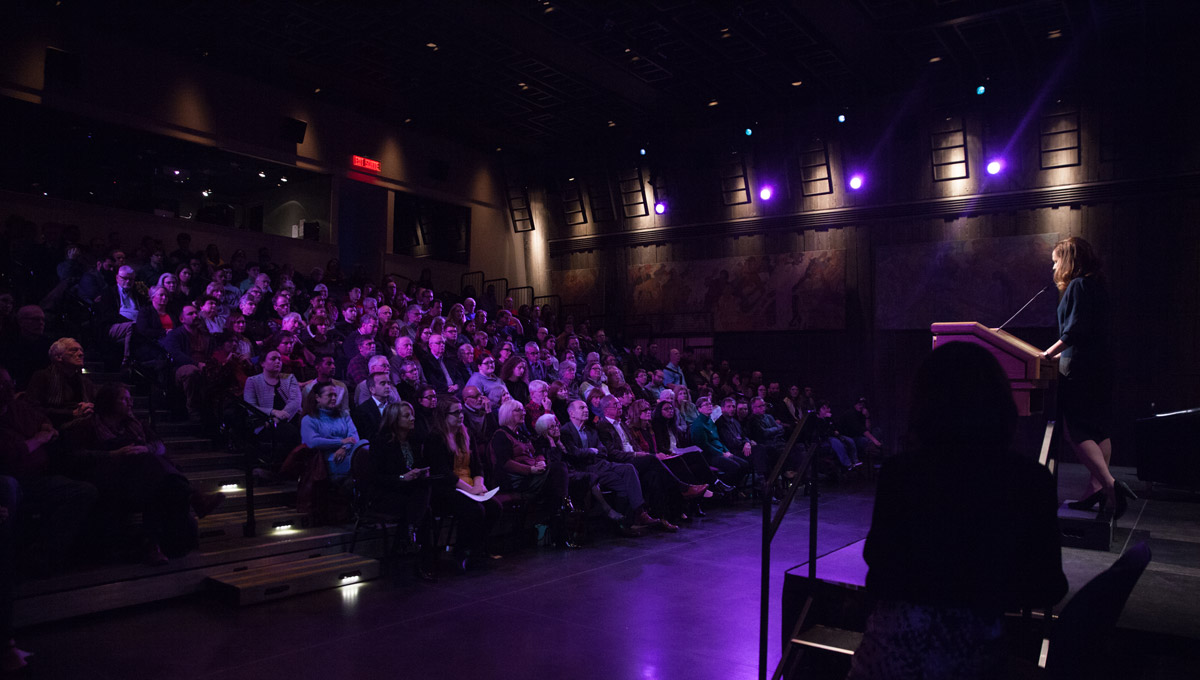 The Need to Understand Distant Conflict
"Imagine this, it is September 1939," said Arsenault. "CBC Radio is deep into a pop music program of sorts, when an announcer breaks in with the astonishing news that Canada has gone to war against Nazi Germany."
The announcement was even more shocking for listeners because regular programming resumed without any in-depth analysis of what the news meant for Canadians. The public outcry for more information effectively created CBC News, which sent six correspondents to the frontlines in Italy and France, where over a million men from Canada and Newfoundland and Labrador went to fight.
To highlight the important impact of journalism, Stursberg's daughter Judith Lawrie and son Richard Stursberg, former executive vice-president of CBC English Services, established the lecture and an award in 2017. The series was created in collaboration with Carleton University's School of Journalism and Communication.
Audience members included Carleton's Faculty of Public Affairs Dean, André Plourde; broadcast journalist David Halton, son of CBC's Matthew Halton with whom Peter Stursberg was a war correspondent (both were inducted into the CBC News Hall of Fame in June 2019); and Elsa Lessard, a Second World War code breaker who served with the Women's Royal Canadian Naval Service.
Arsenault spoke on a wide range of topics, including her industry's many existential threats.
News organizations around the world are shuttering due to a decline in advertising (in Canada, 250 news outlets closed between 2008 and 2018) and hostile political forces around the world are actively working against reporters and broadcasters, going so far as to arrest or kill them.
"As we sit here tonight, there are 246 journalists around the world in jail," said Arsenault. "Thirty-six have been buried this year."
This trend worries her but she sees it matched by the drive of young reporters and new technology to hold truth to power like never before. The ingenuity and determination of the next generation of journalists will push back against those threats, she said.
Before the lecture, Lawrie introduced Naranjalli Varma as the winner of the second annual Peter Stursberg Award in Conflict Journalism and Media Studies for her reporting on the lives of the relatives of ISIS recruits in Kerala, India.
"I'm trying to bring to you the stories of the lives of people that have shattered," said Varma. "It is also trying to look at the efforts of a very resilient society that is fighting to maintain its original identity."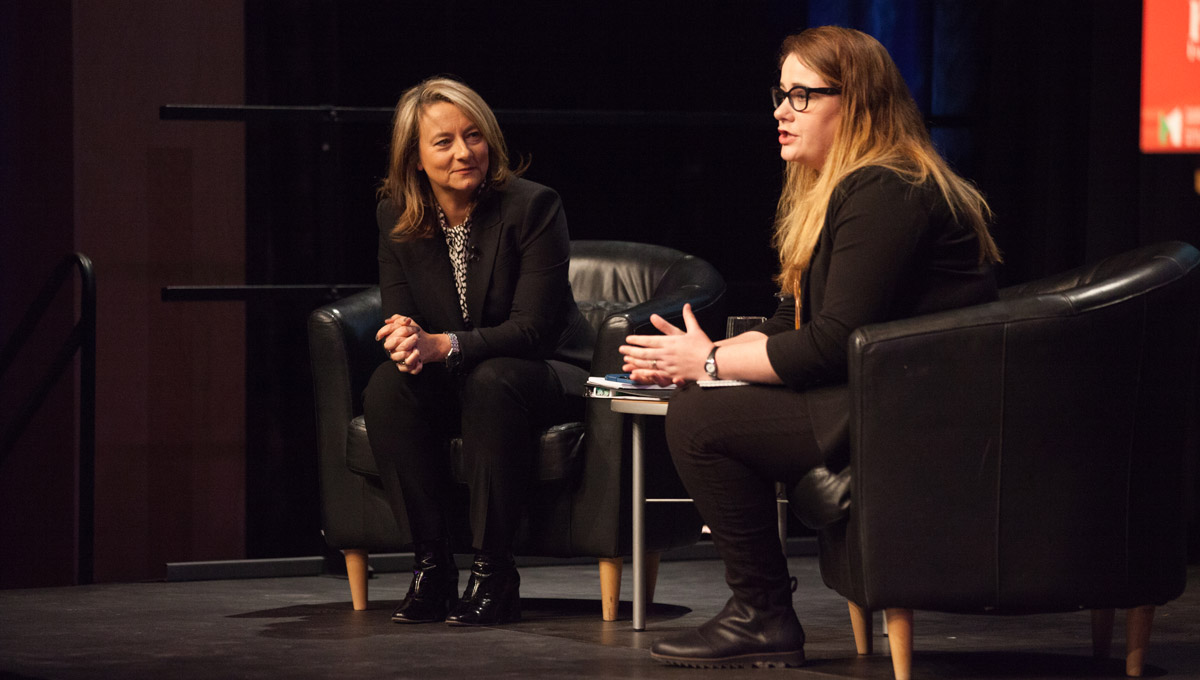 Adrienne Arsenault: From The National to the International
After the lecture, the Globe and Mail's staff parliamentary reporter and Carleton journalism graduate, Kristy Kirkup, moderated a question and answer period with Arsenault. She discussed her reporting experiences in the field and offered advice to journalists: combat misinformation by sharing research and reporting decisions without compromising sources, and aim for quality over quantity. She also spoke out for freelance foreign correspondents, saying they deserve more support from journalistic institutions.
Arsenault grew up in a broadcasting household in Toronto. Her father was a TV director and producer and the family radio was permanently turned to CBC Radio. After completing a BA in international politics and an MA in journalism at Western University, she tried to get a job at As It Happens in 1991, but entered the wrong CBC building on the day of her interview.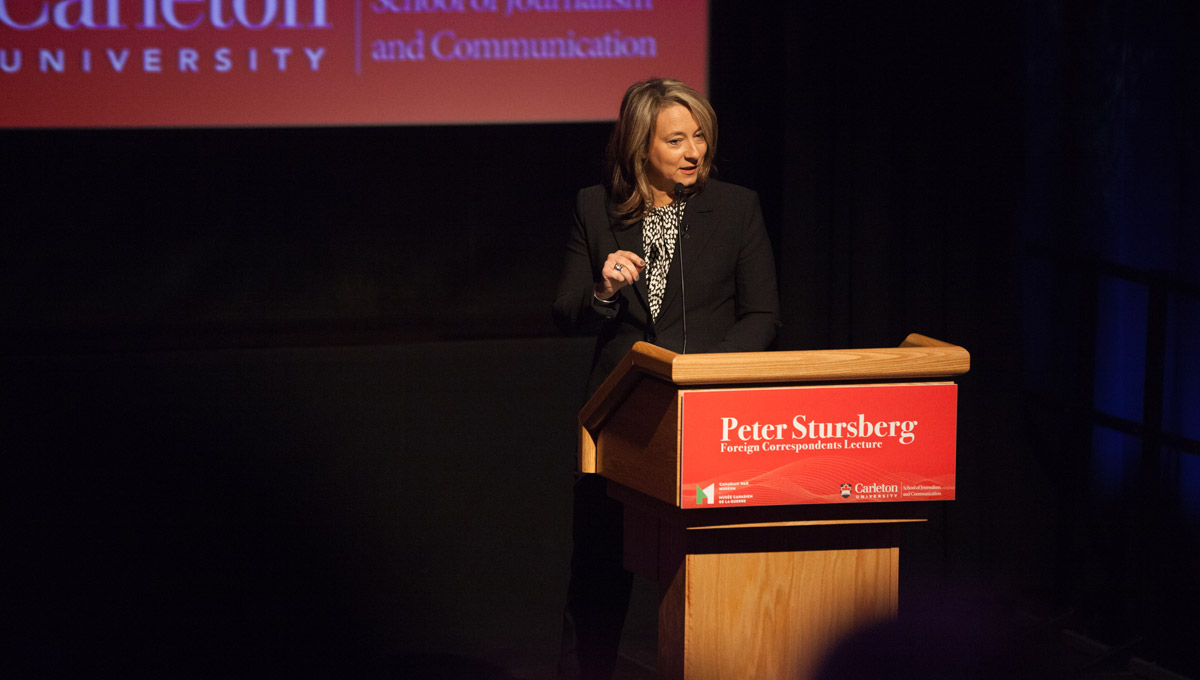 There, she joined The National as an editorial assistant and moved to Vancouver for roles as a researcher and editor. She became The National's senior correspondent in 1999 and went on to become the Middle East bureau chief in Jerusalem for almost four years before reporting from London for many years.
Arsenault has travelled the world covering conflict, politics and many events of global significance, including the aftermath of the 2004 tsunami in Sri Lanka, the Arab Spring uprising in Lybia in 2011, and the Ebola crisis in West Africa in 2014, the last of which won her an international Emmy.
Although she has been in many dire situations, she finds one of the most frightening aspects of her job is reader apathy.
In partnership with the International Consortium of Investigative Journalists (ICIJ) and 17 other news organizations, including the BBC, The New York Times and The Guardian, Arsenault was among several CBC reporters who worked on the China Cables story published on Nov. 24. They investigated leaked documents from a confidential source showing the Chinese government's plans to detain and re-educate Uighurs, a mainly Muslim minority group in the Xinjiang province, in internment camps.
Arsenault was dismayed to see the Twitter response to the story was lukewarm but heartened when a TikTok video went viral. A short video by American 17-year-old Feroza Aziz began with a lash-curling tutorial (a ruse) before urging her followers to educate themselves on China's oppression of the Uighurs. The video was shared over 1.5 million times, said Arsenault.
"Don't get me wrong, this is not the answer to this era's challenge," she said. "But to me that is a seed. That teenager found a way to get the truth to punch its way through a wall of disinterest."
People still care, but fighting apathy now depends as much on news consumers as it does on correspondents, she said.