By Dan Rubinstein
Photos by Brenna Mackay
When Carleton University engineering researchers have eureka moments in the middle of the night, their first stop the next morning is often the Mechanical and Aerospace Engineering shop on the second floor of the Mackenzie Building.
"I rarely say no to their ideas," says supervisor Alex Proctor, who has been building, fixing and rigging together research tools and equipment in the bustling workshop for nearly three decades. "People come to us with all sorts of designs, and I say, 'OK, let's give it a try!'"
Proctor is one of dozens of unsung lab techs on campus whose behind-the-scenes labour plays a vital role in faculty and student projects.
"We're builders," he says, describing the range of hardware in the shop, from old-school lathes to Computer Numerical Control (CNC) machines. "We like to work with our hands. And there are a lot of things you can't buy off the shelf."
Prof. Matthew Johnson burst into the shop recently with a unique ask. A pair of his graduate students were flying to Finland in a couple hours to measure emissions from a giant flare across the border in Russia.
Technician Nick Thomas quickly made an adaptor to attach a large telephoto lens to their scientific camera, machinist Kevin Sangster made a silver lens plate so they could image the sun, and the students made it to the airport on time.
Over the years, Proctor has worked on everything from flight simulators, drones and race cars to a box to house the valves of an experimental artificial heart and a pig brain slicer for research on helmets and head injuries.
"Technical staff like Alex are our institutional memory," says Prof. Jeremy Laliberte.
"They're able to quickly come up with innovative solutions to manufacturing problems while sharing their wisdom with students."
Learning By Doing
Recently, a student was in the shop welding an incubator frame for a project that's exploring ways to improve infant safety during medical transportation.
"Our biggest impact is introducing students to the manufacturing," says Proctor. "When students participate, their designs get better. And if they get excited about something, I get excited too."
Meanwhile, in the Carleton Mass Spectrometry Centre on the ground floor of the Steacie Building, Karl Wasslen is busy operating and maintaining a collection of machines that "weigh molecules," providing data that can be used to analyze the composition of substances such as beer, coffee and pharmaceuticals.
"Some of the instruments we use are getting old, so they require a lot of extra love," says Wasslen, who has run the facility since it opened in 2015, testing samples for faculty, external clients and students or showing them how to do so themselves.
"When a piece of equipment breaks, I get the tools out and take it apart so I can troubleshoot."
The mass spec centre is a cornerstone of Prof. Jeff Smith's research partnerships. He and Wasslen have worked with local brewery Broadhead on a project to investigate optimal beer storage conditions and with local coffee company Bridgehead to explore the intricacies of coffee bean aging. They've also collaborated with Ottawa's safe-injection site, testing trace samples of drugs so users can be told their contents in just a few seconds.
"That one hit home," says Wasslen.
"I could see the direct impact of our work."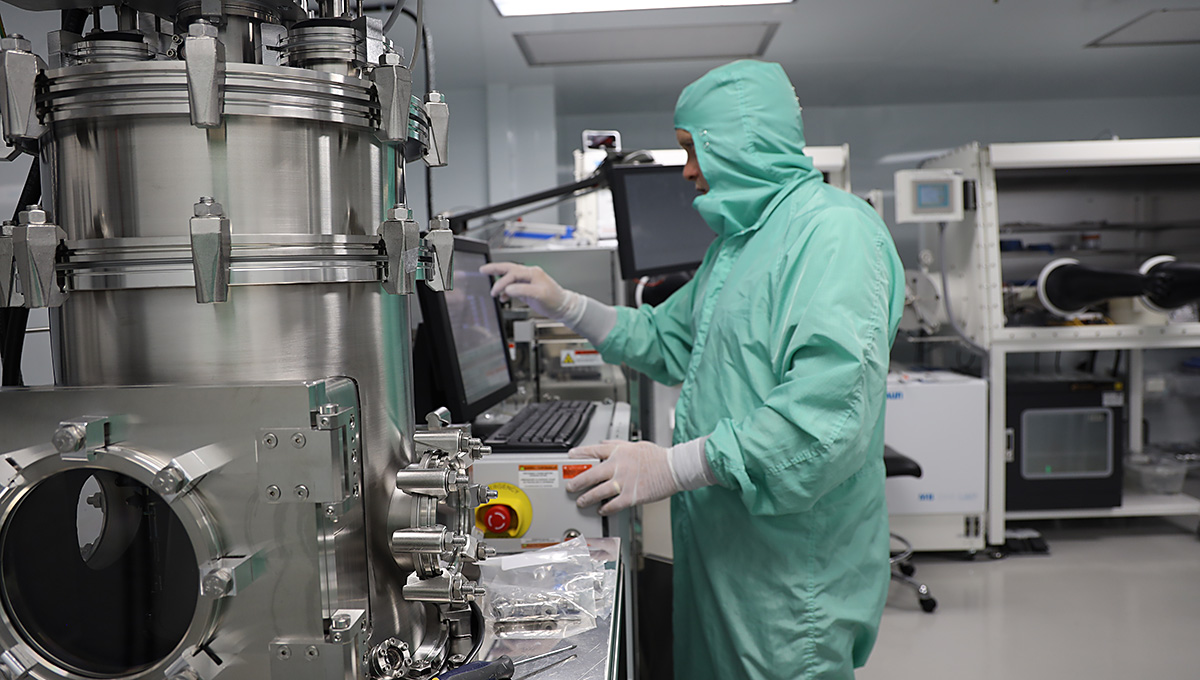 High-tech Student Support
Like Proctor, one of the best parts of Wasslen's job is supporting students. "I talk to them about their challenges and help them come up with new methods for analyzing compounds," he explains. "I get to help people grow a love for mass spec."
Peter Gordon, administrator of the NanoFab facility in the Minto CASE building, echoes those comments. Researchers fabricate a variety of surfaces with a range of materials in the lab, which specializes in techniques such as atomic layer deposition to make thin-film coatings for computer and electronic components just a few nanometres thick.
"I get to train grad students so they can incorporate cutting-edge techniques from our lab into their education," says Gordon.
"It's great to see their work go from an idea on a chalkboard to a product in their hands."
Over in the basement of the Loeb Building, Geography and Environmental Studies lab tech Quang Ngo has been helping students and professors on a long list of projects for more than 20 years: augers for extracting ice core samples, weather monitoring tools, hip waders.
"I like puzzles and trying to figure things out," says Ngo, who also handles shipping and receiving and helps out at departmental picnics. "Professors teach students and lead the research, but I have to make sure the equipment works.
"I'll do anything I can to help students," he continues.
"This is more than my job — it's part of my life, and I love what I do."
Tuesday, October 18, 2022 in Engineering, Faculty of Engineering and Design, Research, Student Experience
Share: Twitter, Facebook