By Dan Rubinstein
Photos by Chris Roussakis
From a prosthetic hand produced on a 3D printer to a height-adjustable moveable kitchen workspace, Carleton students have had tremendous success over the years at the Innovative Designs for Accessibility (IDeA) competition, where students are asked to develop innovative, cost-effective and practical solutions to accessibility-related issues.
Carleton students have placed first in the IDeA competition every year since its inception in 2012, with at least two Carleton teams finishing in the top three each year since 2013.
Now they'll have a chance to showcase their creativity on a larger scale as the provincial IDeA program, previously co-ordinated by the Council of Ontario Universities, is reborn as a national initiative managed by Universities Canada.
"Today, one in seven Canadians reports having a disability, and that number will only continue to grow as our population ages," MP Stéphane Lauzon, parliamentary secretary to the Minister of Sport and Persons with Disabilities, said at a launch event for the national IDeA competition at Carleton on Feb. 14, 2018.
"That's why our government is committed to greater inclusion. We need our students to innovate, and to bring their ideas to fruition. The IDeA competition will help remove barriers to accessibility and accelerate innovation. It's also an ideal opportunity for students to make the most of their skills in their respective fields, and to develop cost-effective solutions to accessibility issues in their communities."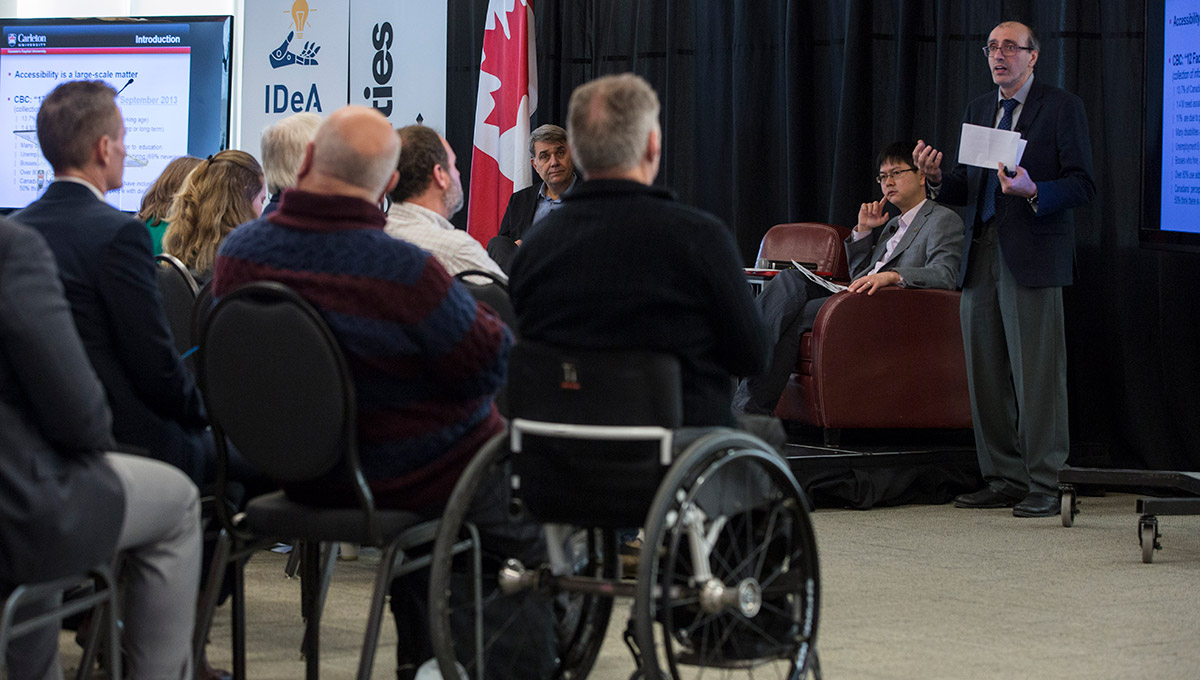 National Accessible Design
Competition Opens March 1
The IDeA competition will be open to applications from March 1 until May 31. All students at Canadian universities — whether full-time or part-time, undergraduate or graduate, domestic or international — are eligible to enter.
The first-place prize is $2,000 and an all-expenses-paid trip for the winner to showcase their project at the Canadian Innovation Exchange (CIX) annual conference in Toronto in October.
"This new program furthers our commitment to diversity, equity and inclusion," Philip Landon, vice-president of Governance and Programs at Universities Canada, said at the launch.
"We want to challenge university students' perspectives on inclusion, and to advance social and technological innovation by addressing five categories of barriers, from attitudinal to technical."
Carleton Vice-President (Students and Enrolment), Suzanne Blanchard, opened the event and praised the new national competition as an opportunity for Carleton to build on its status as the most-accessible university in Canada.
"We're proud of our research and program development to help create a more accessible world," said Blanchard. "We're really excited to see the expansion of the IDeA competition. Our students are excited about the challenge."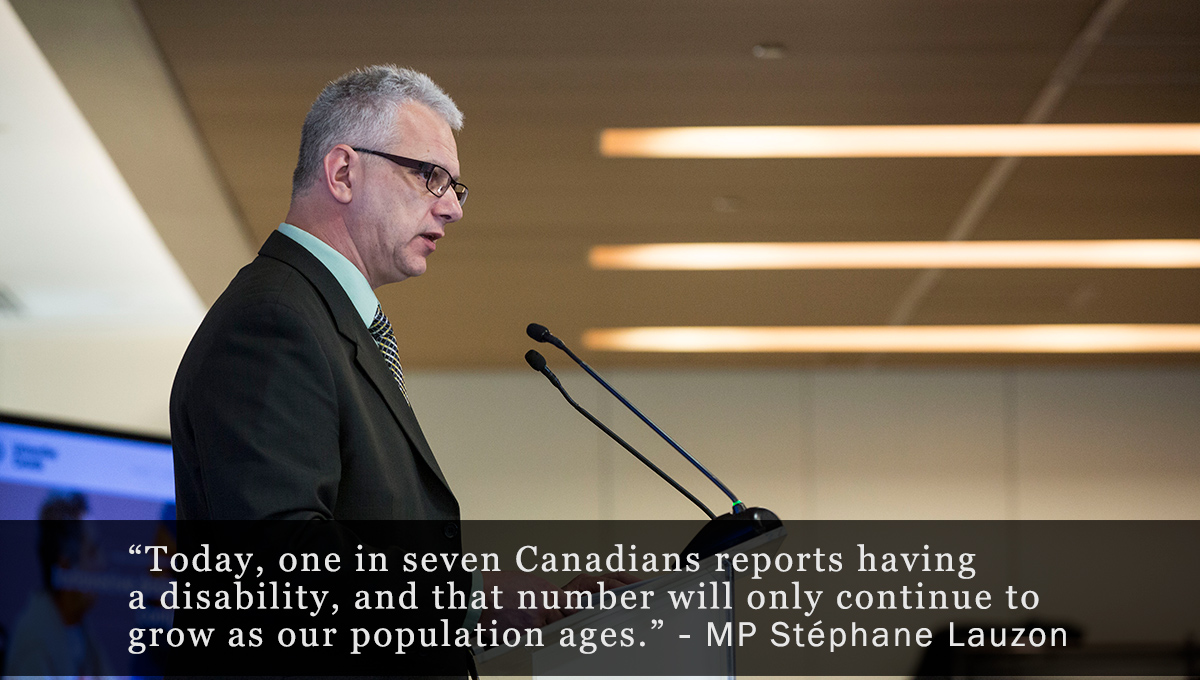 Highlighting Carleton's Accessible Design Research
The Feb. 14 event included a panel discussion with Bjariki Hllgrimsson, director of Carleton's School of Industrial Design, Mechanical and Aerospace Engineering Prof. Mojtaba Ahmadi and Systems and Computer Engineering Prof. Adrian Chan — who is also assistant vice-president (Academic) and chair of the Research, Education, Accessibility and Design (READ) Initiative advisory board — that highlighted Carleton's work at the intersection of accessibility, engineering and design.
"Inclusive design is also a commercial opportunity," said Hallgrimsson.
"It's a better idea to do things right from the beginning, rather than upgrade infrastructure. (The) focus on end users' needs should focus on 'extreme users' — people with the most difficulties. That should be the starting point."
Chan spoke about the new Research and Education in Accessibility, Design, and Innovation (READi) training program, which was launched last fall and is funded by the Natural Sciences and Engineering Research Council of Canada through its Collaborative Research and Training Experience Program (CREATE). READi is the first interdisciplinary post-secondary accessibility-training program offered in Canada.
"Improved accessibility is a question of fairness and justice," said Lauzon.
"Universities Canada's IDeA program is a great example of what we can do by working in partnership.
"For students, it's a wonderful opportunity," he added. "I'm sure we will all be very impressed by the ideas and solutions that emerge to help make Canada a more inclusive country."
Thursday, February 15, 2018 in Accessibility
Share: Twitter, Facebook