Carleton University is committed to sustainability – on its campus and in its teaching and research. A new sustainability plan in 2020 set ambitious goals for diverting waste and reducing emissions.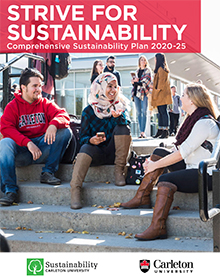 Carleton was ranked as the second most sustainable university in Canada and the 35th most sustainable in the world in the 2019 UI GreenMetric World University Rankings. But we have more work to do.
Researchers at Carleton are part of the global effort to forge a new, more sustainable path. They are helping to reduce greenhouse gas emissions by making buildings more energy efficient, and they're collaborating with communities affected by climate change.
They are also challenging longstanding conservation paradigms in ways that could encourage a more distributed approach to biodiversity – and ultimately result in more wildlife habitat being preserved.
This Earth Day, Carleton invites you to learn more about our efforts to address today's challenges and mitigate future impacts.