By Dan Rubinstein
Photos by Fangliang Xu
Hundreds of Carleton University students, faculty, staff and members of the broader Ottawa and Iranian-Canadian communities gathered on campus Wednesday, Jan. 15, 2020 to honour and celebrate the lives of our student and alumnus and all those who died in the tragic plane crash in Tehran one week earlier.
Fareed Arasteh was a PhD student and teaching assistant in the Biology Department at Carleton, and Mansour Pourjam was a Biology alumnus.
"There is nothing more tragic than the loss of young life, and we are all mourning for Fareed and for Mansour," said Carleton President Benoit-Antoine Bacon.
"On behalf of the university, I would like to offer my most sincere and heartfelt condolences to their families, friends and colleagues."
All 176 passengers and crew aboard the plane died when it was struck by two missiles and crashed shortly after takeoff near Tehran on Jan. 8.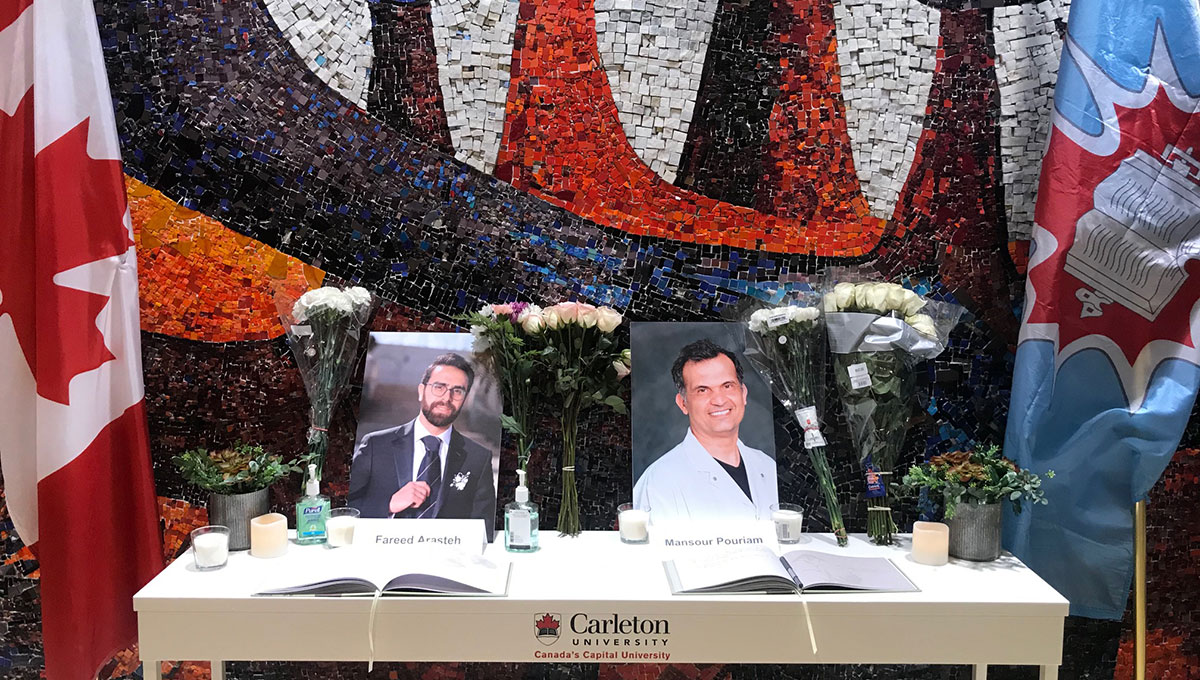 One hundred and thirty-eight people on the flight were on their way to Canada and 57 were Canadian citizens, many of them students, faculty and staff at universities across the country. A national moment of silence to mourn the devastating loss was held an hour before the vigil at Carleton began.
"The Carleton community is a caring community and we support one another in good times and in bad times and in times of tragedy," said Bacon. "Life is short and through bad luck or malevolence, it can be made shorter still.
"All we can do, to paraphrase Indigenous Elder Barbara Dumont-Hill, is strive to live life in a good way. As you will hear today this is how Fareed and Mansour lived, and this is what we can to do honour their memories."
Catherine McKenna, Canada's minister of Infrastructure and Communities and the MP whose riding contains Carleton, brought condolences from the federal government.
"This is heartbreaking," said McKenna. "I look around and see many members of the Iranian community and know how much you're suffering. But you should know that all Canadians are with you.
"Like many of you, I am so sad," continued McKenna. "But I am also very angry because we shouldn't be here crying and mourning two members of the community of Carleton, of Ottawa, of Canada. Their stories are stories of hope and brilliance. They choose to come to Canada, after years of work, often at great risk and great expense, and moved on. But as we work through this tragedy and support their families and friends, we have to honour the memories of these incredible people. We owe it to them. We need to do what they did — to live and dream."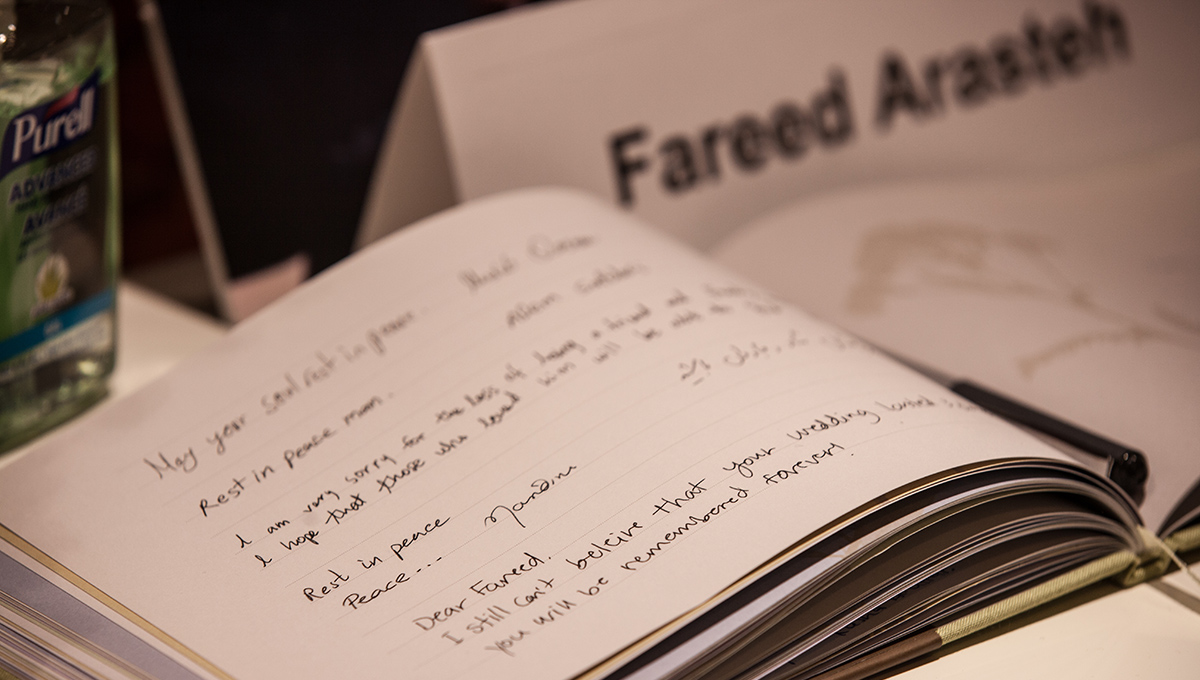 Never Give Up on Your Dreams
Throughout the hour-long vigil, people who knew Fareed and Mansour well shared beautiful and funny stories about two men who brought so much joy to others.
Arasteh — who had just married his long-time girlfriend in Tehran – was a passionate and determined student on his way to becoming a distinguished scientist.
"I thought that talking about him would help me accept the fact that he's not coming back, but there are no words that can ease the pain or fill the void that so many of us are feeling," said his close friend Reza Samanfar, a Computer Science master's student at Carleton.
"Instead, I decided to talk about what he would talk about if he was standing here instead of me.
"He would tell us to dream — and to never give up on our dreams. He dreamed of coming here to Carleton, he worked really hard for his dream, and he made it a reality. So, let's learn from Fareed. Let us live our lives to the fullest, take a closer look at the people around us, our friends and family, and let's have an impact on their lives. Because life is unpredictable and can be too short."
Biology Prof. Ashkan Golshani, Fareed's PhD supervisor, took the podium next and told the audience about one of his first conversations with the young student, who at the time had a master's degree and was making decent money working for a biotech company.
Golshani asked him why he wanted to trade that stability for five years working 12-hour days as a PhD student with an uncertain future.
Fareed responded that he may have a good life, but he wasn't living fully.
"The meaning of life for him was to make a contribution," says Golshani, "and that was the answer I wanted to hear. Working in a lab was living his dream. That's what we want to hear from graduate students."
It took two years for him to be admitted to Carleton as an international PhD student. Golshani welcomed him to Canada and told him that he had three weeks to prepare for a presentation to 45 scientists on a topic he knew almost nothing about.
"He delivered," recalled Golshani, "and I realized this is a guy who is going to go places. He meant business. He wasn't here to play. He was a player.
"This is a very sad situation, but it has brought all of us together, and we should look at it as an opportunity to build bridges."
When Fareed died, added Golshani, his fellow students lost a brother.
"Traditionally, when somebody dies, we ask everybody for a moment of silence," said Golshani.
"I respect that. But I don't think that reflects Fareed. He made noise, and I invite all of you to make some noise to celebrate his life."
A minute of loud applause followed.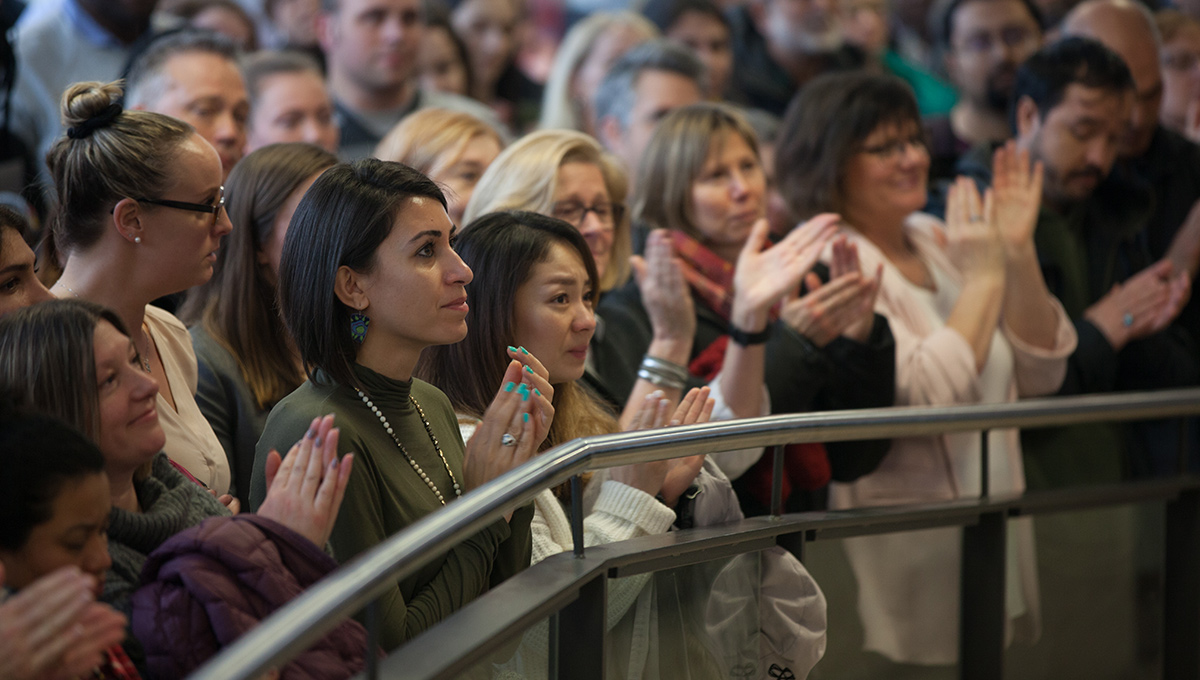 A Smile You Could See From Far Away
Mansour Pourjam was a denture technician who lived in Barrhaven and worked in Bells Corners. He loved to make people laugh, and leaves behind 13-year-old son Ryan.
"Mansour was an entertainer," said his brother Masoud. "I remember the first time he landed in Canada. Me and my older brother went to the airport to pick him up and we were still far away when I saw his teeth — he always had a very big smile.
"I also remember the first day I dropped him off at Carleton," continued Masoud. "We got a coffee and were sitting and talking. He didn't want to finish the coffee. I told him: 'I have to go, brother.' He said it was the best coffee of his life."
Ryan spoke next and told the audience about his father.
"I can't remember a single moment in my life when my dad had any negativity in his voice or actions," he said.
"I did, obviously, but he always told me to stay positive.
"I don't want to talk about the bad things, because my dad wouldn't want to talk about the bad stuff. I look to the audience and see his family and friends, the relationships he built over decades, and it comforts me, because you're all here to celebrate Mansour's and Fareed's amazing lives.
"Mansour, if I could describe him in one word, it'd be strong. He's been though tragedy after tragedy, wall after wall, wrong turn after wrong turn, and he stood strong. He was amazing — and we loved each other.
"I stand up here a week after this horrible tragedy and I still can't believe it. I feel like I'm dreaming. But I feel like if I was dreaming and he woke me up, he'd tell me it was going to be OK. And it will be."
Robert MacLeay, owner of the Ottawa Denture and Implant Centre, where Mansour was a dedicated and beloved employee, said he "was a guy who brought light to a dark room.
"I have to echo what Ryan said: In 17 years, we never saw him angry. It was remarkable. Our family at work was a small group. We all worked together and he leaves a big hole."
MacLeay told a couple stories about Mansour's love of food.
"He absolutely treasured birthdays at the office, not so much his own, but anyone's birthday, because it meant there was going to be cake — and there was going to be cake for days and days afterwards.
"I remember him being distressed, absolutely distressed, when two people in the office had the same birthday. It meant he was going to be shortchanged cake — so we had to stagger the birthday so he could get his cakes."
Mansour was a Jack of all trades who fixed broken equipment, MacLeay said with a smile, and broke equipment that was not in disrepair.
"We called it the 'Mansourian approach,' and we loved him dearly. It was all about levity with Mansour. He was all about trying to make everybody feel good."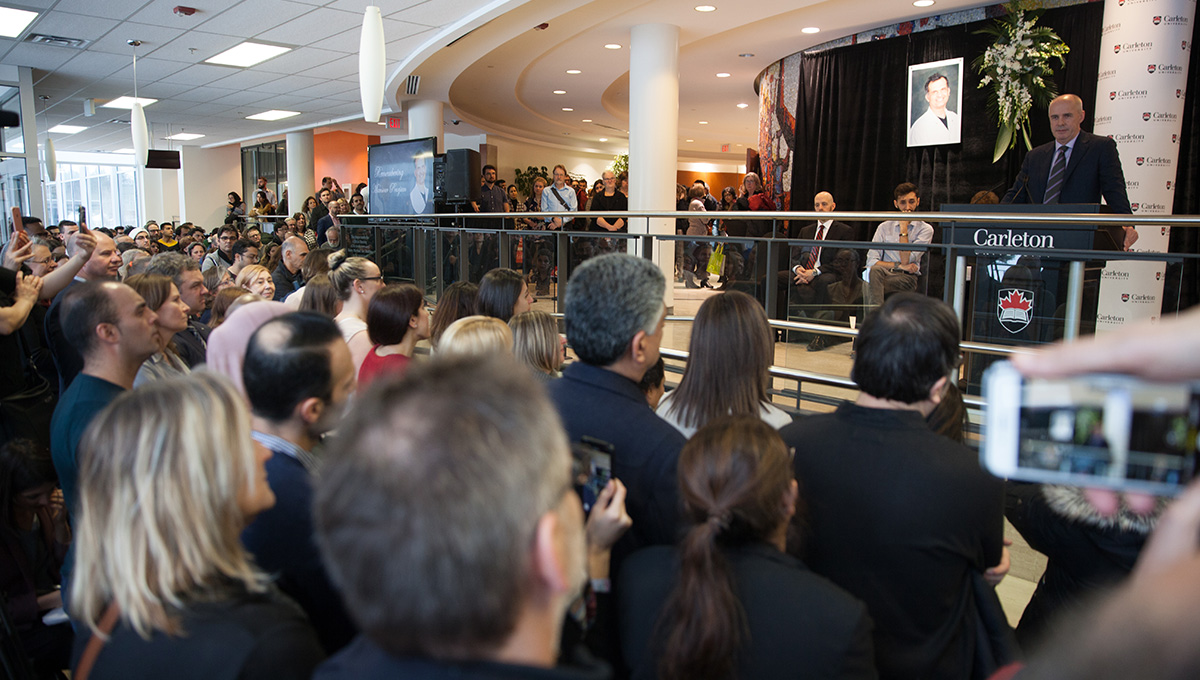 Different Cultures Living in Peace
After MacLeay, the vigil's emcee, Karen Schwartz, Carleton's associate vice-president (Research and International), introduced the afternoon's final speaker, Engineering Prof. Fred Afagh, who represented all of the Iranian faculty members at the university.
"Canada lost people who had so much to offer to their adopted homeland," said Afagh.
"A good number were academics, scholars, students, researchers and professionals who were valuable contributors to the future of Canada and humankind in general."
Afagh described Iran as a cradle of ancient civilizations that has produced so many celebrated minds, including the 13th century poet Saadi Shirazi, whose work emphasized the unity of humankind. He quoted from Saadi's poem "Bani Adam."
Adam's children are limbs of one body

That in creation are made of one gem.

When life and time hurt a limb,

Other limbs will not be at ease.

You who is not sad for the suffering of others,

Might not deserve to be called human.
The Iran airplane tragedy "transcends national boundaries," said Afagh, quoting a colleague, "and as such it shows how our solidarity as humans also transcends those boundaries. If living in Canada has taught us one thing, it's the value of different cultures living together in peace."