Carleton University's commitment to environmental sustainability has earned top marks in the UI GreenMetric World University Rankings 2020.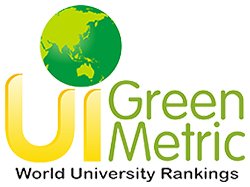 Carleton was ranked number one in Ontario and second in Canada in the worldwide rankings, which assessed nearly 1,000 universities and were released on Dec. 7, 2020. Globally, Carleton ranked an impressive 57th worldwide for its efforts to reduce its environmental footprint.
The GreenMetric rankings assess each university's setting and infrastructure, energy and impact on climate change, waste, water, transportation, education and research.
"As the world faces increasing environmental challenges, Carleton University has a key role to play in providing innovation, talent and leadership that will lead to meaningful change," said President Benoit-Antoine Bacon.
"This international recognition reflects the important steps Carleton continues to take to remain at the forefront of sustainability issues.''
In November, the university released its Strive for Sustainability strategic plan. It takes note of Carleton's $70 million in research funding for sustainability from external sources, the university's 35-per-cent reduction in carbon emissions intensity since 2005, and improvements made on campus in grey water harvesting, renewable energy and sustainable transport.
"Our ranking confirms our position as a leading institution for sustainability," said Philip Mansfield, Carleton's sustainability manager.
"We are gratified to see ever more universities taking part in this global green ranking, and we will continue to demonstrate strong leadership and commitment and embed sustainability across all aspects of our operations, research and teaching."
Carleton's commitment to sustainability is also evident in the construction of new buildings. The future home of the Sprott School of Business, the Nicol Building, was designed to have a light environmental footprint from "core to skin." This includes reducing the use of carbon-intensive concrete and designing the heating and ventilation systems to maximize energy efficiency. The building is expected to receive 4.5/5 Green Globes, a nationally recognized environmental building certification, when it opens in 2021.
In addition to sustainable building design, the Strive for Sustainability plan includes goals for leadership, teaching and learning, research, energy and emissions, water, waste, travel and transport, food operations and community engagement over the next five years.
For more information on Carleton's sustainability efforts, go to: https://carleton.ca/sustainability