Today's business students are seeking meaningful careers and balanced lives where they can have a positive impact. The events of the past year have emphasized the need for graduates who can embrace complex challenges and creatively address change.
"We need to prepare our students to be the outstanding leaders that the world needs to navigate the challenges and opportunities that face us," says Dana Brown, dean of the Sprott School of Business.
"These leaders, who may work in the private or public sector, need to have a breadth of knowledge and understanding, an ability to grapple with complexity and empathy with diverse people and ideas."
In its new strategic plan, the Sprott School of Business lays out its vision for a business school that is impactful and engaged with its community.
In drafting Vision 2025: Business for a Better World, Sprott consulted with students, instructors and its alumni network to ascertain what they want the school to be. It also consulted externally with business and community organizations.
"We consulted with our community because we need to know what we look like to the outside world," says Brown.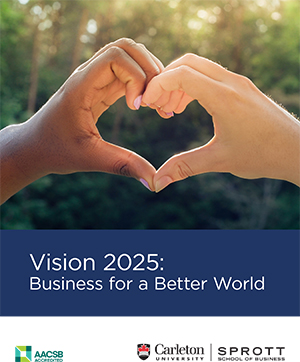 "We need to speak to that world. We want people to be excited to study with us, work with us and partner with us.
Brown chaired the Sprott Strategic Planning Committee, which integrated that feedback as it developed its vision for the future.
Vision 2025: Business for a Better World understands learning to be a lifelong transformational journey.
"At Sprott, we will educate our students to lead with compassion, imagination and purpose," says Brown.
"We will ask tomorrow's leaders to develop the confidence to ask hard questions, to embrace diverse perspectives and be authentic in their leadership."
Sprott will foster an inclusive and collaborative learning environment, supported by the innovative spaces within its future home—the Nicol Building. The school will seek to attract talented students from diverse backgrounds. It will develop innovative curricula and foster new opportunities for experiential learning.
The school recently appointed Rick Colbourne as its inaugural Assistant Dean of Equity and Inclusive Communities. A scholar of Indigenous economic development, Colbourne (Mattawa/North Bay/Algonquin First Nation) is leading schoolwide initiatives that promote diverse voices and perspectives to build understanding and break down barriers to equality and social justice.
Sprott will also be placing increased focus on entrepreneurship and supporting technological and social innovation. It is creating an innovation hub in the Nicol Building that will provide opportunities for all Carleton students to develop their entrepreneurial thinking, receive mentorship, and launch and grow ventures. To support entrepreneurial learning, the school will forge partnerships with entrepreneurs and local organizations, as well as those from Indigenous and African communities.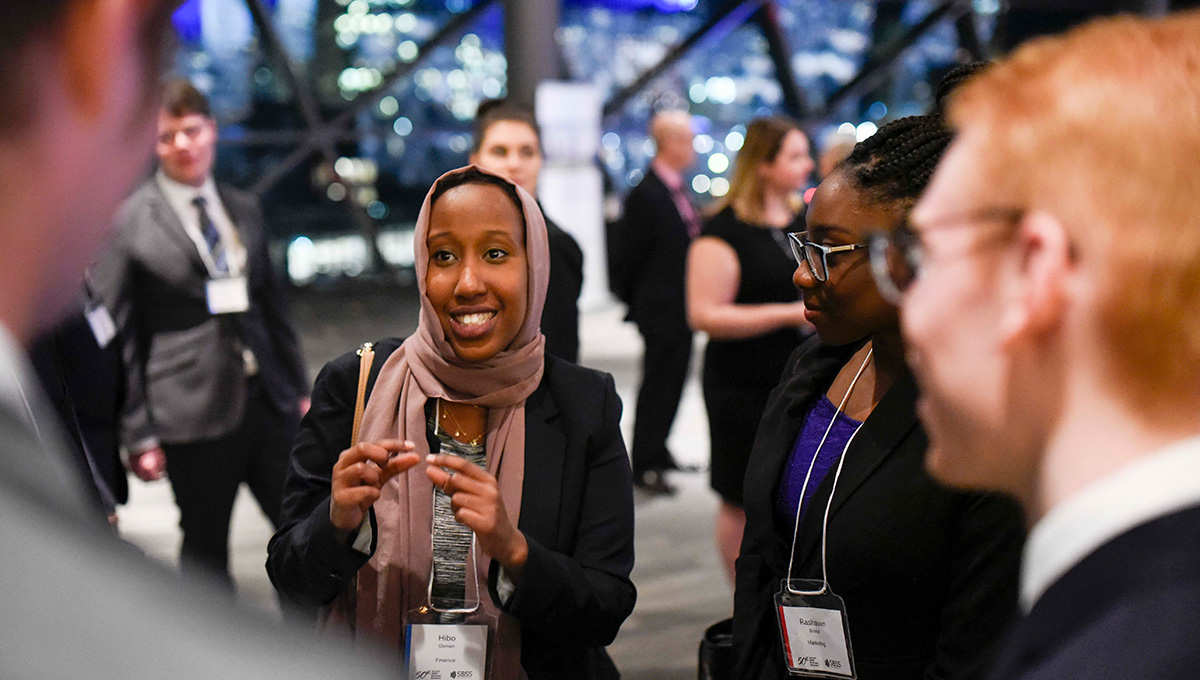 Strengthening Local and International Connections
Sprott plans to strengthen its ties with Ottawa's thriving business community—to be partners in the city's prosperity. The rich potential of Sprott's students and faculty is a resource that can help accelerate the growth of local technology companies, and the university can serve as a magnet to attract international talent to the region.
It will also seek to strengthen international connections by enhancing global learning opportunities, promoting Sprott research in key international markets, and fostering connections within its international alumni network.
"There are a lot of advantages to being located in Ottawa. It is both a global city and a vibrant local hub for public- and private-sector innovation," says Brown.
"Business schools have a significant role to play in their local business community and local economy—in developing talent and supporting businesses community. We have a booming tech sector in Ottawa, with Shopify and the Kanata North companies. We have the government and embassies. There is a vibrant community to tap into in Ottawa. That is super exciting from the perspective of developing partnerships, but also for student experience. Experiential learning is emphasized in our strategic plan, and partnerships are essential for that."
Advancing responsible leadership is also a pillar of the plan. Sprott will seek to co-create knowledge of responsible business practices with key partners, including Indigenous organizations. It will seek to integrate this knowledge into the classroom, and exemplify it in the decisions that the school makes.
"Business can have a positive impact on society, but it can also have a negative impact," says Scott Gonsalves, Sprott's manager of strategy and quality.
"We have tried to address that in our strategic plan. It is our aspiration to foster shared prosperity, and to advance equity and justice. In the past, the power of business might have only helped certain groups in our society, but we can use that same power to share prosperity in the future."
Sprott's new strategic plan is well-aligned with Carleton's new Strategic Integrated Plan, which officially launched in September 2020. For Brown, Vision 2025: Business for a Better World doesn't just articulate a vision for how a business school should be run in the 21st century—it creates a blueprint for harnessing the potential of business to improve lives worldwide.