By Lindsay Brennan
Photos by Chris Roussakis and Fangliang Xu
The Carleton University community will come together this week to mark Sexual Assault Awareness (SAA) week, running virtually from Jan. 25 to 29, 2021.
The week of events will raise awareness about the prevalence of sexual assault, provide information about available resources to students and foster a greater understanding of consent.
The Department of Equity and Inclusive Communities (EIC), along with campus and community partners will be hosting a number of events and activities, including a traditional medicine workshop, support groups, bystander intervention training and a Netflix watch party.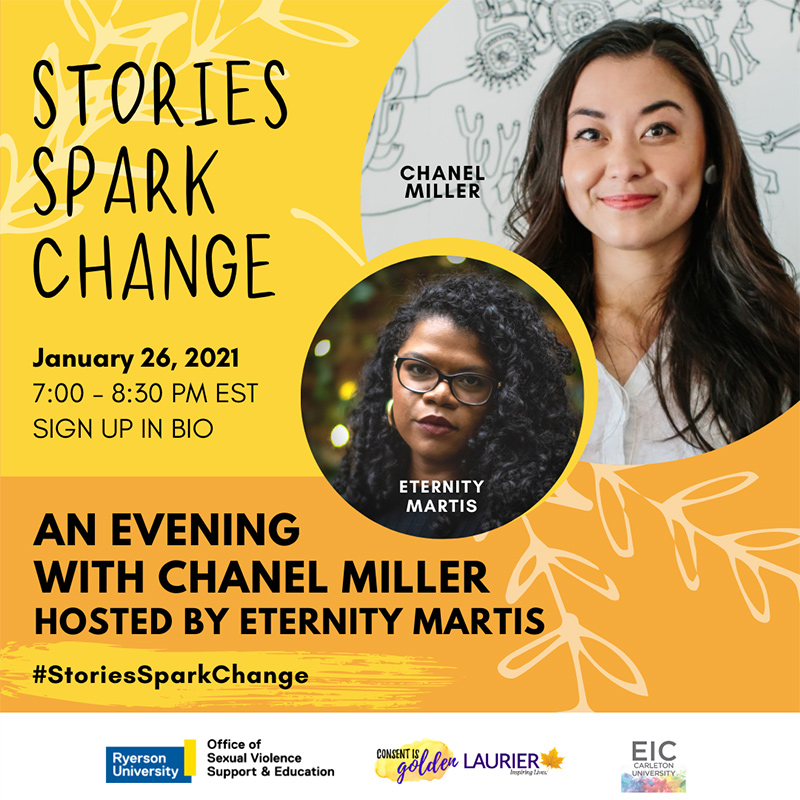 On Jan. 27, in partnership with Ryerson University and Wilfrid Laurier University, the EIC will host a keynote conversation with Chanel Miller, best-selling author of the critically acclaimed memoir, Know My Name, and 2019 Time Next 100 honouree. Eternity Martis, an award-winning Toronto-based journalist and editor, will moderate the event, which has attracted a large number of registrations.
"[SAA] week has always been really important to us at Carleton because we want to build community and raise awareness with survivors," says Bailey Reid, senior advisor, Gender and Sexual Violence Prevention and Support for EIC.
"This year it's even more important because we are so detached from one another."
EIC staff stress that support for survivors is ongoing and still available virtually despite the pandemic.
"Pre-pandemic, students had access to different supports on campus, whether it was in-person counselling, hanging out with friends, being part of different clubs," says Amal Elmi, Equity Education and Services co-ordinator with EIC. "All of that has gone away or changed very drastically. That's why it was so important to us to keep up with the programming virtually."
As part of SAA week, EIC plans to distribute self-care kits to students—an initiative that received more than 350 responses in the first three days.
"It was a big surprise waking up and looking at the registration form," says Elmi.
"But I told my co-workers, this is a good problem to have!"
The self-care kits include a 100-page journal designed by a local artist, hand cream, affirmation cards, tissues and other items. The EIC plans to bring back the kits in the summer for those who were not able to obtain one.
Another initiative is the redesign of the one-on-one peer support program. With campus closed and many students now sharing living spaces with family, partners or roommates, it can be difficult to speak openly about their experiences. By adding a text-support service to their offerings, the EIC hopes to alleviate this barrier and make it easier for students to get the support they need.
If a student is not yet ready to attend an event publicly, they are invited to email Reid (Bailey.Reid@carleton.ca ) or Elmi (Amal.Elmi@carleton.ca) to receive suggestions and referrals to other resources.
Sexual assault awareness week comes to a close on Jan. 29, 2021, although the message from EIC is clear—support for survivors is ongoing.
"We are here if folks ever need to reach out. If you want someone to talk to, there is someone to talk to," says Reid.
"We want survivors to know that we're still here. We believe you, and we're ready to support you."
For more information visit: https://carleton.ca/equity/events/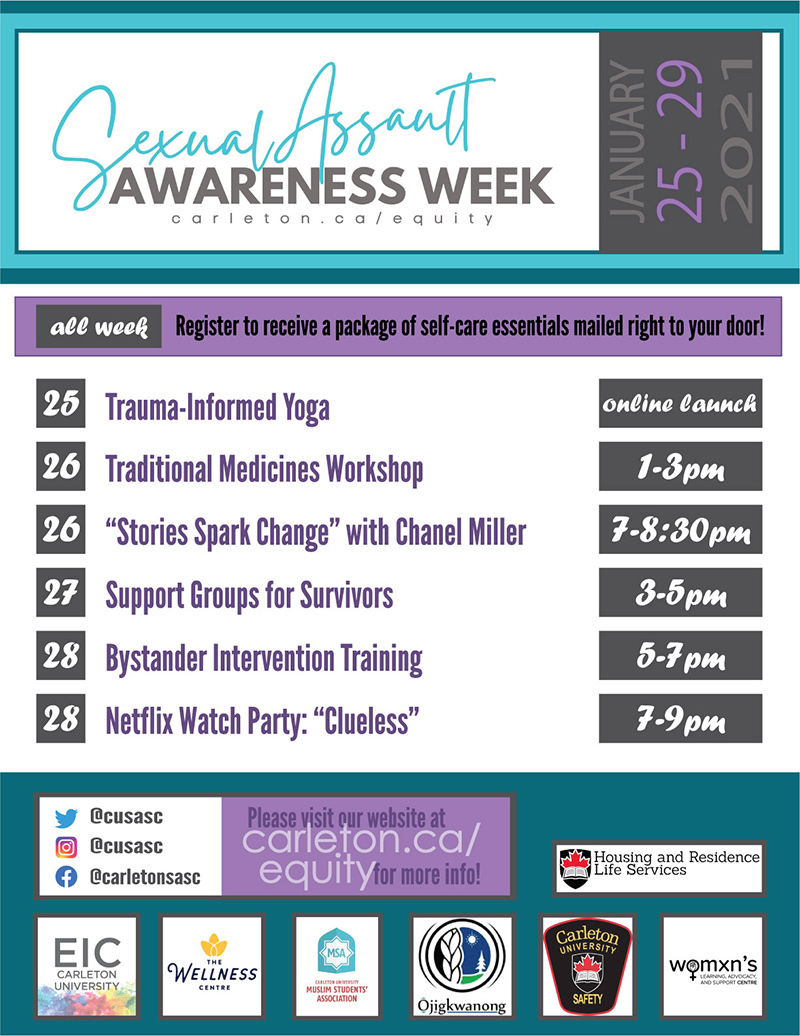 Monday, January 25, 2021 in Equity Services, Events
Share: Twitter, Facebook