During the pandemic, the public has been asked to trust that our leaders will make the right decisions. Daily briefings from politicians and public health officials have been broadcast on television and social media, unfiltered and sometimes unquestioned. Sweeping measures have been imposed with little scrutiny.
The COVID-19 pandemic plunged the world into a state of deep uncertainty, and people around the world have turned to journalists to help them make sense of the most significant social and economic crisis of our generation.
"There has always been a greater allowance for censorship on journalists during wartime,'' says Allan Thompson, head of Carleton University's journalism program and chair of the symposium.
Now, we are in a struggle against an enemy — a virus — and some have expected journalists to simply amplify the message coming from elected leaders and public health officials. We do want to hear from our elected leaders in a time of crisis, but to what degree are you just handing them a megaphone to deliver their message? Where is the accountability?"
Even before the pandemic, traditional media's business models had been decimated and resources were increasingly strained. Then, COVID-19 changed everything again. On October 22 to 23, Carleton's School of Journalism and Communication is staging a two-day virtual conference with a full slate of keynote speakers and panel discussions to examine the shift.
The Journalism in the Time of Crisis conference  will explore what has happened, what it means, and where journalism might go from here. It will address topics that the pandemic has brought to the forefront, including local news, data journalism, Internet conspiracy theories, fake news, mental health, and the future of the industry.
"Journalism was already in a deep crisis. Then, the biggest international crisis in a generation came along — and journalism is front and centre," says Thompson.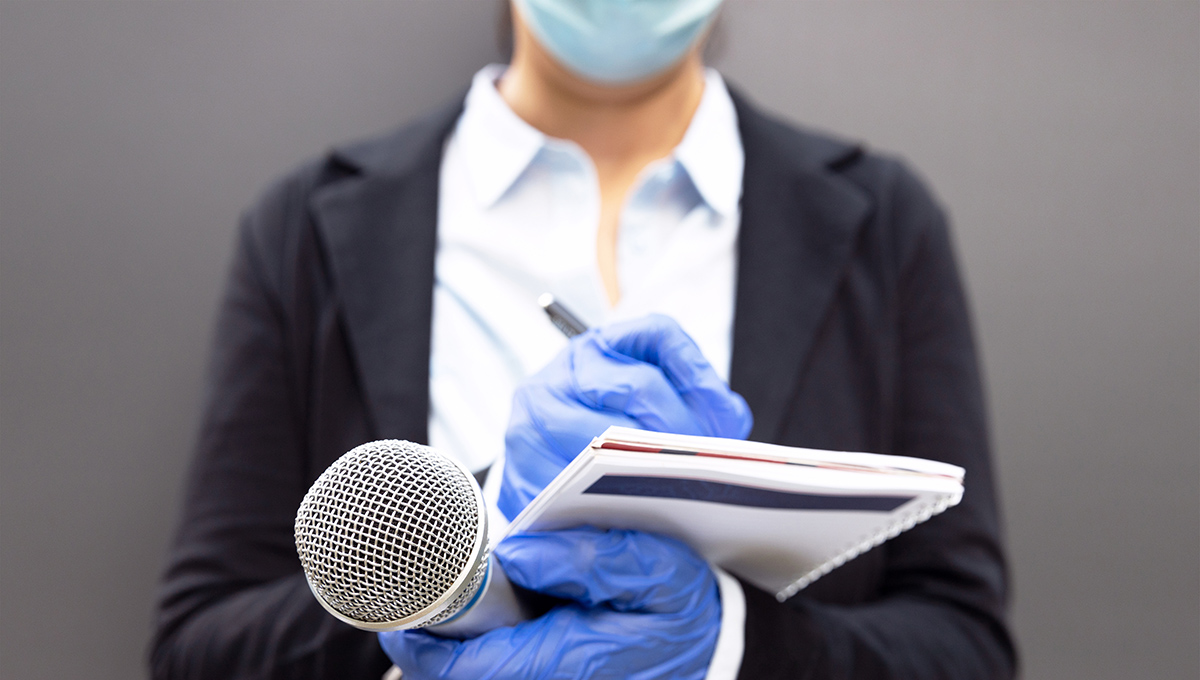 Probing Pandemic's Impact on Journalism
"What it will ultimately mean for the journalism industry is up in the air. Will this raise public trust in journalists? Does it create new avenues to reach audiences? People have relied very heavily on journalism during the pandemic, and it has been a key actor in this drama. There are clearly some significant challenges involved in covering this story safely and covering it ethically."
Many of the journalists whose work has helped us understand the pandemic are scheduled to participate, including Andre Picard of the Globe and Mail, Ed Yong of The Atlantic, Evan Solomon of CTV, and Jayme Poisson of the CBC Radio podcast Front Burner. They'll be joined by a full slate of academics and public officials, including Dr. Theresa Tam, the chief public health officer at the Public Health Agency of Canada.
"Some journalists have really excelled during this crisis, and we want to look at different aspects of the nexus between journalism and a pandemic, to see what we can learn and what we can apply in the future," says Thompson.
"We are trying to extract how journalism performs in a crisis. What can we can get better at, and how can we use this experience to better educate the next generation of journalists?"
COVID-19 is a global crisis with no real analog – not only a pandemic of disease, but an economic slowdown of unprecedented scale. But it is not a crisis to end all crises — every emergency has its own unique set of challenges. The events of 9/11 burst North Americans' illusive sense of security, leading to some coverage that was coloured by fear and tinged with Islamophobia.
The slow function of climate systems has escaped the grasp of some journalists who have considered the crisis in human time scales rather than planetary ones. We don't yet know what the next crisis of extraordinary scale will be, but the lessons we learn from COVID-19 could help prepare journalists to cover it effectively.
"The School of Journalism held its first classes in October 1945 — immediately after a huge global crisis," says Thompson.
"There was a sense that journalism is a pillar of our democracy, and that it could help us avoid another crisis like the Second World War. In 2020, we are marking our 75th anniversary in the midst of one of the biggest international crises since that time. Once again, we are looking at the importance of having accurate information – and the value of journalists as actors who can hold public office holders to account in times of crisis."
The Journalism in the Time of Crisis symposium is open to the general public. Register online here.
Follow Journalism in the Time of Crisis on social media: