Wes Nicol was known for many things. He was an entrepreneur, lawyer, real estate developer, philanthropist, member of the Order of Canada, and one of Carleton University's finest. He passed away on November 29 at the age of 86 in the warm embrace of family and close friends.
Nicol's path intertwined with Carleton's for most of his life. He attended Carleton College in the 1950s, studying at the First Avenue location in the Glebe. The former College building was converted to lofts in 1999, where Wesley and his spouse Mary lived for many years.
They founded the Wesley and Mary Nicol Charitable Foundation in 1984. As the bedrock of the couple's philanthropy, the foundation contributed regularly to local charities including CHEO, Shepherds of Good Hope, and the Ottawa Food Bank, as well as research and disease prevention associations like the Heart and Stroke Foundation, the Canadian Cancer Society, Doctors Without Borders, and the Canadian Diabetes Association.
The hard-working Nicols were generous to social, cultural, and health-related causes and their philanthropic contribution most ardently promoted Canada's interest in entrepreneurial business ideas.
Just two years ago, Mary and Wes donated an incredible $10 million to fund a new building for the Sprott School of Business. The Nicols offered alongside their multimillion-dollar donation an eloquent hope that the new building would "build a brighter future for Ottawa."
Carleton President Roseann O'Reilly Runte says Nicol was one of the school's greatest champions.
"Mr. Nicol enriched the entrepreneurial culture on campus, mentored and provided support for students encouraging them to grow as future business leaders. He gave generously in his lifetime and Carleton University, Ottawa, and Canada are the better for it."
After completing his BA at Carleton in 1954, Nicol was soon accepted at York University's Osgoode Hall Law School and was called to the Bar of Ontario in 1958. Shortly thereafter, he founded a real estate and commercial law firm that later became Nicol & Lazier.
Nicol served as a volunteer member of Carleton's Board of Governors from 1989 until 1998, and was chair of the building committee. He took interest in sponsoring the Sprott School's annual business plan competition. He strongly believed that good ideas and hard work deserved investment, and in 1997 he launched the Nicol Entrepreneurship Award. The Nicol Award grew into a prestigious competition among Canada's best business schools. His advocacy for entrepreneurial ingenuity earned him Carleton's Alumni Entrepreneur of the Year award in 2001. Nicol always maintained that successful, self-made businesspeople needed competition and encouragement to attain their goals.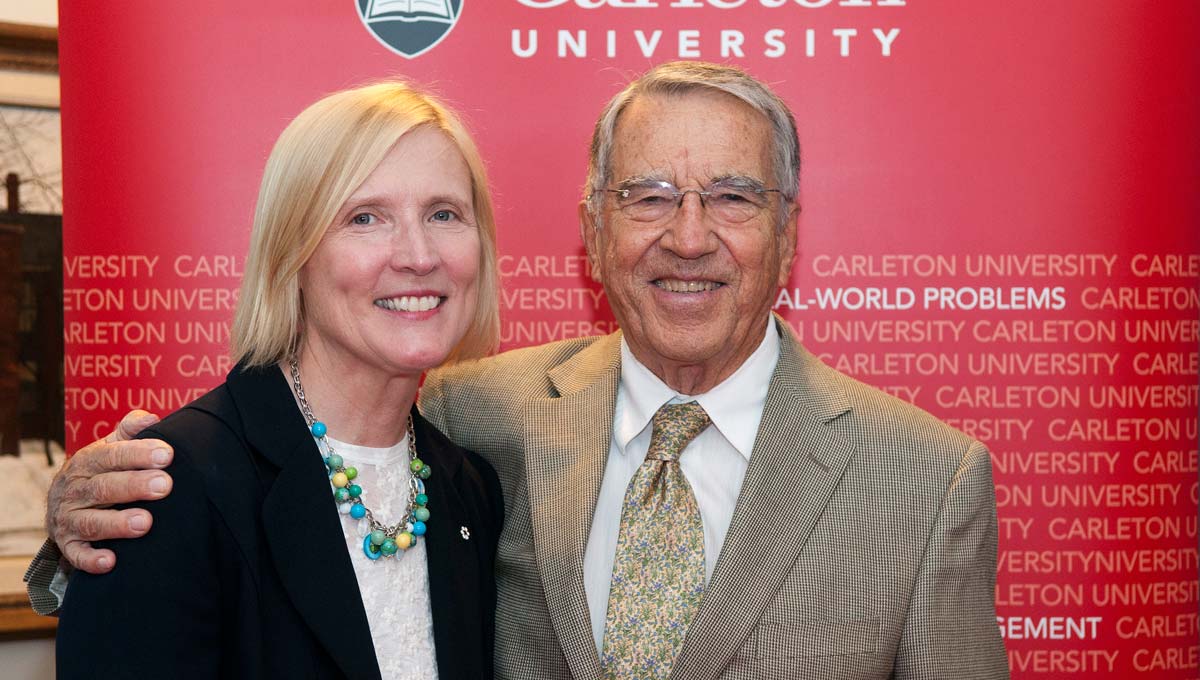 Wes Nicol Invested in the Sprott School of Business
With the same passion for excellence, Nicol invested in the Sprott School of Business by launching the Nicol Entrepreneurial Institute in 2011. Through the program, more than a dozen students are offered a Nicol internship annually connecting them to mentors, incubators, and programs as well as financial assistance from an endowment fund.
Though he maintained that his lot in life was indebted heavily to luck, Nicol's success as a lawyer, land developer, and board member were due in large part to his diligence and determination. Growing up in the 1940s, he was a delivery boy, a labourer, and land surveyor. In 1966, he founded Tartan Homes, which went on to build iconic apartment buildings in Ottawa, such as The Faircrest near Alta Vista and The Highlands in Vanier.
Awards and honours for his business sense and real estate development grew apace, but were received with characteristic humility. At the 2006 fall convocation, Carleton awarded Nicol an honorary Doctorate of Laws for his "outstanding contributions to the governance of Carleton University, the health and spirit of the Ottawa community, and the nurturing of Canadian entrepreneurship."
In 2013, Tartan Homes was named Canada's national Energy Star High Efficiency New Home Builder of the Year, and won a multitude of awards from the Greater Ottawa Home Builder Association. In November of that year, he received the Lifetime Achievement Award at the annual Best Ottawa Business Awards. Later that year, Governor General David Johnston invested Nicol into the Order of Canada for his commitment to fostering the next generation of entrepreneurs.
Nicol was always a strong proponent for being the best you could be while balancing work and play. He enjoyed his role as "President for Life" at his cottage community and enjoyed many hours in his garden. He was dedicated to his family, friends, and his 12 grandchildren.
As he became an honorary doctor of laws, he offered the 2006 graduating classes simple but sound advice that encapsulated his life philosophy:
"Do your job promptly and efficiently and without fanfare, and continue to volunteer. You need to take the energy inside of you and apply it."
We will miss Wes, his vitality, vision and energy.
Tuesday, December 6, 2016 in Alumni, In Memoriam, Philanthropy
Share: Twitter, Facebook