Philip Macho Commonda, a two-spirit Algonquin from the Kitigan Zibi Anishinabeg community, is in many ways a connector.
Since August 2020, he has been the Algonquin Community Liaison Officer with Carleton's Centre for Indigenous Initiatives (CII), helping to build and maintain connections between the university and surrounding Algonquin communities.
"I have been working with Kitigan Zibi and the Algonquins of Pikwakanagan toward building stronger relationships," he says.
"My role is to ensure that Carleton and the Algonquin communities work together to ensure a culturally rich perspective."
At Carleton, he is also part of advisory groups that further Indigenous perspectives, such as renaming Carleton University buildings to have a culturally important names, and one that ensures respectful community engagement when studying Indigenous research.
He has an extensive experience in working with youth and a strong passion for helping students succeed, in both academic and personal ways.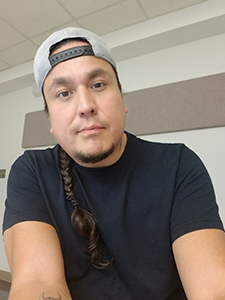 Pride is important to Commonda because, in his teenage years, he used to think being two-spirit was negative. With age and maturity, however, he recognized that he had blazed trails for the younger generation of 2SLGBTQ+ people.
"Being a part of such a diverse community is a chance to show extreme bravery in each and every queer person," he says. "Coming from a small community, it has been life-altering to know that my actions are helping the upcoming generations showcase their own pride."
For Commonda, Indigenous queer representation matters within a university environment since many young people leave their sometimes small and isolated communities to attend post-secondary education.
"While attending school they have the freedom to explore who they are and what interests them," says Commonda.
"With open and proud faculty and staff, and by adopting a safe and open space, we can show students that being different is actually quite normal."
While Commonda completed a Bachelor of Science in Environmental Biology and Technology at Nipissing University, he was a regular volunteer and support worker. Upon graduating in April 2020, he received the Dave Marshall Leadership Award and the Office of Indigenous Initiatives Student Appreciation Award for his generosity and welcoming positivity.
"Each department within the university has the responsibility to open their doors to our queer students," he says.
"University is not only a place for academia, but also for learning who you are as a person."
Post-secondary education has come leaps and bounds towards acceptance, says Commonda, but that doesn't mean innovative thinking should plateau.
"My hope is that Carleton University continues to push boundaries and makes the voice of the 2SLGBTQ+ community an equal one."
During Pride Month, Carleton University is celebrating some of the many achievements and contributions of our 2SLGBTQ+ community members. Visit our Pride Month page through the month of June to read new stories about them.
Tuesday, June 1, 2021 in 2SLGBTQ+, Human Rights, Indigenous
Share: Twitter, Facebook