By Tyrone Burke
Photos by Susana Mas and Dana Hatherly
Rising among fir and spruce on the Canadian Shield, the Ottawa River flows through forests and wetlands and alongside bucolic orchards and farms.
But also past nine pulp and paper mills that spew millions of litres of industrial effluent into the river each day and one defunct nuclear reactor that has discharged radioactive tritium into the river. Never mind the planned nuclear waste storage site and the fact that multiple municipalities lacking treatment facilities for human waste and sometimes spill raw sewage into its waters.
That doesn't only affect fish. Much of the waste in the river's drainage basin is generated upriver from Lemieux Island, where the city of Ottawa draws its drinking water. So, when Ottawans turn on their taps, their drinking water is a cleaned-up version of whatever water flowed into the treatment facility in the first place.
Carleton journalism students are investigating exactly what that is.
They're participating in the Parched project, a national collaboration between journalism schools exploring water issues in Canada for a series of stories that will appear in the Toronto Star, Global News, and the National Observer, a digital-only publication.
It's the second year for Parched. Led by Concordia University's Institute for Investigative Journalism, last year's edition brought together students from Concordia, Ryerson, UBC and the University of Regina to explore the impacts of the oil industry.
This year's version will feature work by more than 70 students, with Carleton, Humber College, Mount Royal University and the University of King's College joining the schools that participated last year.
(Below: The City of Ottawa installed a warning light at the Pumphouse, a popular whitewater course in downtown Ottawa, downstream from a combined sewer overflow pipe. The light flashes red when the city releases untreated sewage into the creek alerting paddlers to stay out of the water. Two paddlers and their coach can be seen off to the right. View looks north and down from Pooley's pedestrian bridge which is located behind the Lebreton Flats.

 Creator: Susana Mas)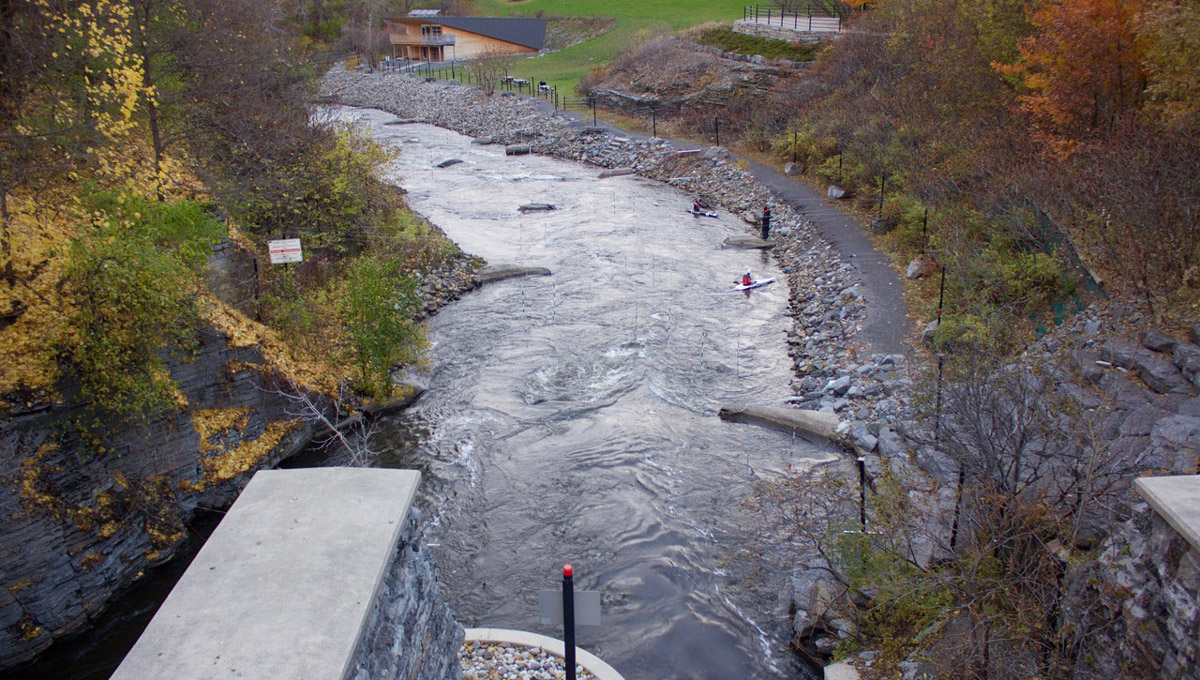 Investigating Water Issues in Canada at a Local Level
In fall 2018, Journalism Prof. Chris Waddell taught 14 master's and undergraduate journalism students who investigated water issues in the Ottawa area.
"A course like this gives students the opportunity to look at an issue in depth," Waddell says.
"We split the class into three groups. One for each river in the area – the Ottawa, Rideau and Gatineau. Then we sent them out to find out what they could about water quality in each watershed. They pitched stories to the bigger editorial group that included faculty members from across Canada. Then they went out and worked as a group from start to finish. They found available information, chose which stories they wanted, and then they produced them."
Their journalism is optimized for digital media, including videos, infographics and data visualizations. Stories undergo editorial review as part of the course work for JOUR4100A and JOUR5508A and, early this year, they'll submit them to the project's media partners who may look to shape the pieces further.
Building Bridges with Students Across Canada
For Master of Journalism student Jennifer Liu, the course helped build bridges with students across Canada.
"It's really been a collaborative project with people across the country — a real journalistic community," she says.
"We're in close contact with people from Halifax to Montreal to the West Coast. In our conversations online, all of the discussion is value added and everybody is willing to share what they know."
Liu partnered with Danielle Edwards to produce a story that's primarily text-based, supplemented by photos, graphics, and video and audio interviews. Much of their research was collected first-hand in Gatineau in French; other material was gathered with the input of the greater Parched community. Like other students, she's keeping the exact nature of the story under wraps, so as not to scoop Parched's media partners.
Liu is hope hopeful Parched will raise public awareness of water quality issues and she's working with other students to amplify the project's reach.
"I've asked the class to produce a template that a community group or small news outlet could use in their communities," says Waddell.
"To take the issues that we looked at in the Ottawa-Gatineau area and turn them into a guide that shows how we did it: where we went, who we talked to, and how we got information. So if someone else wants to try it, they can."