By Elizabeth Howell
Photos by Josh Hotz
Masters public policy students at Simon Fraser University took top prize at the 2019 National Public Administration Student Case Competition hosted at Carleton University, with Glendon College and the University of Toronto taking silver and bronze respectively.
Students and faculty applauded the announcement during a mixer that had a crowd of about 75 students, faculty members and community judges. The winning team included Nancy Olewiler (coach), Kat Gallant, Miriam Moore, Jenna Quelch and Sarah Tremblay.
"(The competition) allowed us to work as a team to collaborate on a contemporary policy issue and take into consideration the contemporary political landscape, and then the feasibility of actually implementing it," Quelch said in an interview.
The challenge dates back to 2010, first held between the public policy schools at the two Saskatchewan universities (University of Regina and the University of Saskatchewan). By 2012, any school within the CAPPA network was able to participate, said Robert Shepard, a professor in the School of Public Policy and Administration. He coached the Carleton team that year, helping them win a gold prize.
"That kind of made the Saskatchewan teams a little upset," he joked.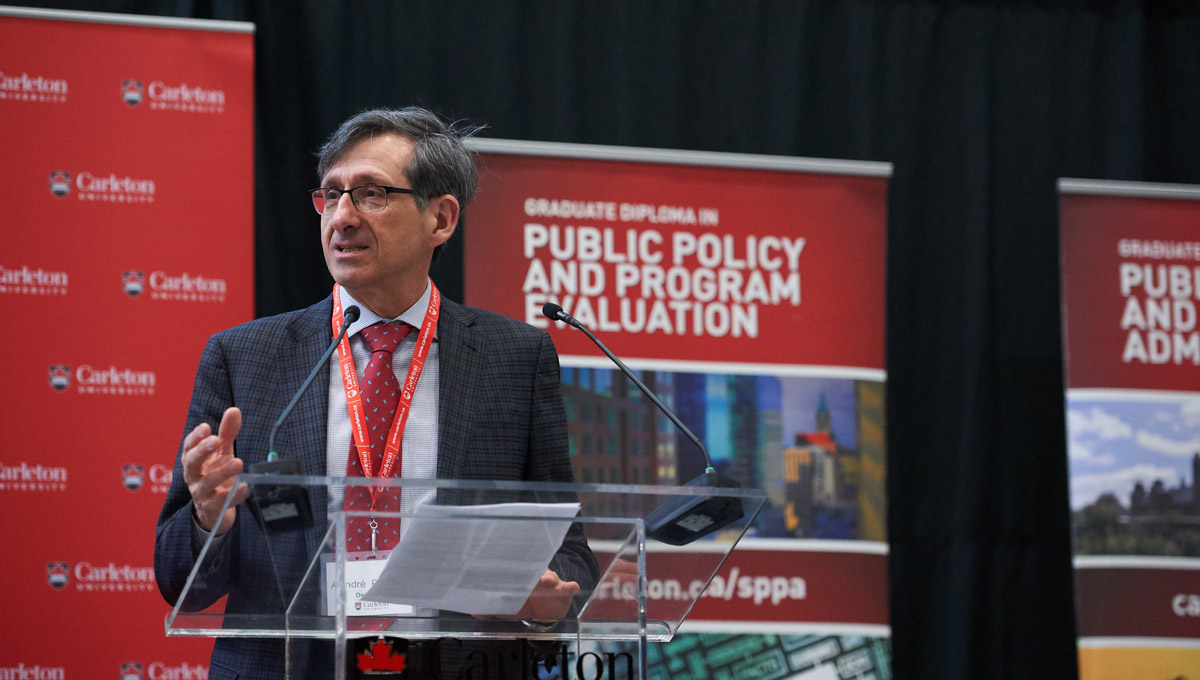 First Year that Carleton has Hosted
Eight years after it started, the event is still going strong with joint sponsorship from the Canadian Association of Programs in Public Administration (CAPPA) and the Institute of Public Administration of Canada (IPAC). It's the first year that Carleton has hosted, and the university takes the competition very seriously. Participating students – the case study is optional – may pursue the case as part of their curriculum. Faculty members also are allocated time to support the students.
"This is a really useful way to put our students really in the face of a situation – a controlled environment, to be sure, but in a situation where they have to deal with questioning," said André Plourde, dean of the Faculty of Public Affairs. "They draw on the tools they have acquired during the program and are acquiring as they go through."
Teams are picked in late fall or early winter, but they usually have just a week to work on the case before presenting for a panel of judges. Like any policy meeting, the judges may interrupt the students to ask for clarification. Sessions are intense, just like what happens during a real-life crisis. This year, the students were tasked with a fictional directive to deploy Yemeni refugees into their communities, when local mayors are not necessarily enthusiastic about the challenges of housing and social services.
"It's meant to mirror reality a little bit, in that there's usually some sort of a crisis that has happened. Something has blown up," Shepard said.
"The prime minister or a senior official wants government officials to provide them with advice on what to do. Because this is public policy and public administration, we are not just interested in the ideas, but we want to know how you're going to implement that kind of solution. If they don't demonstrate a recommended plan, they do not do well in this competition."
Moving Toward Public Policy Solutions
Plourde added the "pressure-cooker environment" is a draw for employers who see that the students have acquired the real-world experience to deal with public administration cases on top of theoretical skills learned in the classroom. In fact, many key employers provide time and information to assist the program and the students in learning more about how they can best prepare for the workplace, he said.
This practical vein runs through other Carleton programs within the faculty. Students are brought together with ambassadors or diplomats to discuss real-life situations as a part of the MA in  International Affairs in the Norman Paterson School of International Affairs. The Master's Certificate in Public Management regularly brings in high-ranking civil servants and politicians to discuss their work. The School offers graduate programs in Public Policy and Administration, Public Policy and Program Evaluation, Sustainable Energy Policy, as well as Philanthropy and Nonprofit Leadership and Indigenous Policy and Administration.
The 2019 teams were from the University of British Columbia, Carleton, Concordia, Dalhousie, Glendon College (York), Université Laval, Queen's, Ryerson, Simon Fraser, University of Toronto, Regina/Saskatchewan and York.
Carleton's team included Amanda Clarke and Christopher Stoney (coaches), David Blair (substitute), Brooke Boyd, Juanita Molano, Gabe Senecal and Leith Wrightman.
Friday, March 1, 2019 in Faculty of Public Affairs, Public Policy
Share: Twitter, Facebook