By Laura Byrne Paquet
Photos by Chris Roussakis
Carleton's Fall Graduation 2020, a university-wide online celebration, launched on Saturday, Nov. 14. Watch the celebration at the Carleton Grads 2020 website now!
---
When Mickey Magennis applied to the singer-songwriter stream of Carleton's Bachelor of Music program, he wasn't a typical potential freshman.
Magennis had left his home in Belfast, Northern Ireland, at age 16 to travel the world. He played traditional Irish tunes in bars in the Canary Islands, worked in factories in England, mustered stock on a cattle station in the Australian outback, and bounced back and forth to Ireland a few times. Then he came to Ottawa to visit a friend and developed an affection for the city—even though he arrived in the dead of winter.
"I'd never seen snow like that," he says.
"I would get all the layers on and go walk in it every day. I thought it was great."
Eventually, he returned to Ottawa on a working visa and put down roots. It was at that point, when he was 30 years old, that he began thinking of studying music.
He'd been writing and playing for decades, but he wanted a deeper grounding in his craft. "I'd just been running about the whole world. I'd just been running about playing music, and I needed to expand and I needed to grow," he says. "I had gathered a lot of rust."
Because he hadn't finished high school, Carleton accepted him as a special student so he had to take several classes before auditioning. After passing the classes and the audition, he was accepted into the Bachelor of Music program in 2015.
Carleton music students study the history of western music over the last 1,000 years, from Gregorian chant to the present day, as well as music of the Middle East, Asia and more. They also perform in multiple student ensembles, such as jazz guitar, fusion and choir. One highlight for Magennis was the chance to learn from guitarists such as artist-in-residence Don Ross and Ottawa music icon Ian Tamblyn.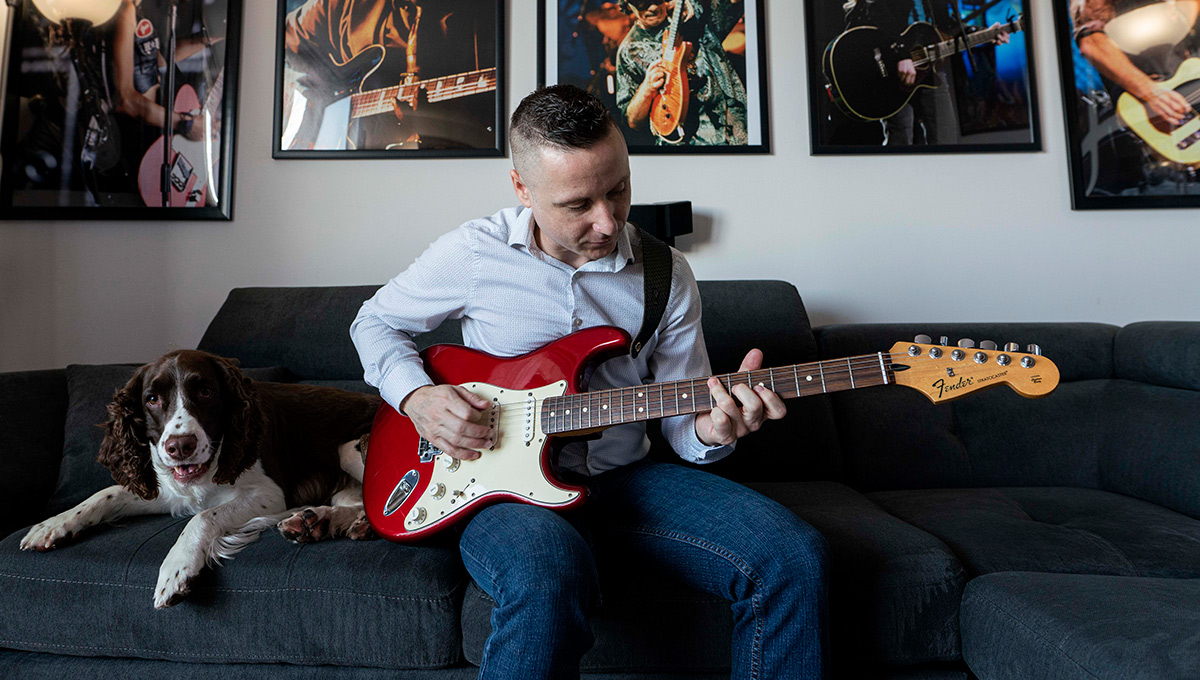 To earn his degree, Magennis also had to take many non-Music courses, in areas such as Psychology, French and Linguistics. "I had to learn how to learn again, because I basically never even wrote a paper in my life," he says, adding that he enjoyed the chance to challenge himself.
Coming to Carleton in his 30s was interesting. "Something funny happened this past winter," he says with a chuckle. In a class, Instructor Kathy Armstrong mentioned the Backstreet Boys, telling students that their parents might know the group.
"I was thinking: 'What is she talking about, our parents? Isn't that 1997? Aren't they current?'"
In October 2020, Magennis achieved two milestones: He graduated with his music degree and received Canadian citizenship. He continues to write and perform songs, as well as teach students through the business he launched, Ottawa Guitar Studio. And he says Carleton gave him the solid foundation in music he was seeking.
"It gave me what I wanted, and more," he says. "I really just went in with the intention of improving my musicianship . . . and because of all the other extra elective classes and all the critical thinking, I came away with a lot more in terms of my perspective on the world. I've just grown in terms of how I see things."