By Dan Rubinstein
Photos by Chris Roussakis
When Ellen Waterman attends a concert, she does more than listen to the music.
Waterman — Carleton University's inaugural Helmut Kallmann Chair for Music in Canada — pays attention to how people in the audience respond and how that impacts the performance.
She's also interested in the interplay between musicians, the role of the venue and, widening her focus even further, the influence of government arts funding and the programming choices that led to the concert, plus myriad other factors that make up the ecology of a musical performance.
After documenting a performance by the Vancouver-based trio Safa at an Ontario festival, for example, she took eight audience members out for a drink and a discussion about their experience watching and listening to the Persian-themed collaboration between the Iranian-Canadian tar player, Puerto Rican-Canadian percussionist and French-Canada clarinetist in a small but packed venue.
Analyzing the performance and the audience's response led her to think critically about the ways music makes differences audible. In interviews, the musicians emphasized their individual agency, while the audience members reflected on the group's unity of expression despite their hyphenated identities. The analysis formed a chapter in a book that Waterman co-edited with Gillian Siddall, Negotiated Moments: Improvisation, Sound and Subjectivity, which Duke University Press published in 2016.
"I witness performances and explore how, in that hot moment of creativity, meaning is made," says Waterman, whose cross-disciplinary research revolves around the relationship between music, space, place and identity.
"I try to be as detailed as possible in documenting and analyzing the event. In a single performance, for instance, you can hear the contentious politics of multiculturalism at work, even in a musically satisfying and loving environment."
Waterman started at Carleton on Jan. 1, 2019, after working as an ethnomusicology professor at Memorial University, the University of Guelph and Trent University over the last 20 years, during which she held a visiting scholar position and fellowship at McGill University and the University of Cambridge respectively.
She was excited about the Helmut Kallmann Chair because it is dedicated to the study of music in Canada, not Canadian music — an important distinction.
"It is open to research on the whole gamut of musical practices and issues that can be found in this incredibly diverse country. My work includes research and community-engaged projects, as well as scholarship, and I was encouraged that the chair could be held by an artist-scholar."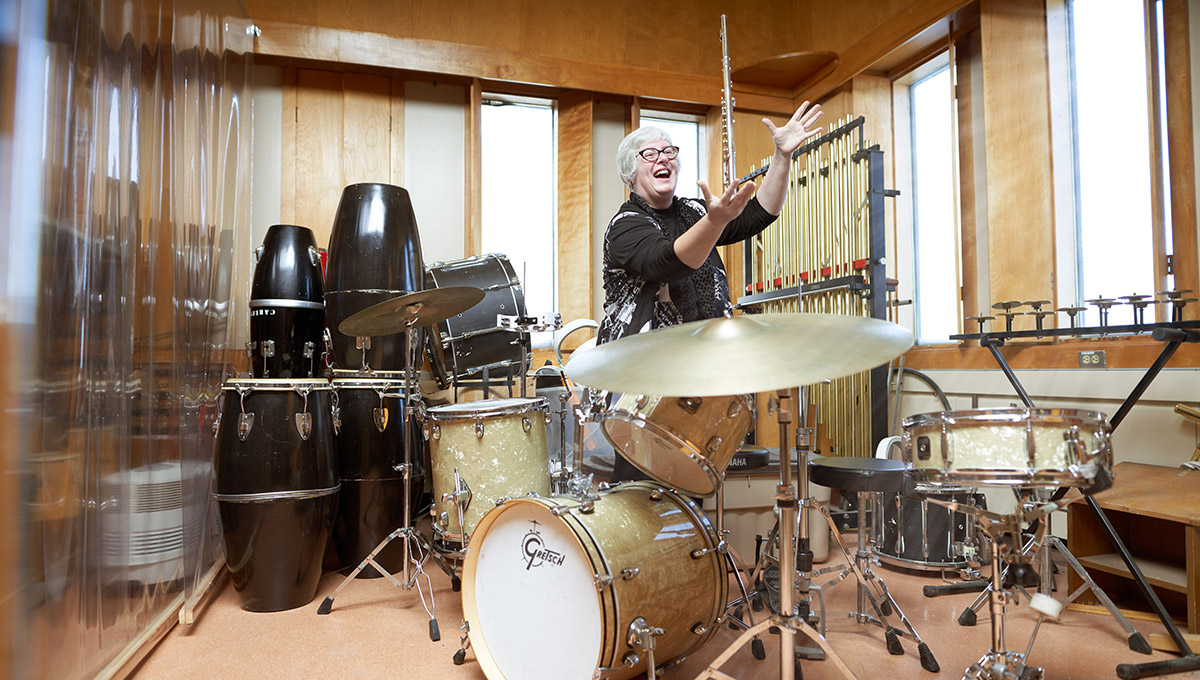 Embracing Improvisation and Critical Analysis
The Helmut Kallmann Chair was established in late 2017 thanks to a $2-million gift from Distinguished Research Prof. Elaine Keillor, a pianist, musicologist and longtime faculty member in Carleton's Music program.
Carleton University and the Koerner Foundation also contributed to the position, which is named after Helmut Kallmann, who, although Jewish, came to Canada from Germany as an "enemy alien" and was placed in an internment camp. He went on to have a decades-long career as a music historian and librarian, eventually heading the music division of Library and Archives Canada.
"Elaine Keillor made a remarkable contribution to music in Canada, but she was too modest to have the chair named after herself," says Waterman, who notes that honouring Kallmann through the chair was a meaningful and beautiful choice.
Waterman grew up in Portage la Prairie, Man., and started playing flute in junior high. She performed at festivals and enrolled in the Bachelor of Music program at the University of Manitoba, planning to become an orchestral musician.
Instead, however, she found herself drawn to contemporary music and the compositions of her classmates. One of her first professional projects was to curate "Gnu Music," a concert and art exhibition featuring works by fellow emerging artists.
During her master's studies in flute performance at the University of California, San Diego, one of her professors was George Lewis, an international expert on improvisation who encouraged his students to think critically about issues such as race and gender in relation to music.
That combination — improvisation and critical analysis — sent Waterman on a new path.
"My world opened up," she says about deciding to move away from scores on a page.
"Improvisation demands that you discover your voice. It's also a social practice. You need to be listening and responding in meaningful and empathetic ways. Improvisation calls upon you to be co-creative."
With an orchestral career no longer in mind, Waterman began to think more broadly about music, specifically how music can be a carrier of identity and culture.
She still performs and records, and enjoyed more than a decade of collaboration with legendary Canadian composer and music educator, R. Murray Schafer, the father of acoustic ecology, whose large-scale outdoor soundscape works, a fusion of music and theatre, changed the way people thought about sound and introduced an environmental mindset to contemporary performance.
"My take on music is wide open," says Waterman, who wrote her PhD thesis on the epilogue of Schafer's 12-part Patria cycle, And Wolf Shall Inherit the Moon, a week-long performance that still takes place in the woods of Ontario's Haliburton Forest each August. "I'm interested in music and sound in all of their manifestations."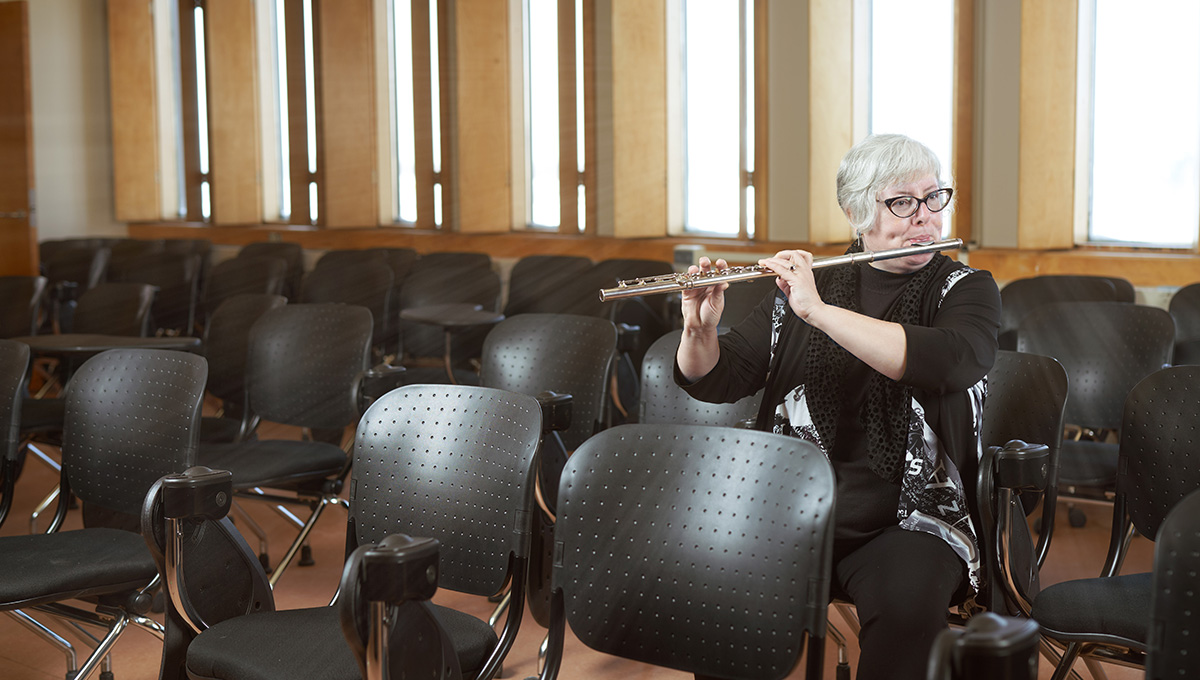 Addressing Questions of Identity and Music in Canada
At Carleton, Waterman plans to help create a research centre on music in Canada that will examine questions of music and identity, focusing in particular on issues such as decolonization and diversity — and not only ethnic diversity, but also the diversity of musical practices.
"Who is welcomed into music and who is not?" she asks. "What kinds of music take place on the margins of society? What kinds are valorized? Who gets accepted into or excluded from university music programs and why?
"There's a fraught conversation going on throughout post-secondary music institutions in North America now about the relationship between how we train musicians and the roles that music plays in contemporary society. We're still largely wedded to a traditional, conservatory model of music education, though that is slowly changing."
As part of this conversation, Waterman will be participating in the Helmut Kallmann Roundtable on Diversity and Decolonization of Music in Canada at Carleton Dominion Chalmers Centre on April 5 from 5:30 to 7:30 p.m. Admission is free and the venue is accessible.
Joining her in the roundtable, among other speakers, will be Dylan Robinson, a Stó:lō scholar who holds the Canada Research Chair in Indigenous Arts at Queen's University, and Parmela Attariwala, an ethnomusicologist and violinist who recently authored a policy document on diversity for Orchestras Canada. Music students from Carleton will be performing between 3 and 5 p.m. and light refreshments will be served between the two events.
"Over the past five years, there has been an increasing national conversation about diversity and decolonization in the arts, with numerous conferences and the creation of policy documents," say the event's organizers.
"What now? How do we turn discussion into action? What systemic changes do artists and arts organizations need to make in order to create more just conditions for music in Canada?"
Carleton's Music program is unusually diverse, says Waterman. On the faculty, there are a number of influential critical musicologists and ethnomusicologists, plus unique experiential learning opportunities in genres such as Ghanaian drumming and creative improvisation, and students who play a wide range of styles and genres. This diverges from many post-secondary music programs in Canada, which are often tightly focused on classical music.
"Popular music is what most people listen to," she says, "but classical music still dominates the academy."
Waterman's current book project is an ethnography of experimental music festivals in Canada. She'll be teaching a graduate course on ecologies of music and sound starting next fall. And she has a number of other projects on the go, including participating in an international research consortium to develop the Adaptive Use Musical Instrument (AUMI) software interface, a musical instrument that enables people who have very limited controlled movement to independently engage in music making.
All of this will blend together in her new role at Carleton.
"I really feel privileged to have the responsibility to be the inaugural chair," says Waterman.
"This is an amazing opportunity and I'm excited to be working with the stellar community of musicians and scholars at Carleton."