By Dan Rubinstein
Photos by Chris Roussakis
It's been a big week on the environmental front in Canada.
On Monday, April 1, the country's new carbon tax kicked in, putting a price on pollution.
One day later, a new report from federal government scientists warned that Canada's climate is heating up roughly twice as quickly as the rest of the world.
"We need to take practical action on climate change," Environment and Climate Change Minister Catherine McKenna said on Friday, April 5, in Carleton's Richcraft Hall, where she announced government funding for three energy efficiency and climate change projects.
"We have a choice," she said — do nothing and deal with the devastating consequences of severe weather, including forest fires, floods, drought and extreme heat. "Or we can adapt.
"We need clean solutions, and I want it to be Canadians who find these solutions," said McKenna, detailing the nearly $400,000 being given to the Canadian Electricity Association (CEA), Efficiency Valuation Organization (EVO) and QUEST, a national non-government organization that works to accelerate the adoption of efficient and integrated community-scale energy systems in Canada.
"Energy efficiency is the gift that keeps on giving. It not only reduces emissions, it also puts money back in your pocket.
"We are taking action across the board," she added, "because that's what we need to do. But we also need to do more."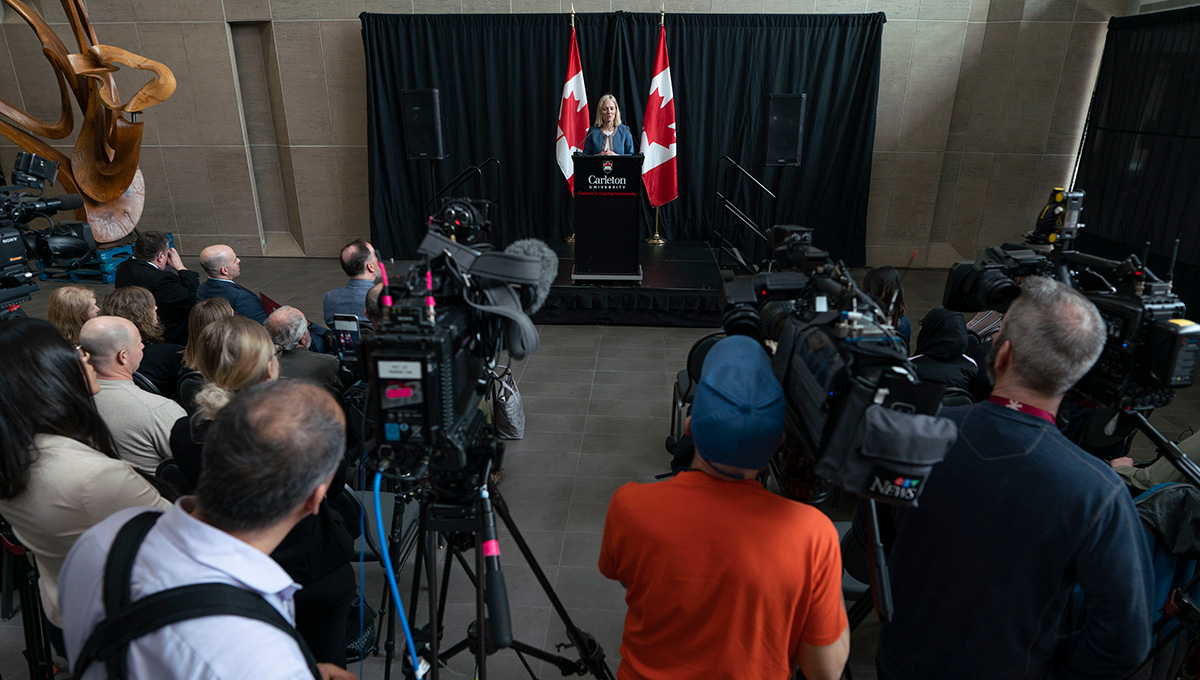 Carleton's Focus on Sustainability Evident Across Campus
McKenna was introduced by Carleton President Benoit-Antoine Bacon, who welcomed the university's local Member of Parliament back to campus and highlighted several of Carleton's many endeavours and achievements around sustainability.
"You can see examples of Carleton's focus on sustainability across campus, from the Northern Nomad tiny house right parked outside this building and the brand new ARISE building a little further up the river to the Urbandale Centre for Home Energy Research beside Bronson Avenue," said Bacon.
"At Carleton, our faculty and students are working to better understand how to protect our communities from the impacts of climate change. We are working to reduce greenhouse gas emissions, safeguard water sources, protect fragile Arctic ecosystems and help smooth Canada's transition away from fossil fuel dependency.
"And we are working to help ensure that policy decisions are based on science, evidence and sound research."
On campus, Bacon continued, the university has reduced its own emissions intensity by 35 per cent since 2005, completed large-scale energy retrofits on several key buildings, achieved zero waste in food courts, and expanded sustainable transit options with bike sharing and electric vehicle charging stations.
"It's fitting that you're here today to announce federal government funding for three energy efficiency and climate change projects," he said to McKenna.
"It's fitting because Carleton is a leader among Canadian universities for the research and experiential learning opportunities we are providing our students in many of the areas in which you and your ministry are leaders."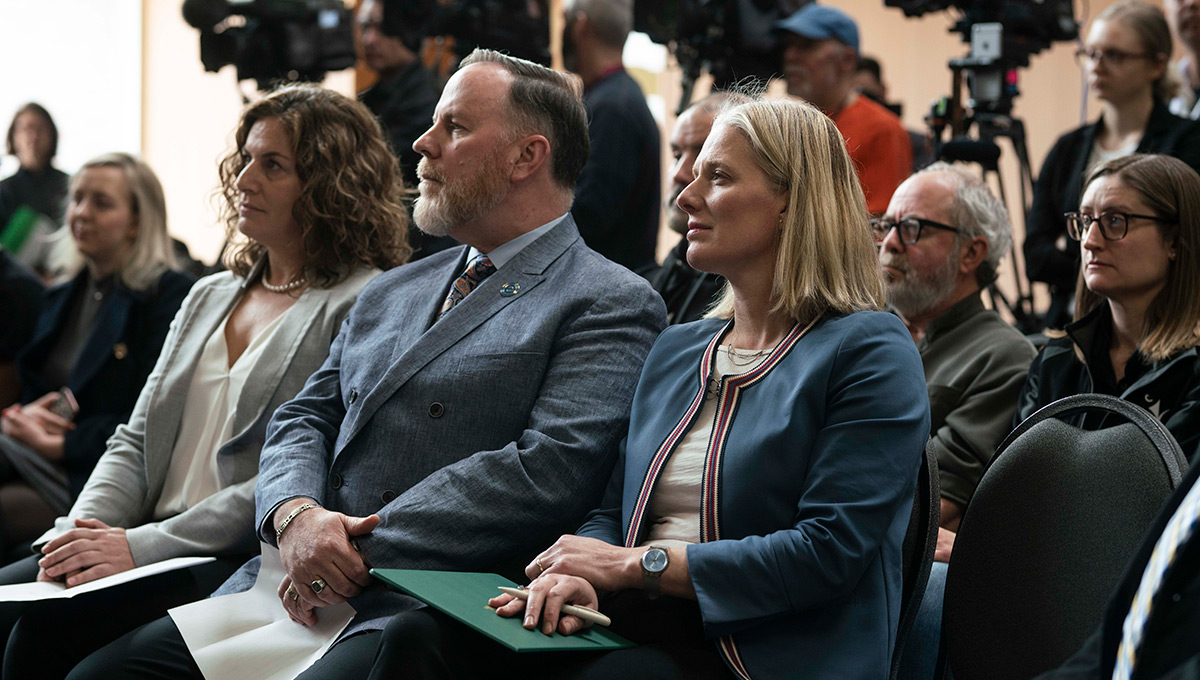 Improving Resilience to Climate Change
At the April 5 event, McKenna announced that $206,000 was given to the CEA through Natural Resources Canada's Climate Change Adaptation Program to help community and utility leaders gain the capacity and expertise needed to accelerate the development, adoption and implementation of customized climate change adaptation plans for electrical utilities across Canada.
Through the same program, QUEST received $111,000 to develop knowledge of local climate risks and hazards and implement adaptation measures intended to improve community resilience in six municipalities whose energy distribution systems have been impacted by ice storms, flooding or forest fires as a result of climate change.
The EVO received $75,000 through Natural Resources Canada's Energy Efficiency Program to help address some of the key market barriers to private sector investment in energy efficiency. Thanks to this project, EVO will also establish guidelines for financial institutions to use when evaluating and financing energy efficiency projects in Canada.
These guidelines will create uniform standards for energy efficiency financing, said EVO executive director Denis Tanguay, who has a master's degree in economics from Carleton.
The EVO develops, maintains, improves and publishes the International Performance Measurement and Verification Protocol, which was originally developed to help increase investment in energy and water efficiency, demand management and renewable energy projects around the world.
"Over the years," said Tanguay, "we've trained and certified 12,000 people to this standard."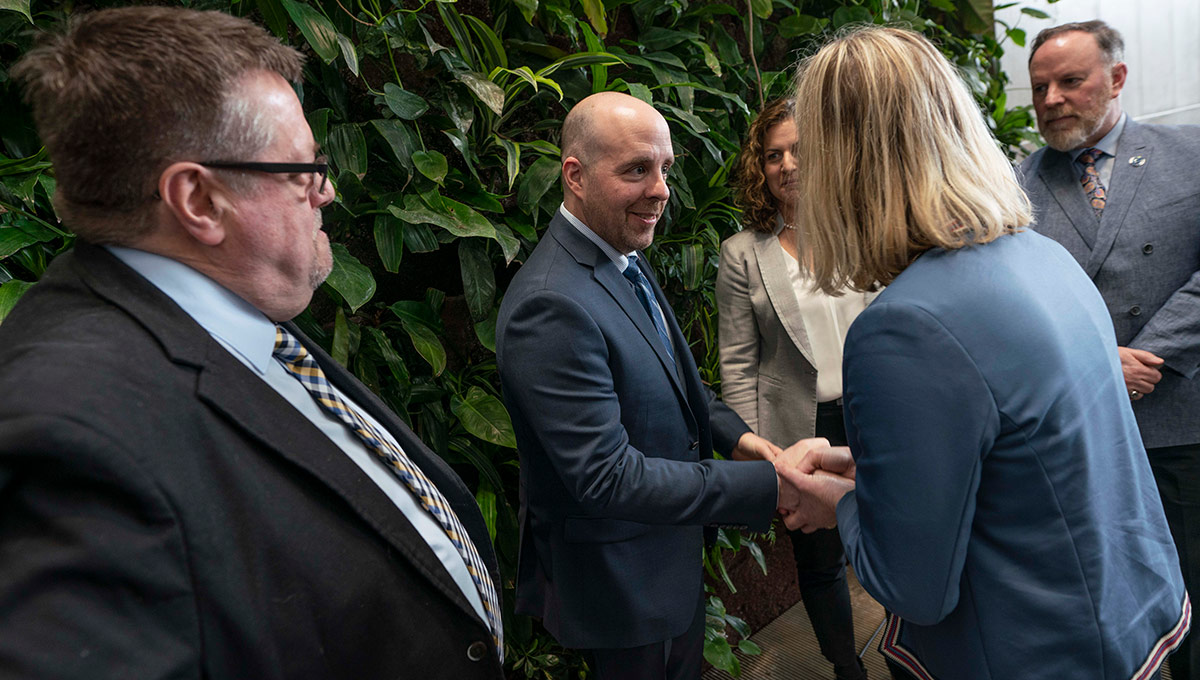 Municipalities and Utilities are on the Front Lines of Climate Change
Picking up on McKenna's comments about extreme weather, CEA chief operating officer Francis Bradley said that "this year, we've been reminded time and time again about the importance of safe, reliable and sustainable electricity.
"The new funding will help the CEA facilitate workshops with utilities," he said, "so they can make better investment decisions about climate change adaptation for critical electricity infrastructure."
"Municipalities and utilities are on the front lines when it comes to confronting climate change," said QUEST's executive director Tonja Leach, noting that this new support will provide resources that help QUEST "establish national guidelines on how municipalities and utilities can work together on climate change adaption."
"I think these three organizations are a great example," said McKenna, "of how the economy and environment go hand in hand."