By Tyrone Burke
Photos by Chris Roussakis
"Project Learning Tree Canada's Green Jobs program has really given me a platform to study biology," says Jessica Reid, a fourth-year student in Prof. Steven Cooke's lab at Carleton University. Reid spent spent the summer collecting data on fish diversity and stress responses to catch-and-release recreational fisheries in western Quebec.
"During my first year in the program, my job was very broad. I worked with frogs, salamanders, birds, fish, bats and insects – and I found that I really liked fish. This year, I received another Project Learning Tree grant, and I was able to concentrate on what I was most interested in — and get more specific experience for future jobs or graduate school."
The Green Jobs program helps employers hire youth aged 15 to 30 by matching 50 per cent of youth wages. Funded through Employment and Social Development Canada's Youth Employment and Skills Strategy, it helps students gain the work experience they'll need to get hired after they graduate.
Gaining relevant experience has always been a challenge, but since the pandemic began, it's become even more difficult. To help young people overcome this challenge, the federal government announced nearly $7.8 million in additional funding for Project Learning Tree Canada's Green Jobs program. The funds will help create 1,200 jobs to youth across Canada – including forty in the Ottawa area.
"The green sector is a growing industry," says Zac Wagman, manager of the program.
"These work experiences give young people tangible learning experiences that build on what they are learning in the classroom, and give them the tools they need to build their careers."
Their work also contributes to the greater goals of conserving natural areas and building a greener economy.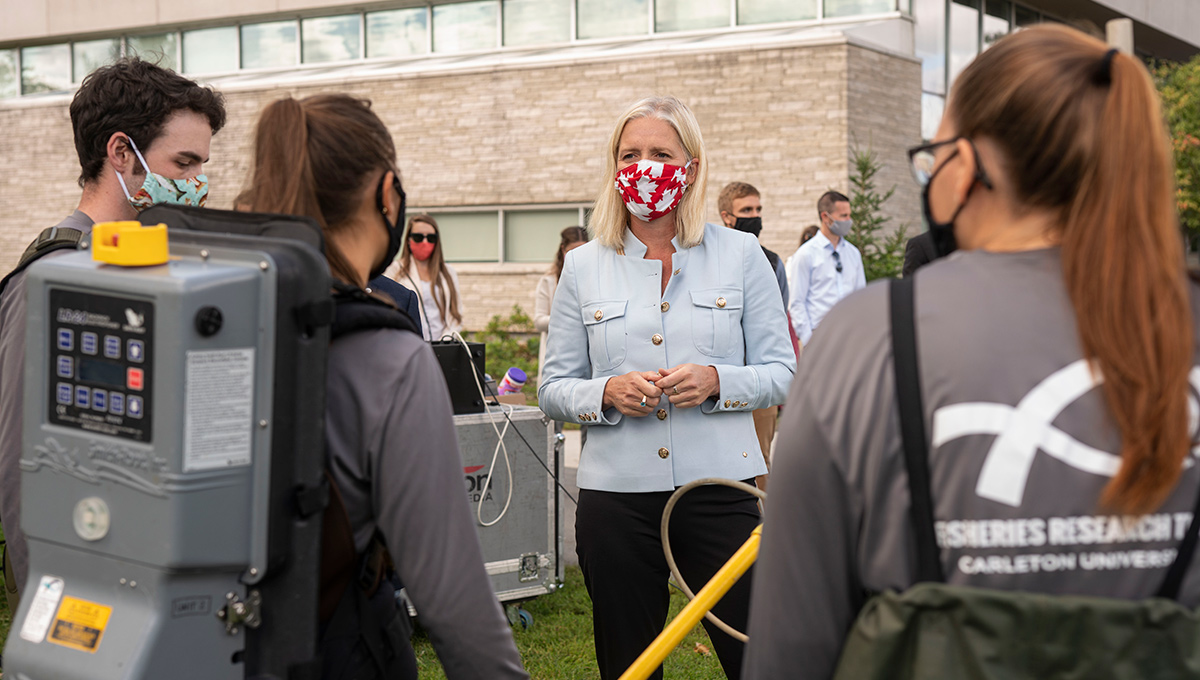 Conservation Work Crucial to Clean Economy
"During the time of COVID, we have realized the importance of having access to natural spaces, and being able to get out enjoy them," said Minister Catherine McKenna, who announced the new funding at an outdoor event on the banks of Rideau River near Carleton's Richcraft Hall on Sept. 11, 2020.
The Member of Parliament for Ottawa Centre and Minister for Infrastructure and Communities attended on behalf of Carla Qualtrough, minister of Employment, Workforce Development and Disability Inclusion.
"The work of these young conservationists is crucial," said McKenna. "If we are going to grow a clean economy, it also means there will be great careers that contribute to a better, more sustainable, and more prosperous Canada."
Graduating during a recession can have a long-term impact on an individual's career, but programs that help students kickstart their careers could help minimize the effect.
"One challenge that stemmed from COVID-19 is barriers to employment and education for young people," said Carleton President Benoit-Antoine Bacon.
"The federal government stepped up to help through programs like the Canada Emergency Student Benefit program, and Carleton has supplemented these efforts at through our own emergency funds, our regular Student Assistance Program, and by hiring more students than usual through co-ops and internships.
"Programs like Project Learning Tree's Green Jobs program also help. Through conservation-related work, our students learn valuable skills that will help them throughout their careers, and make our city, province and country more sustainable."
Monday, September 14, 2020 in Community, Events
Share: Twitter, Facebook