Like a record scratching to a stop, in-person classes at Carleton came to an abrupt halt in March 2020. Six months later, three students enrolled in a theatre production seminar found themselves facing both a challenge and an opportunity.
One of the main assignments in their final year as undergraduates was to create and perform a play, but due to pandemic restrictions, they couldn't meet to write and rehearse, let alone stage a show in front of a live audience.
Thankfully, English Prof. Janne Cleveland, who coordinates the university's Drama Studies program, and instructor Rebecca Benson had a plan.
The result—A Little Too Maybe, Carleton's first-ever radio play, about a couple falling out of love —will air on the campus-based community station CKCU during the annual funding drive, along with a three-part documentary about how the unique project came together.
"It was a completely new and daunting experience," says recent graduate Rachel Stanley, who made the play with Jadi Genita and Drew Torresan on her way to an English degree with a concentration in Drama Studies. (Below, clockwise from top-left: Jadi Genita, Rebecca Benson, Stanley, Drew Torresan.)
"We decided to build a lot of the play around failing communications, because we were all feeling that at the time. But instead of COVID itself, we based it on the feelings of the pandemic: loss, uncertainty, worries about not being heard.
"We didn't want it to be just about COVID," continues Stanley.
"We're hopeful that the pandemic will pass. But the sense of vulnerability—trying to navigate feeling alone while together—probably will not."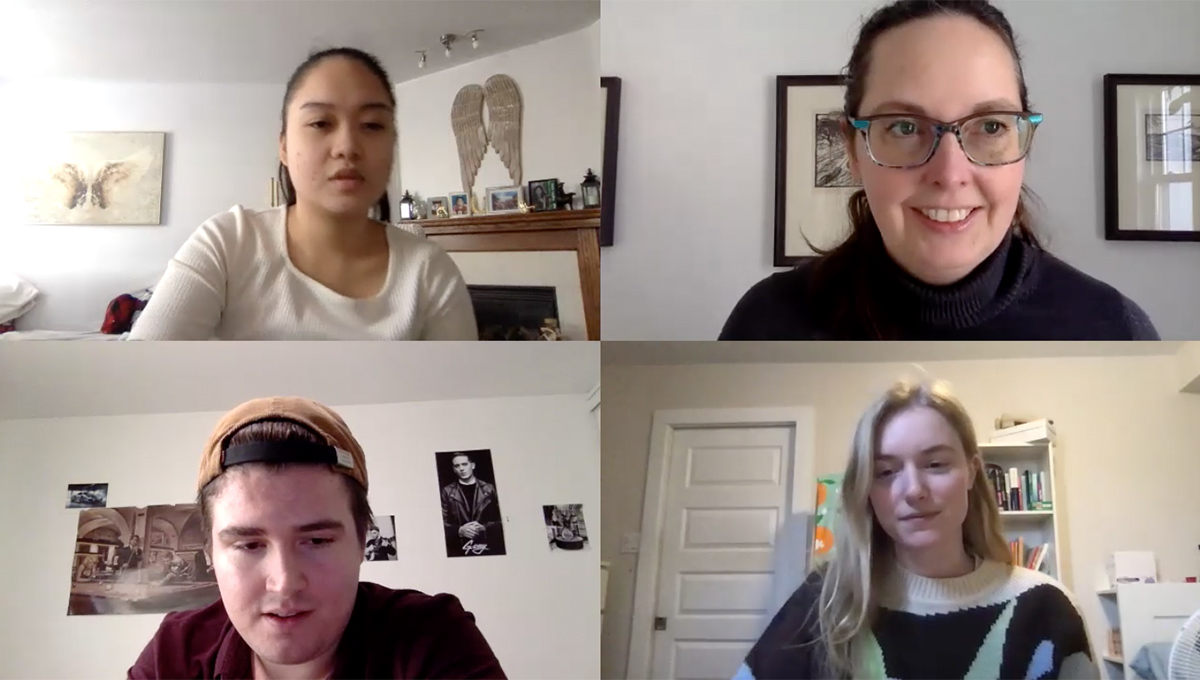 The Radio Drama Tradition
A Little Too Maybe taps into a long tradition of radio drama, from studio productions in the early 1900s to the chilling audio adaptation of Orson Welles' War of the Worlds in 1938 to contemporary fictional podcasts.
Radio is an old medium, one that's often overlooking in today's fast-paced digital and increasingly visual media landscape, but it's a technology that has re-emerged as a vital form of communication during the pandemic.
That's one of the things Cleveland was thinking when she saw a Tweet congratulating Kwende Kefentse on his new role as executive director of CKCU in September 2020.
She got in touch with Kefentse and asked whether the station would be interested in collaborating. His answer—which meshes with CKCU's goal of strengthening its ties to and presence in the Carleton community—was an immediate yes.
"Normally, our students would develop a full production on a stage," says Cleveland, "so I wondered what could be done through the marvels of technology. Radio is another platform for performance. It can be expansive and draw people in.
"What this project really demonstrates to me is the potential for lots of other kinds of performance," she continues.
"We're not just bound to one form. The only thing that can limit us is a lack of imagination. To me, drama is the embodiment of how characters might try to grapple with issues."
Kefentse is interested in developing more productive and innovative collaborations with the university to amplify connections to the community, as well as the emerging voices of students and the expertise of professors and staff.
"In the pandemic, it was difficult to present something to the public beyond people's individual social media networks," he says. "That's something community media like CKCU can offer. We can create a platform so people can access that public square."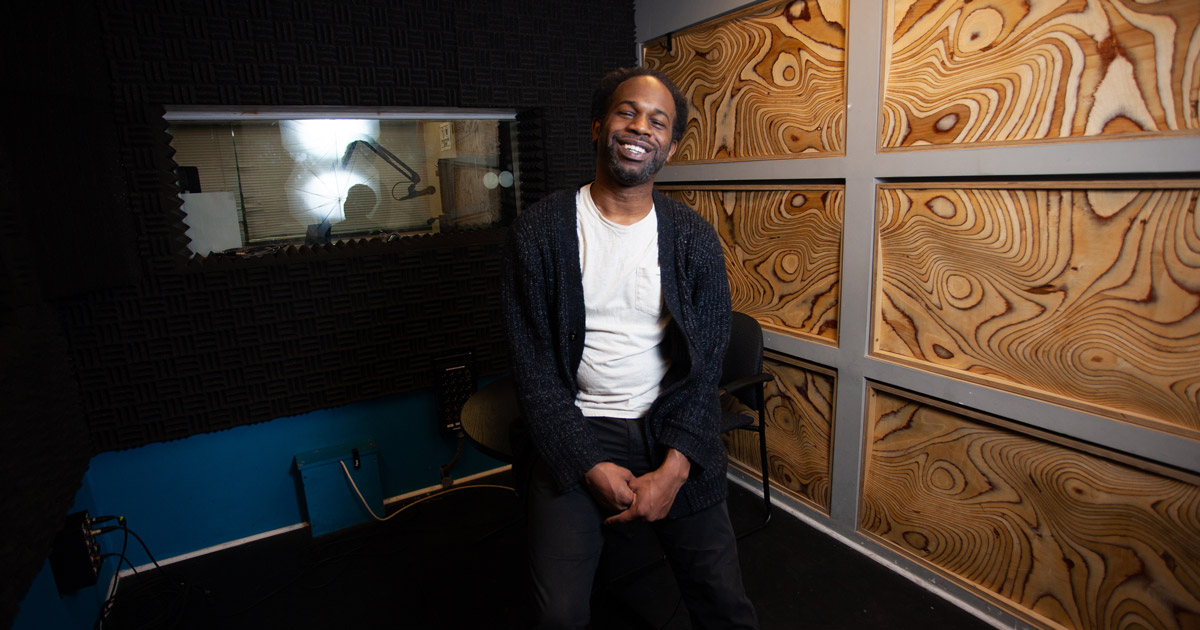 Falling In Love With Audio
With guidance and direction from Benson, who has worked as a director and actor throughout Canada and the U.K., Stanley and her two classmates conceived of and crafted A Little Too Maybe through regular meetings on Zoom.
They did research on different types of virtual theatre and experimented with sound, character, emotion, setting and plot, falling in love with the forced reliance on audio. With web cams turned off, a toilet paper tube tapping on a desk could sound like a woodpecker; falling marbles could sound like the patter of rain.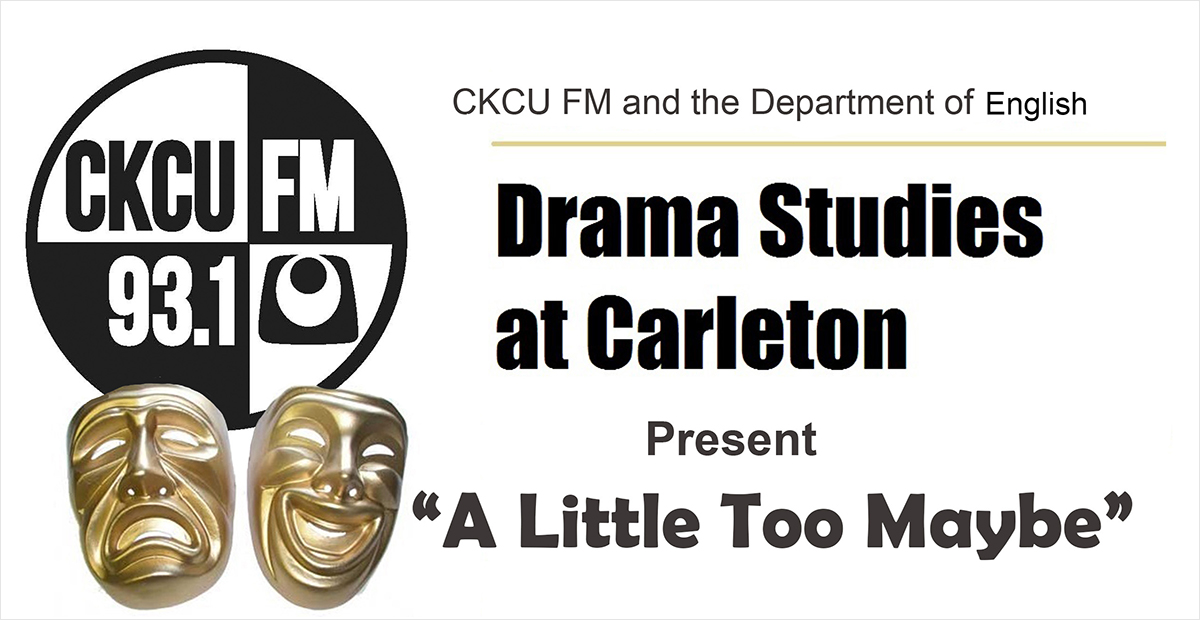 CKCU supplied the equipment and the expertise—and is a conduit to an audience.
Professional actor John Koensgen, a Carleton alumnus and former CKCU radio host who narrates the companion documentary, led workshops on vocal technique.
"As a theatre actor, you're trained to be big—to emphasize your action and words," says Stanley.
"But using a microphone, you can whisper, and you don't really want big movement, because that makes noise. You explore the spaces you're given."
Ultimately, the students came up with a script and recorded the play from their homes. It will air in three 15-minute segments along with the three half-hour parts of the doc on Nov. 2, 9 and 16 starting at 8:05 a.m. each morning.
Now studying at teachers' college, Stanley hopes to teach high school drama one day and plans to bring the lessons from this experience to her classroom.
"Carleton's Drama Studies program is so innovative in the way it provides students with opportunities throughout their degrees," she says.
"They find a way for us to create no matter what. The arts can help us show resilience and care, and help us build community."
Monday, November 1, 2021 in CKCU, Community, Faculty of Arts and Social Sciences
Share: Twitter, Facebook