By Ellen Tsaprailis
Photos by Justin Wonnacott
When Carleton closed the bulk of its physical operations in mid-March, Carleton University's Art Gallery (CUAG) responded by contemplating ways to shift exhibitions online, so that professors could still incorporate exhibition visits into their courses.
CUAG Director Sandra Dyck says their team moved quickly to create digital resources, as many Carleton classes were scheduled to visit the exhibitions later in March. Fiona Wright, CUAG's student and public programs coordinator, produced informal virtual tours of the exhibitions so that CUAG could continue engaging and serving Carleton students.
Engaging students online was a test that according to Prof. Fiona Jeffries, was a successful prototype by CUAG.
Jeffries had her fourth-year Citizenship and Human Rights class take the virtual tour of current CUAG exhibition Shannon Finnegan: Lone Proponent of Wall-to-Wall Carpet.
"The students got a lot out of it and we had a really interesting discussion. They checked out the accompanying images of the pieces and found those helpful too," said Jeffries in a message to Wright. "So, thanks again for doing it. It must've been a lot of work!"
This positive feedback from professors on the early digital tours helped CUAG know, "we were on the right path," says Dyck.
Going Virtual
Once the winter term concluded, CUAG's staff started to explore other ways of providing virtual access to the gallery's exhibitions, both present and past.
"We're now working on expanding the ambition, scope and professionalism of this project, creating multi-dimensional digital modules that include PowerPoints with audio voice-overs, response questions and recommended readings," says Dyck.
"Wright, along with Dani Printup, CUAG's programs assistant, started the research, development and production of these modules, with the technical assistance of Patrick Lacasse, CUAG's collections/exhibition assistant. The amazing staff of the Education Development Centre and the Media Production Centre have been instrumental in guiding us. And the artists have been really supportive."
CUAG's digital modules are available on cuLearn—Carleton's online management system for students and instructors.
Learning new software and how to write engaging tour scripts has been a positive and educational experience for Wright. "We're so used to being in front of the artists' works with the students and being able to respond to their questions and insights," says Wright. "So we've found different ways to create conversations and connections."
"I think these digital modules are a great way to introduce larger classes of students to how artists see the world, and can greatly inform, enrich and shape their studies."
Printup is also enjoying this new collaborative learning experience. "I really like how the CUAG staff is coming together as a work team and using our different skill sets to help each other create these digital modules," says Printup.
First Complete Digital Module
The exhibitions that are in the process of being presented in the gallery's first-ever digital modules are the current exhibitions, Shannon Finnegan: Lone Proponent of Wall-to-Wall Carpet and They Forgot That We Were Seeds.
Printup is developing a module for a 2019 exhibition that CUAG co-produced with Thunder Bay Art Gallery titled, UPRISING: THE POWER OF MOTHER EARTH – Christi Belcourt – A Retrospective with Isaac Murdoch,
Wright has now completed the digital module for the Brooklyn, N.Y.-based multidisciplinary artist Shannon Finnegan's exhibition.
Lone Proponent of Wall-to-Wall Carpet features Finnegan's custom furniture, text-based works and drawings. The furniture was created on Carleton's campus at the School of Industrial Design and the Azrieli School of Architecture & Urbanism using the talent of Walter Zanetti, Anthony Dewar, Paul Durocher and Brant Lucuik. "That was the brilliant idea of CUAG's curator, Heather Anderson," says Wright of the collaborative effort, "and the furniture is impressive!"
Wright explains Finnegan's exhibition that, "the artist makes cheeky work about disability culture and access. Her furniture, murals and drawings call out ableism in art galleries and other public places, and imagine a world committed to ongoing, responsive and collective care."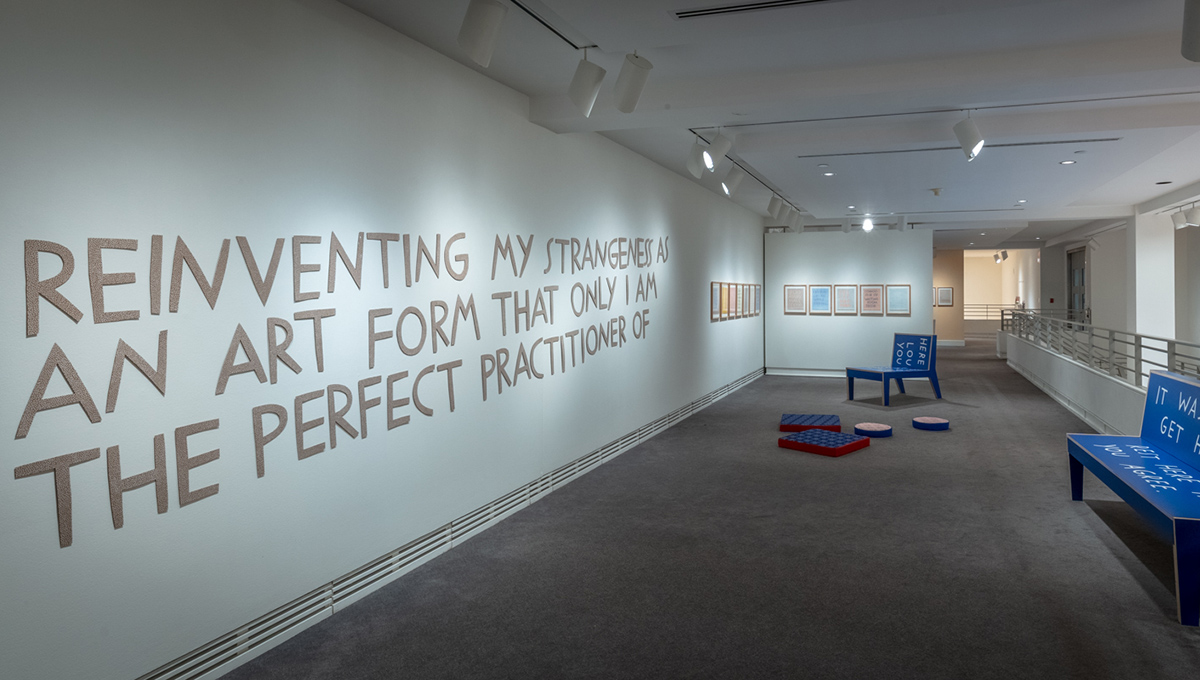 Looking to the Future
While CUAG remains closed to the public for in-person visits, gallery staff are actively discussing ways and means of making future exhibitions virtually accessible—both in the near-term and long-term.
"Online teaching and engagement is increasingly a fact of life in the post-secondary sector, especially at present," says Dyck.
"We're keen to further develop, strengthen and build these resources for the Carleton academic community."