By Dan Rubinstein
Photos by James Park and Luther Caverly
In a seminar about the global energy picture that he gives to first-year students every fall, Mechanical and Aerospace Engineering Prof. Matthew Johnson dispenses a detailed and sobering dose of reality.
Despite an evolution towards renewables such as solar and wind power, his slides show how the world still derives more than 80 percent of its energy from burning fossil fuels. And driven by economic growth in China and India, our appetite for energy will continue to increase in the face of dire warnings about the consequences of climate change.
"There's a perception that the renewable energy future is upon us, but it's unreasonable to think we can flick a switch and all start using solar power tomorrow," says Johnson, a Canada Research Professor in Energy and Combustion Generated Pollutant Emissions.
"We have to make changes in the fossil fuel industry — we have to manage the emissions in the system we have. We need action now."
This reality is the underlying motivation for a new Natural Sciences and Engineering Research Council of Canada (NSERC) Strategic Network for Cleaner Fossil Fuels, a five-year critical climate research project led by Johnson and supported by a $5.5-million Strategic Partnership Grant from NSERC.
Critical climate research:
Focus on flare emissions
The FlareNet project, which will focus on flare emissions from unconventional oil and gas processing, has five main themes: flare emissions at hydro-fractured gas wells during flowback operations (the water-based solution that flows back to the surface during the fracking process); the effects of air- and steam-assist on emissions control for refinery and upgrading flares; the effects of turbulent crosswinds on flare emissions; properties of black carbon and other particulate-phase species emitted during flowback and routine flaring; and the development and application of novel technology for field measurements.
The Government of Canada "spends a lot of time trying to figure out how to reduce emissions across the board," Catherine McKenna, minister of Environment and Climate Change, said during a funding announcement at Carleton on Oct. 19, where FlareNet was introduced along with three other research networks supported by a total contribution of nearly $22 million from NSERC.
"There are technical solutions that are cost effective that will have a real impact," said McKenna. "This network demonstrates how Canada can be a leader in clean energy and can innovate in our effort to achieve our climate change targets."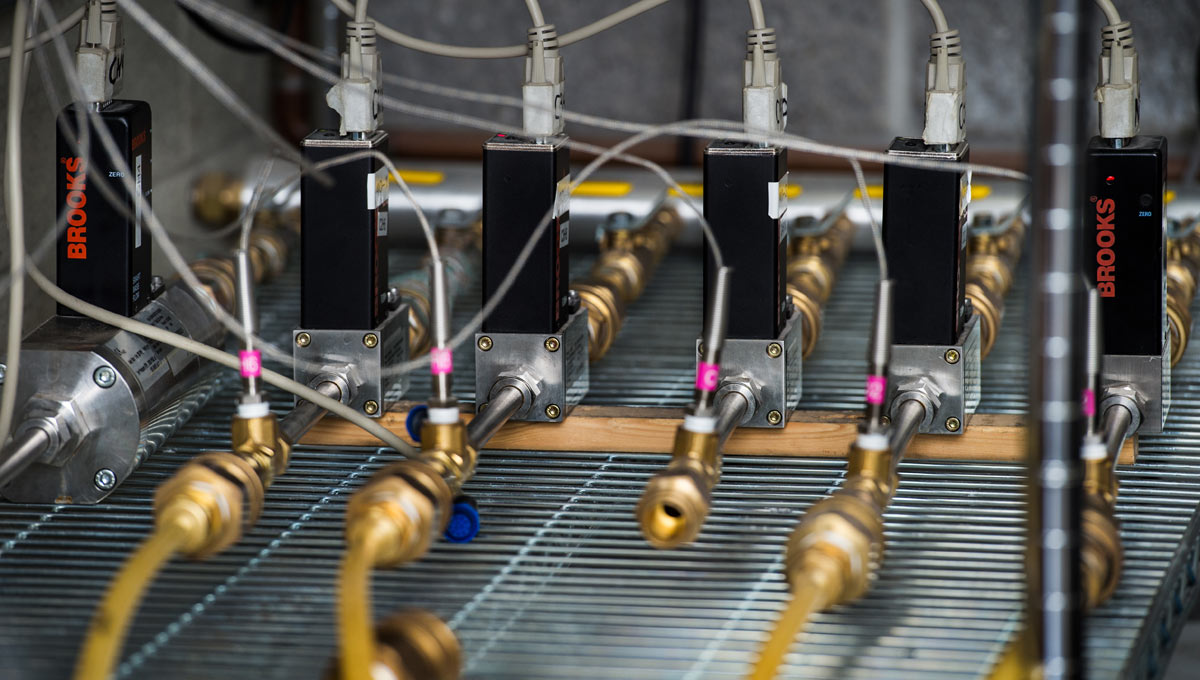 "We are a government that's based on science and evidence," added Science Minister Kristy Duncan. "We understand the importance of investing in science, and we want to ensure that our investments are strategic and effective and meet the needs of the scientific community. This research will be critical for developing more sustainable energy production."
Flaring — simply defined as burning off a flammable gas — is standard procedure at thousands of oil and gas sites in Canada and tens of thousands throughout the world.
Natural gas, for example, is burned at oil wells because collecting it is often deemed too expensive. But flaring can release toxics including sulfur dioxide, nitrogen oxides and black carbon particulate matter, which is formed by the incomplete combustion of fossil fuels and is a component of light-absorbing soot. Black carbon is a potent agent in global warming and its effects are especially significant in the Arctic, where it settles on snow and ice and accelerates melting.
Lack of knowledge a major obstacle
Yet, according to Johnson, we can't accurately predict the emissions released by flaring, nor do we have accurate techniques to measure flare emissions in the field. This lack of knowledge is a major obstacle in the effort to move toward cleaner fossil fuels.
"You can't mitigate or regulate what you can't quantify," he says, adding, in reference to Canada's plan to introduce a carbon tax: "You can't trade or tax what you can't measure.
"Right now, there's no viable technology to walk up to a flare and measure its various emissions. You need a scientific basis to make informed decisions and offer regulatory support. You need to understand the range of emissions and their environmental impact."
The new strategic network "aims to provide a quantitative understanding of flare generated pollutant emissions critical to enabling science-based regulations, accurate pollutant inventories, understanding of climate forcing and health implications, and engineered mitigation strategies to make fossil fuels cleaner."
Carleton's partners in this critical climate research project include the University of Alberta, University of British Columbia, University of Waterloo and Western University, as well as Natural Resources Canada (NRCan), the National Research Council (NRC), Environment and Climate Change Canada, the Canadian Association of Petroleum Producers, the Petroleum Technology Alliance Canada, the Alberta Energy Regulator, the United Nations Environment Programme's Climate and Clean Air Coalition, the World Bank's Global Gas Flaring Reduction Partnership and several other government and industry organizations.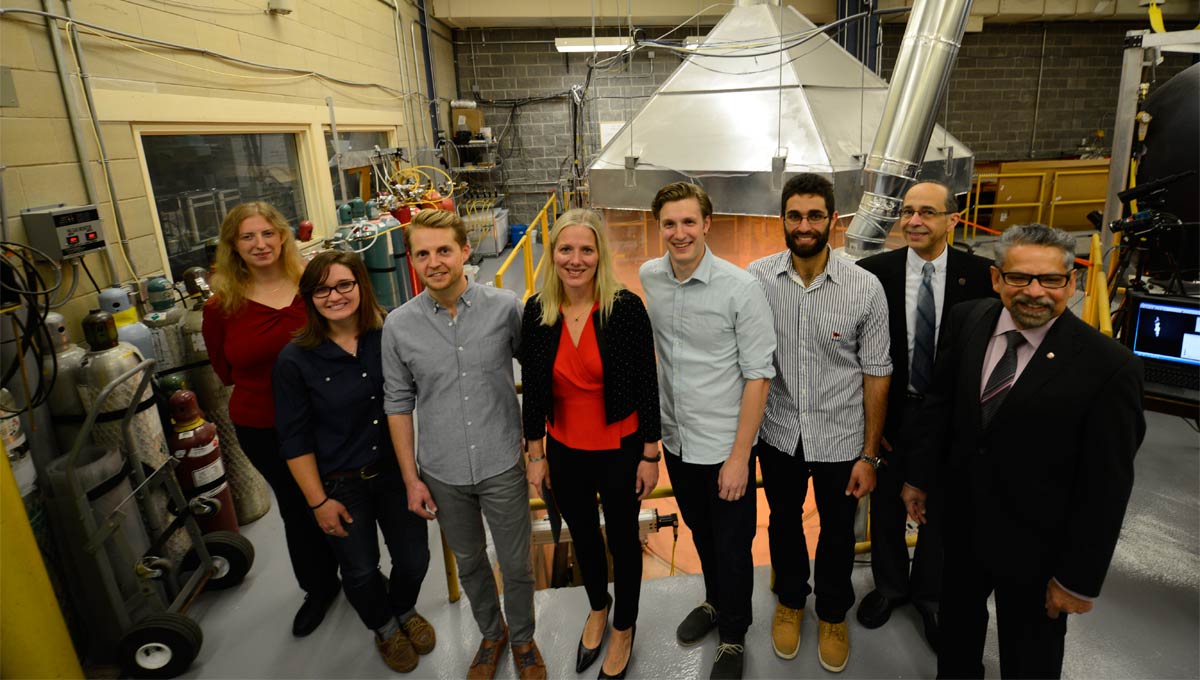 Moscow State University and Lamar University in Texas are also playing a role, as are private companies such as Québec City-based Telops, which designs and manufactures high performance hyperspectral imaging systems and infrared cameras — technology that will help with the field experiments.
Each partner will bring their own interests and expertise, from the international community's concerns about black carbon to regulatory questions about fracking flowback emissions, which some have suggested may render unconventional gas resources worse than coal.
Individual researchers will also have significant roles to play. For example, the NRC's Kevin Thomson, an adjunct research professor at Carleton and a long-time collaborator of Johnson's, is an internationally recognized expert in optical diagnostics of particulates. Co-investigators Greg Kopp (Western), Larry Kostiuk and Jason Olfert (University of Alberta), Steve Rogak (UBC) and Kyle Daun (Waterloo) are similarly renowned.
"Engineering innovators have a vital role to play in overcoming universal challenges such as air pollution," says Rafik Goubran, dean of Carleton's research-intensive Faculty of Engineering and Design. "By considering the environmental, health and public policy implications of new processes and technologies, Prof. Johnson's research will help to develop sustainable and green solutions that will serve the global community."
"Good environmental policy needs to be based on strong research to measure pollutants and to determine their effects," says Carleton President Roseann O'Reilly Runte. "Carleton University is proud to lead this work with colleagues, governments and industry across Canada."
Finding answers to difficult
questions about oil and gas
The idea that ultimately led to FlareNet first arose about three years ago, when partners in government and industry kept raising questions about flaring in a rapidly evolving oil and gas industry that couldn't be easily answered. Kostiuk and Johnson, both supported by Discovery Accelerator funding from NSERC, hatched a plan to pool resources and conduct what Johnson calls a "smallish" study focused on the greenhouse gas impacts of flaring. Which got them thinking.
Johnson and collaborators at the NRC and NRCan had recently developed a technique called sky-LOSA that essentially uses a pair of cameras to directly quantify the black carbon being released from flare stacks. Although flaring is a globally significant source and black carbon is considered the second-leading cause of global warming, trailing only carbon dioxide and just ahead of methane, sky-LOSA was the first technology able to quantify these emissions from flaring — a lack of information that speaks to our limited knowledge about emissions more broadly.
"There has been an accumulation of unanswered questions," Johnson says about the synthesis that sparked FlareNet. "This is really quite an ambitious project. Research shouldn't exist in silos. We need to address these questions in a more comprehensive way."
Field work will be part of this critical climate research project. Beyond planned tests and experiments, Johnson and some of his dozen or so graduate students and post-docs are currently preparing to head to Alberta on a few hours' notice to use sky-LOSA at fracking sites to collect data during flowback.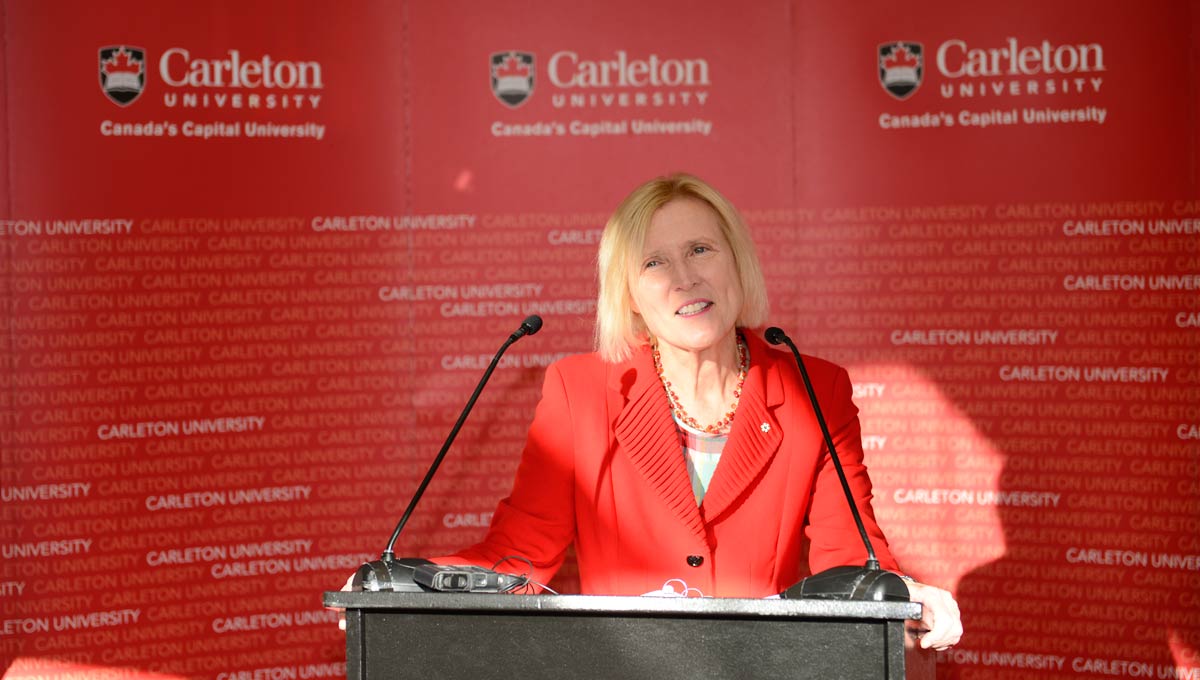 In addition to addressing one of Canada's most pressing challenges, NSERC's support of FlareNet "is an investment in the next generation of researchers who will build the networks of the future," NSERC President Mario Pinto said during the funding announcement at Carleton.
NSERC's mission is to make Canada a country of discovery and innovation, said Pinto, "and to optimize the connections between researchers and users. Facilitating close connections and partnerships with business ensures that discovery research is enriched by industry perspectives and market needs."
The oil and gas industry has a good understanding of flaring emissions from conventional wells, but not from unconventional fracking operations — a relatively new and rapidly expanding form of production that's "a completely different beast from a technological point of view," says James Vaughan, a technical advisor for oil and gas operations with the Alberta Energy Regulator, a FlareNet participant that will provide Johnson and his colleagues with wellsite data and facilitate contacts with oil and gas firms.
"We believe, in Alberta, that it's done in a manner that's as safe and environmentally friendly as possible compared to the rest of the world, but further studies will help us to verify what's being burned and what the byproducts are," says Vaughan. "We think we know, but we're not 100 per cent sure. The results from FlareNet will give us concrete data and clarity.
"Historically, Alberta and Canada have taken a global lead on oil and gas emissions mitigation," he continues. "This project can put us at the forefront of further mitigating and minimizing the environmental impacts of fracking emissions. We can share results from FlareNet with the rest of the world. It's an international issue; emissions don't follow political boundaries."
Approximating emissions at real-world oil and gas sites
Some of Johnson's research will also take place in Carleton's Energy and Emissions Research Lab on the second floor of the Mackenzie Building. The lab's flare facility will allow Johnson and his students to approximate emissions at real-world oil and gas sites, and help them develop measurement technologies and mathematical models to scale up their results.
But much of the initial work on FlareNet is occurring in Johnson's office on the third floor of Mackenzie, where a desk literally covered with open textbooks and pieces of hardware, a blackboard full of scribbled graphs and diagrams, and a steady stream of phone calls, emails and visitors offer a glimpse of the logistics required for a project of this magnitude.
Early hurdles include assembling a board of directors, acquiring equipment, and setting up a smooth system for exchanging information among researchers at all of the participating institutions.
In addition to FlareNet, Johnson is currently helming two other major projects: an NSERC-supported collaboration to develop an optical technology for measuring emissions from liquid storage tanks — an under-scrutinized area, even though there are 50,000 to 80,000 tanks like these at oil and gas sites in Alberta alone; and a "techno-economic" investigation of the technology feasibility and engineering costs of mitigating methane emissions, a big priority for Environment and Climate Change Canada and international organizations such as the U.S. Environmental Defence Fund, which are looking for science-based solutions to help address climate change.
Both critical climate research projects will help inform FlareNet, and all three, collectively, will help researchers clean up emissions from fossil fuels as the shift towards renewables continues.