By Matt Gergyek
Photos by Adam Landry
Campers in Carleton University's Virtual Ventures program recently had a surprise visitor – Catherine McKenna, minister of Environment and Climate Change and Ottawa Centre MP.
Virtual Ventures is a not-for-profit organization run by the Faculty of Engineering and Design, offering nationally recognized technology and engineering programs for youth from junior kindergarten to Grade 11. Along with summer camps, Virtual Ventures has been running fall and winter clubs, school outreach workshops and girls' outreach events (notably Go ENG Girl and Go CODE Girl) for almost 25 years.
"We are striving to educate youth in a fun and engaging way by taking a different, out-of-classroom approach to learning science, technology, engineering and math (STEM)," said Christine Riddell, director of Virtual Ventures.
McKenna visited the program on Aug. 15 to see first-hand how the Canada Summer Jobs fund is creating impactful work experiences for students and to learn more about how the Virtual Ventures program is helping to encourage young people to pursue careers in STEM fields.
We wanted her to see "just how much of an impact this funding can make on an organization like ours," Riddell said.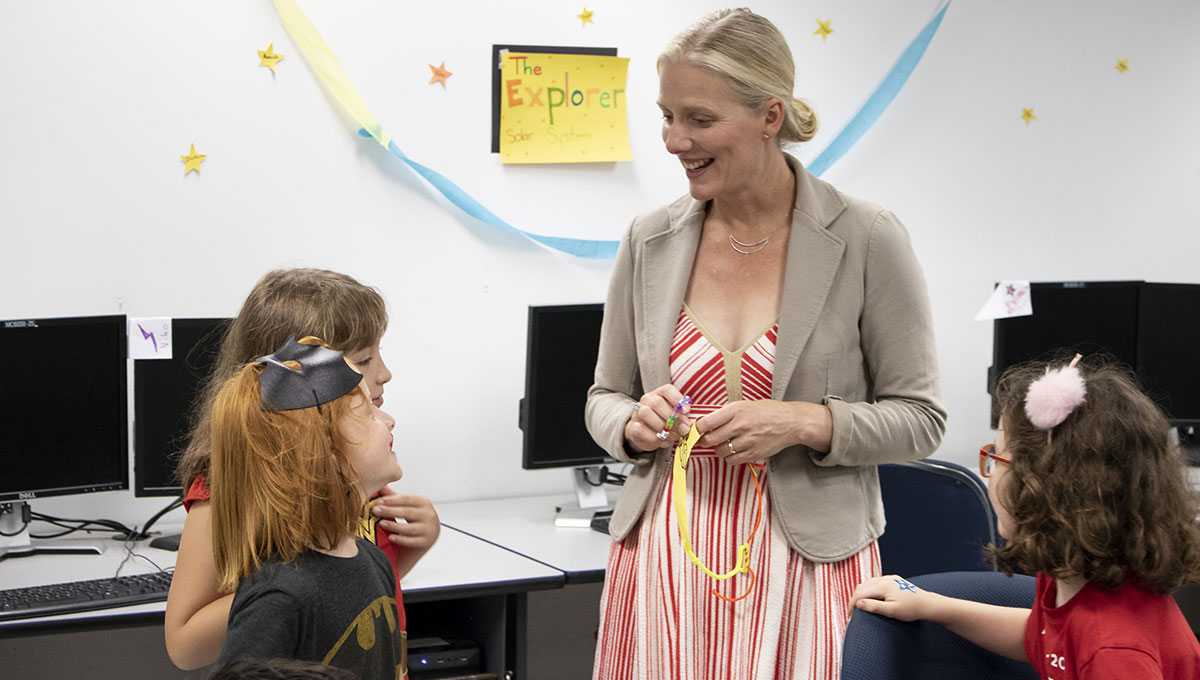 New Pathways to STEM
Thanks partly to the fund, which provides wage subsidies to employers to create employment for secondary and post-secondary students, Virtual Ventures was able to create 10 more positions on the team of about 25 university and high school students that help with the camps.
The fund "supports great organizations: universities, not-for-profits and businesses, that otherwise wouldn't be able to hire students," McKenna said. "When you have opportunities to explore during the summer outside the pressures of school, doing something fun, it can help you think of [your future], that you could go on to be an engineer, that you could get into the STEM field."
She toured two of the Virtual Ventures programs, catching up with a group of young campers decked out in costumes while creating a short superhero movie using a green screen and iMovie.
The second program McKenna visited was the Connections Camp, a free camp offered to Indigenous youth in grades 5 to 9.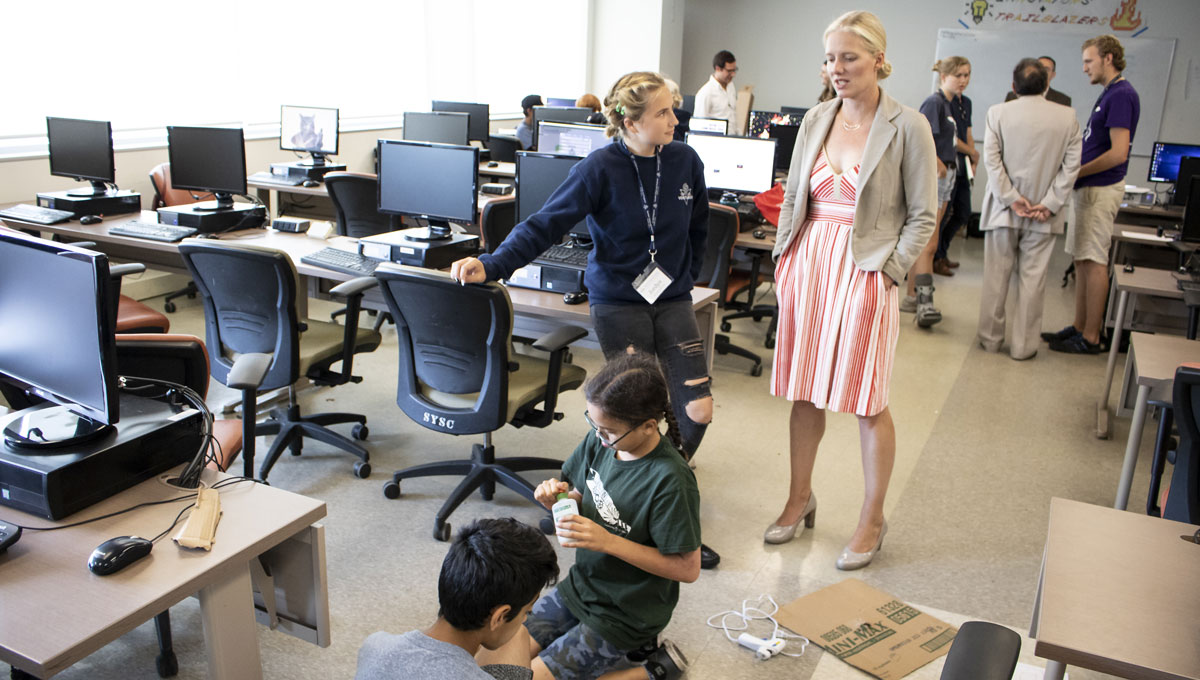 Virtual Ventures: Connecting Indigenous Youth to STEM
Jordyn Hendricks, a Métis counsellor in the program and student at Gloucester High School, said it's important that Indigenous youth are being connected with the STEM fields.
"A lot of the time, Indigenous people aren't recognized as being as strong and as resilient as we are, considering the amount of pain we've faced and still face today. These Indigenous youths are fighting the stigma . . . It's so refreshing to see."
Virtual Ventures also runs a two-week for-credit on-the-land Indigenous program on the Akwesasne reserve in Cornwall, Ont., in partnership with Actua (Canada's leading STEM youth outreach network) and Six Nations Polytechic STEAM Academy (a technology-rich secondary school based in Brantford, Ont.).
Connor Ruprecht, a third-year Sustainable and Renewable Energy Engineering student at Carleton, along with Meg Schwellnus, a third-year Industrial Design student, received funding to work at Virtual Ventures thanks to the Canada Summer Jobs program.
"When I was in elementary school, math, science and technology were really detached from me," Ruprecht said. "I think the earlier you're exposed to any STEM subject . . .  the better. Everyone can bring their own perspective and their own piece to the science community. I think that's very important."
"I really like that you get to reach so many kids, especially . . .  those who may not be able to go to camp otherwise," Schwellnus added. "They explore technology that they might not get access to anywhere else . . . like Adobe programs, laser cutting, and 3D printing. It's really neat to see the students get interested and inspired."
Thursday, August 16, 2018 in Community, Faculty of Engineering and Design
Share: Twitter, Facebook