By Joseph Mathieu
Photos by Joseph Mathieu
A dozen standup paddleboards launched onto a blustery and rainy Lac Leamy on the afternoon of Friday, Sept. 4. Participants, which included members of the Carleton University Ravens men's basketball team and kids from the Carlington neighbourhood of Ottawa, put on brave faces as an instructor from PaddleFit broke down the basics of standup paddleboarding (SUP).
A few splashes and paddling tips later, the small crew started to stand up as the sun came out. The group—gathered for the first outing of the newly-created Athletes Combating Racism (ACR) program—began to cheer and worried looks turned into goofy smiles.
"We're trying to make sure everybody gets opportunities they wouldn't otherwise get," said Ottawa Police Const. Jafeth Maseruka, who paddled with the crew.
"None of these kids have ever been on a paddleboard before."
Maseruka is one of the co-creators of ACR, in partnership with the Carlington Community Health Centre and Carleton Athletics. It was shortly after the killing of George Floyd in Minneapolis on May 25 that Dave Smart, director of basketball operations, called Maseruka. The two men, who have known each for more than 20 years, decided they needed to do something.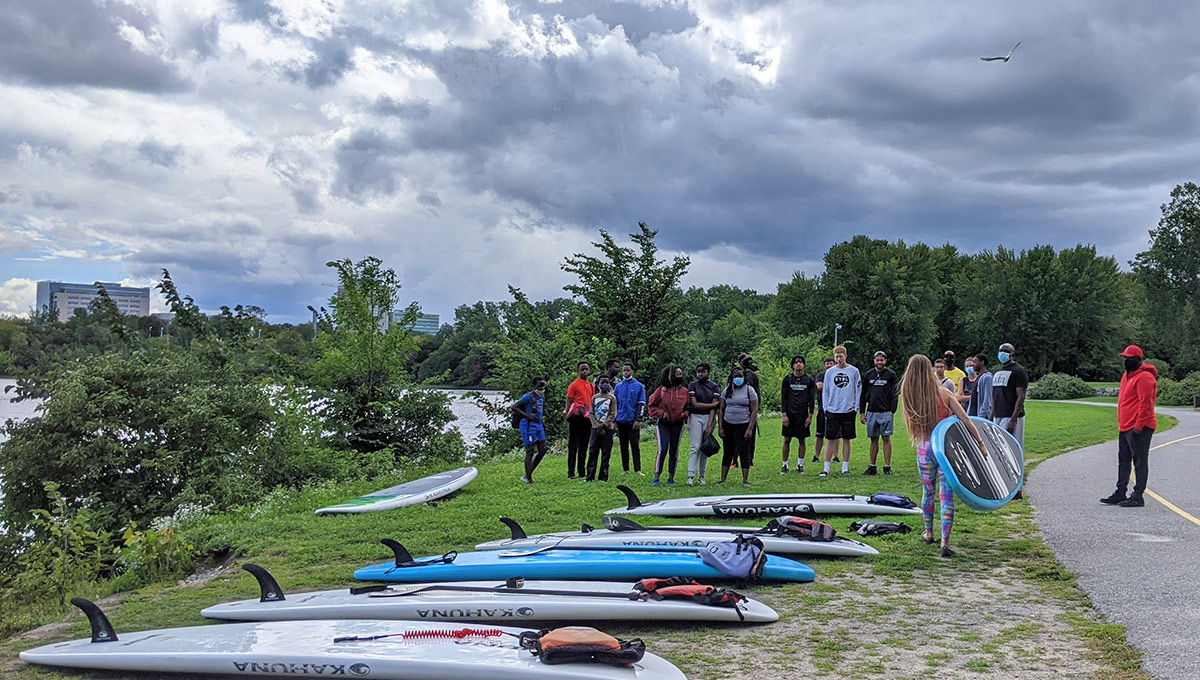 Athletes Combating Racism
Alongside Ravens men's basketball Head Coach, Taffe Charles, and community developers in Carlington, they decided to let their communities know they cared and wanted to see societal change. It couldn't just be a one-off event either—it had to be something still going in 35 years.
"Everybody's learning and getting better," said Ottawa Police Sgt. Chabine Tucker, watching the paddlers from the lakeshore.
"Everyone is seeing each other struggling as they figure it out. It's something they are sharing."
Both Tucker and Maseruka are former Ravens basketball players who joined the Ottawa Police Service together in 2008. They co-founded the Ottawa Police Hoopstars, a volunteer program of police officers and partners who play pickup basketball with youth in their communities. Tucker said the ACR program is a natural evolution of Hoopstars into a more sustainable outreach program.
"We want these kids to know that there are people in their community who want to help them in any way they can," said Smart.
"It's trying to get communication that leads to trust. It's not easy to gain that trust. We need to show that we truly care. Hopefully, that builds relationships, builds trust, and allows for deeper conversation and change."
SUP was just one way that ACR plans to build relationships that will lead to mentorship and tutoring. ACR will match post-secondary athletes with Grade 7 to 12 students in the Ottawa area to help them with life's challenges and school work. The public health crisis of COVID-19 has moved many of these efforts online, but the momentum is building.
The program won't be exclusive to Carleton athletes and Carlington youth. Ideally, in a few years, there will be multiple neighbourhoods and schools participating in the program. Although former Carleton basketball players and Ravens staff started the initiative, they named it Athletes Combating Racism to open it to everyone.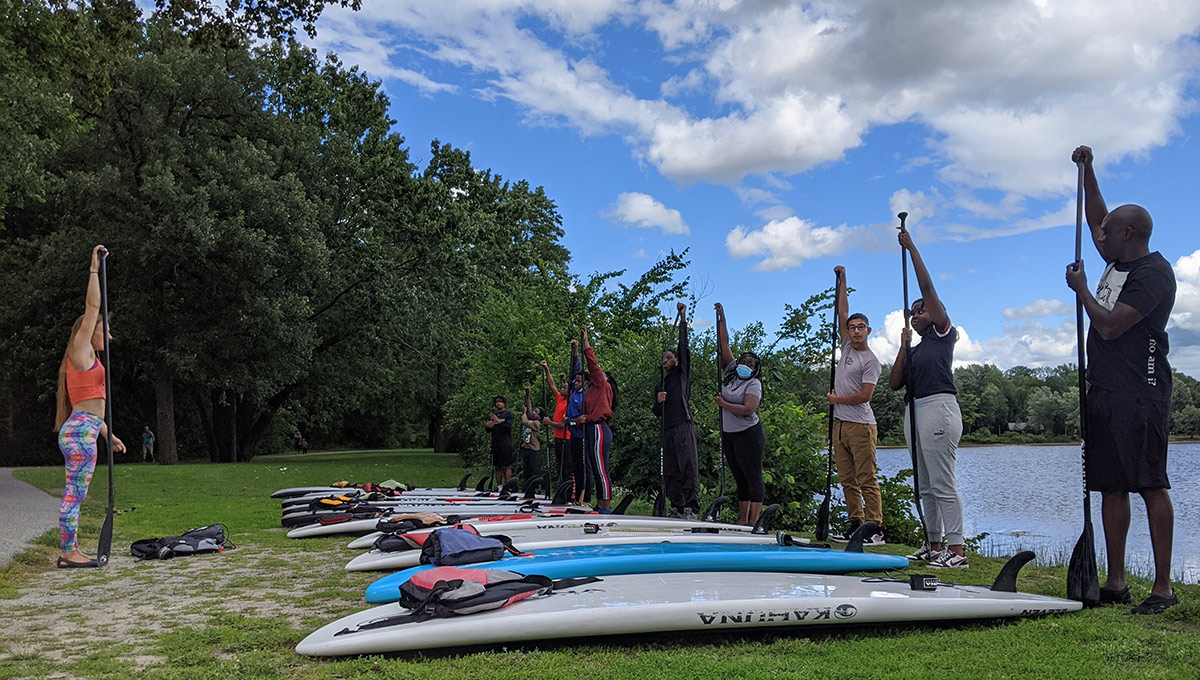 Sustainable Leadership
Student athletes from the region and volunteers from all walks of life can get involved by reaching out through ACR's landing page. Local businesses can donate their time or services to the cause, just as Paddlefit gave the group lessons and paddleboards for free.
"We're not closing doors on who can be involved," said Smart, "and we want to expand it."
In 2001, when Smart was head coach of the Ravens men's basketball team, Maseruka was a guard on the team that won the first of 14 consecutive OUA East championships. Today, the police constable is an assistant coach with the men's basketball team. His progression from student and player to coach and mentor is an example of what Tucker calls sustainable leadership.
Often, players enter Carleton Athletics through programs like the Ottawa Guardsmen basketball club, come into their own as OUA-level players, and then they stick around to help other kids do the same. Building up ACR in tandem with Carleton Athletics makes the program itself sustainable.
"As long as there will be athletes at Carleton, there will be mentors," said Tucker.
"And as long as there is a university, there is going to be the ACR program."
Haven't found, also this email doesn't work: admin@athletescombattingracism.org