By Tyrone Burke
Photos by Chris Roussakis
Three hockey-mad rugrats, three big games . . . and one very substantial backlog for skate sharpening at the local pro shop.
For the parents of active children, there aren't enough hours in the day to get everything done, and skate sharpening is an easy thing to let slide.
With the Blade Barber hand-held skate sharpener, Tim Maxwell is trying to make hockey logistics a bit easier.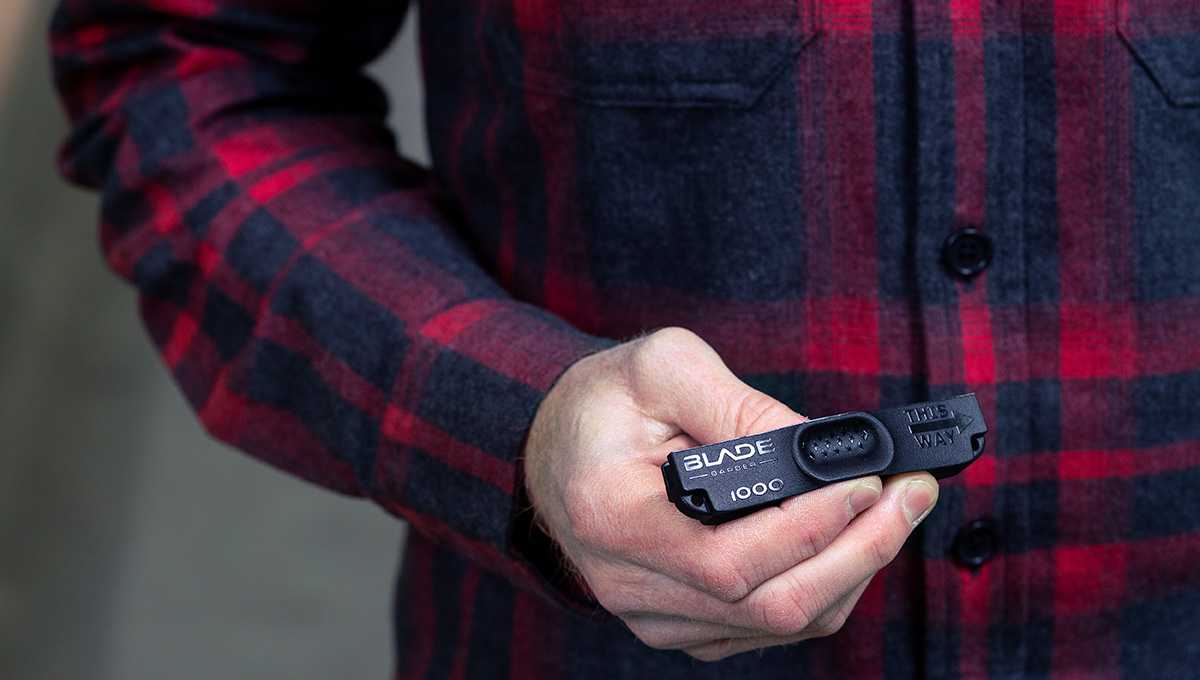 After more than a dozen prototypes, hundreds of tests and a trial run with beta testers, the inventor and graduate of Carleton's Bachelor of Industrial Design program is shipping his first production run of Blade Barbers. Already, there's a second run in the works.
Some of the early orders are coming from pretty unlikely locales. Hockey Tutorial – a United Kingdom-based social media influencer with a popular YouTube channel – posted a video about Blade Barber that's attracted an international following.
"He thought it was great and linked to the website," Maxwell says.
"People saw the video, and orders started coming in. I've been blown away by the response. I never expected people in Japan, South Africa, Ireland or Spain would buy it, but they don't have access to skate sharpeners. It's not a question of preferring the pro shop. They don't have one."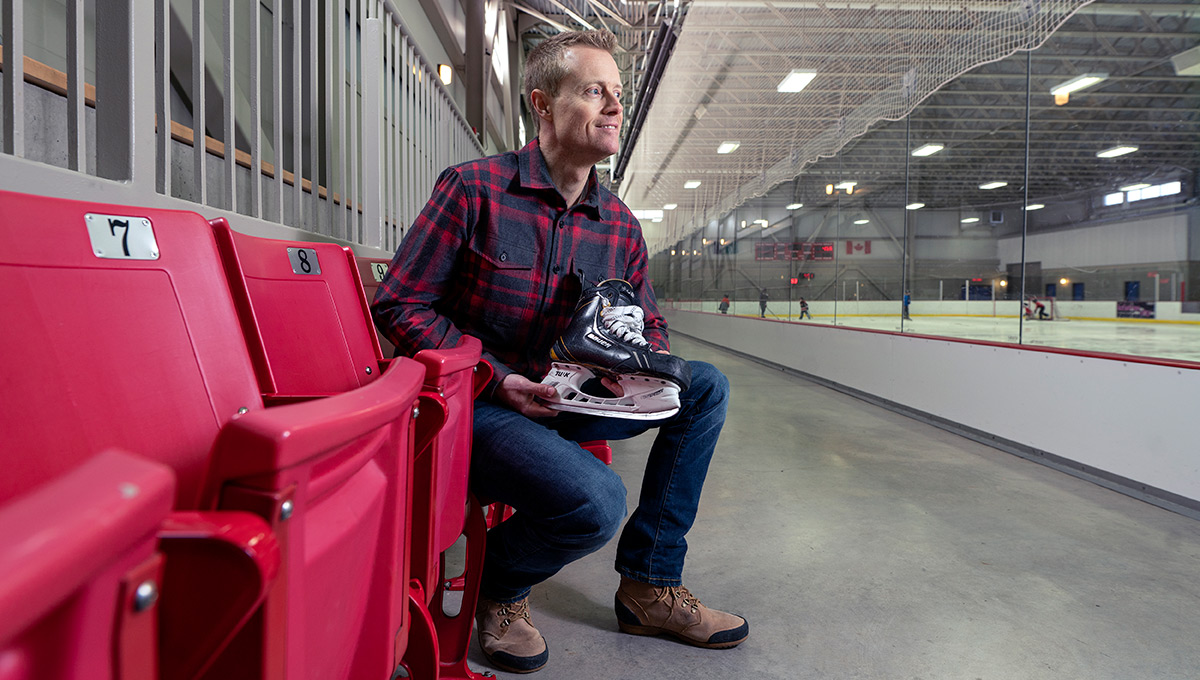 Blade Barber Employs A Novel
Approach to Sharpening
Manufactured in Stittsville, Ont., at LD Tool & Die, the Blade Barber takes the novel approach of sharpening each edge individually using the side of the blade as a guide. The handheld sharpener uses a tungsten carbide cutter with a helix-shaped grind. It passes along each edge, shaving steel to sharpen the edge. It's available in four different sizes to match a skate's hollow – the curved area on the bottom of the blade. Sharpening each edge individually simplifies the process.
"When you're skating, the most important thing is bite angle," Maxwell says.
"That's the angle between the edge and the hollow. It dictates how a skate feels on the ice. I wanted to make sure the bite angle is very accurate. Other skate sharpeners try to centre an abrasive on your skate blade, but blades aren't straight, thickness varies, and there will always be some misalignment. Bite angles can vary greatly and those variables are not there with the Blade Barber. It's honing a bite angle, and that's all that it's doing."
Maxwell sees the innate skepticism many players have about a hand-held sharpener as the product's single biggest obstacle.
"I play beer league hockey, and I bring it to the dressing room at the start of the year, and a lot of people are like: 'It's a hand held sharpener . . . It's not touching my skates, I only take my skates to Bill over there. Nobody touches my edges but him.' But by the end of the season, everyone wants to buy one because they know it works."
To overcome this knee-jerk reaction, Maxwell is hoping to score a seal of approval from social media influencers and elite-level athletes.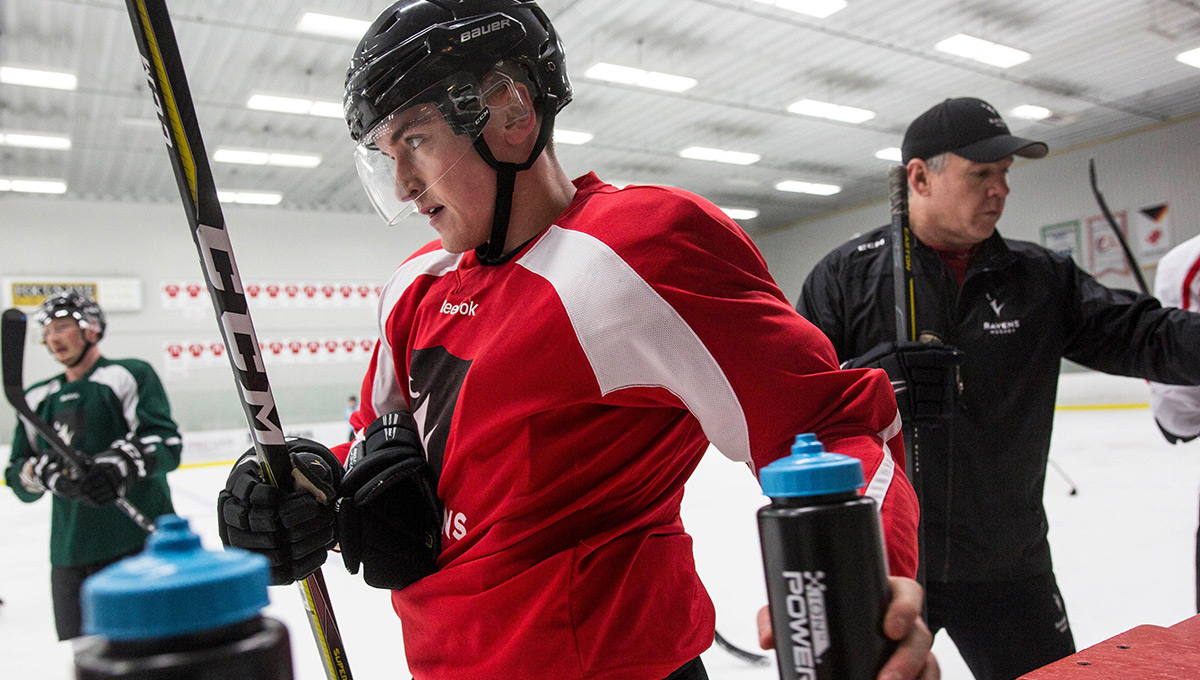 Carleton Ravens Hockey Team On Board
The Carleton Ravens are on board. They're using a Blade Barber for in-game sharpening.
"It never occurred to me that the Ravens would want to use it: they own a skate sharpening machine. They bring it to every game, but can't always get to it. So they want to be able to sharpen players' skates on the bench without having to take them off."
Maxwell views youth and recreational athletes as Blade Barber's key market – there are a lot more hockey parents than elite-level athletes.
"For them, it's about peace of mind," he says. "With multiple kids in hockey, parents might have to sharpen two or three pairs of skates a week. That's time-consuming. Sometimes, the pro shop will tell you to come back in three hours. That's just not convenient.
"To be able to sharpen skates at home or on the bench or in the dressing room . . . that's a huge time saver.  I've lived it and I know parents with three kids in hockey. Convenience is going to be the advantage."
The Blade Barber is available online at Bladebarber.ca.