By Adam Landry
Photos by Ainslie Coghill
"It's no secret that travelling by air is among the safest methods of getting from point A to point B," says Paul Young-Davies, senior manager of software engineering at DRS Technologies Canada.
Experts agree that flying has never been less dangerous than it is today. Last year marked a record low in flight fatalities among commercial airlines.
But Young-Davies knows that many safety standards were established as a result of hard lessons. Thanks to the presence of onboard flight recorders, commonly known as black boxes, investigators are often able to pinpoint the cause of airliner crashes, paving the way for new technologies and tighter legislation.
Retrieving a downed aircraft's black box has long been considered a top priority, surpassed only by efforts to locate survivors. With that in mind, Young-Davies and DRS Technologies Canada have been working to enhance post-crash recovery efforts by developing a specialized Automatic Deployable Flight Recorder (ADFR) system.
Unlike today's black boxes, the company's new design will release from the tail of an aircraft upon detecting significant structural deformation or becoming immersed in water. While traditional flight recorders also tend to sink to the sea floor in the event of a crash over water, the ADFR has been engineered to float indefinitely as it transmits its location to an international network of satellites, reducing search costs and simplifying retrieval.
The new technology has already begun making headlines, and a pair of co-op students from Carleton's Faculty of Engineering and Design and Faculty of Science have been quietly making their mark on the revolutionary project behind the scenes.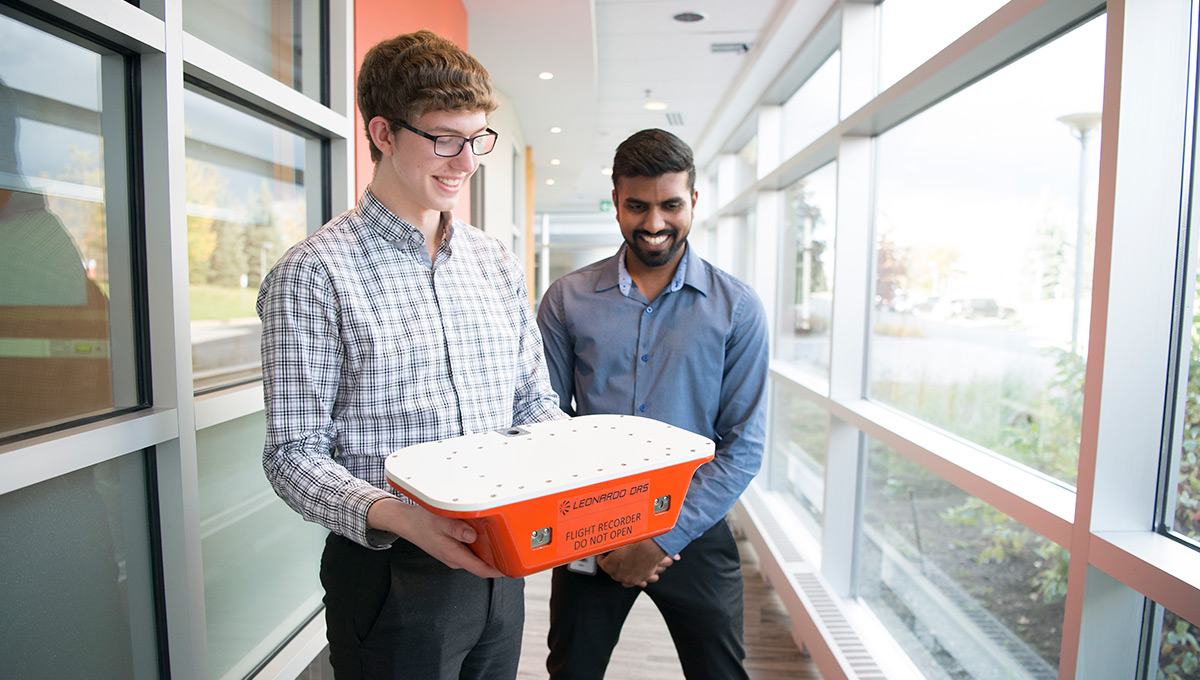 A New Black Box to Reconstruct Aviation Disasters
In working with DRS Technologies Canada over the past six months, third-year Software Engineering student Shasthra Ranasinghe and second-year Computer Science major Kevin Guy have been part of a small team tasked with developing the flight recorder's Ground Support Equipment (GSE), a laptop-based application which will connect to the recorder in order to recover and display its flight data.
Specially designed to interface with the ADFR and process its treasure trove of data, the GSE will prove vital to the success of reconstructing events leading to major aviation disasters.
"The software product that Ranasinghe and Guy are developing will be a critical first step in helping flight engineers and accident investigators analyze and review aircraft data," says Young-Davies.
During flight, the ADFR will collect information from a variety of sensors and components onboard an aircraft, audio data from multiple channels, and significantly more raw data than past recorders – conforming to new standards set by the International Civil Aviation Organization and the European Aviation Safety Agency that require cockpit voice recordings be extended from two to 25 hours for all commercial flights by the year 2021.
"The console we are designing will be able to download and process all of this data," says Ranasinghe.
Once investigators have that information in hand, they can use it to help determine what may have caused a crash and take steps to avoid similar incidents. Recovering the data held by flight recorders has proven essential, especially when planes have been lost at sea or damaged extensively.
"Without that data, the task of piecing together how an event occurred can become insurmountably complex," says Young-Davies.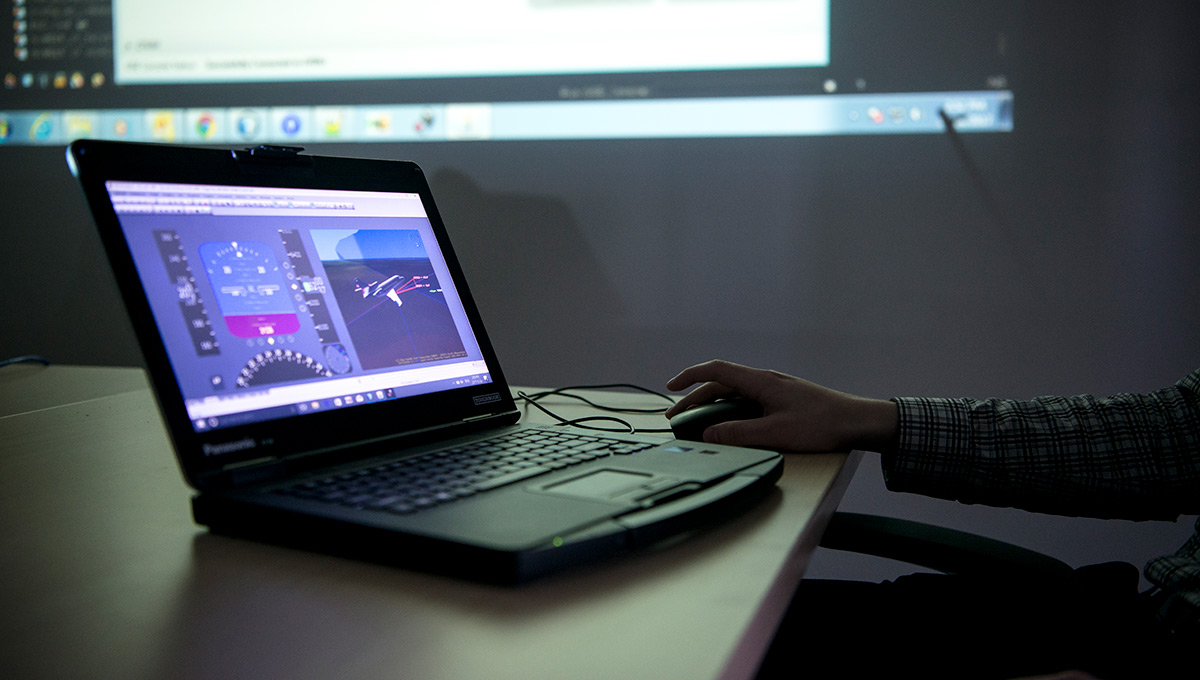 Addressing a Demand for Better Industry Standards
To date, the company's deployable recorders have proven exceptionally reliable. According to Blake van den Heuvel, director of air programs at DRS Technologies Canada, more than 97 per cent of units from downed commercial and military aircraft were recovered and their data was intact.
"For transport aircraft, we've had a 100 per cent success rate," he says. "For the ones where our recorders were non-recoverable, I think you'll find that we have situations where we've had a mid-air collision involving two very small tactical aircraft – both of which were approaching speeds of Mach 1. In that event, there is unfortunately very little left of either aircraft."
Ranasinghe understands the stakes are sky high for the project, knowing the software he and Guy are developing may one day be used to analyze a major commercial aviation incident. While having no room for error may seem daunting for some, he has embraced the challenge.
"The software we're working on has to be absolutely precise," he says.
"If even one piece of information isn't accurate, investigators may interpret the data incorrectly and arrive at a faulty explanation for a crash."
While DRS Technologies Canada and parent company Leonardo DRS have been involved in developing flight recorders for decades, mainly for military aircraft, recent tragedies within the commercial aviation industry have sparked a call for improved black box technology and recovery methods. Tragedies like the disappearance of Malaysia Airlines Flight 370 on March 8, 2014 have exposed shortcomings within industry standards.
En route to Beijing, the Boeing 777 lost contact with air traffic controllers shortly after takeoff, deviating from its planned route and vanishing over the South China Sea with 227 passengers and 12 crew. What followed quickly became the largest and most expensive search effort in aviation history, spanning 1,046 days at a cost of nearly US $160 million. But an October 2017 report by the Australian government concluded Flight 370 will likely never be found.
Air France Flight 447 crashed over the Atlantic Ocean en route to Paris in June 2009, killing all 228 passengers and crew. While major portions of the wreckage were pulled from the sea within five days, the aircraft's flight recorders were not recovered from the ocean floor until nearly two years later, significantly hindering the crash's investigation.
Young-Davies believes search efforts could have been expedited and investigations ultimately successful had an ADFR been installed before takeoff.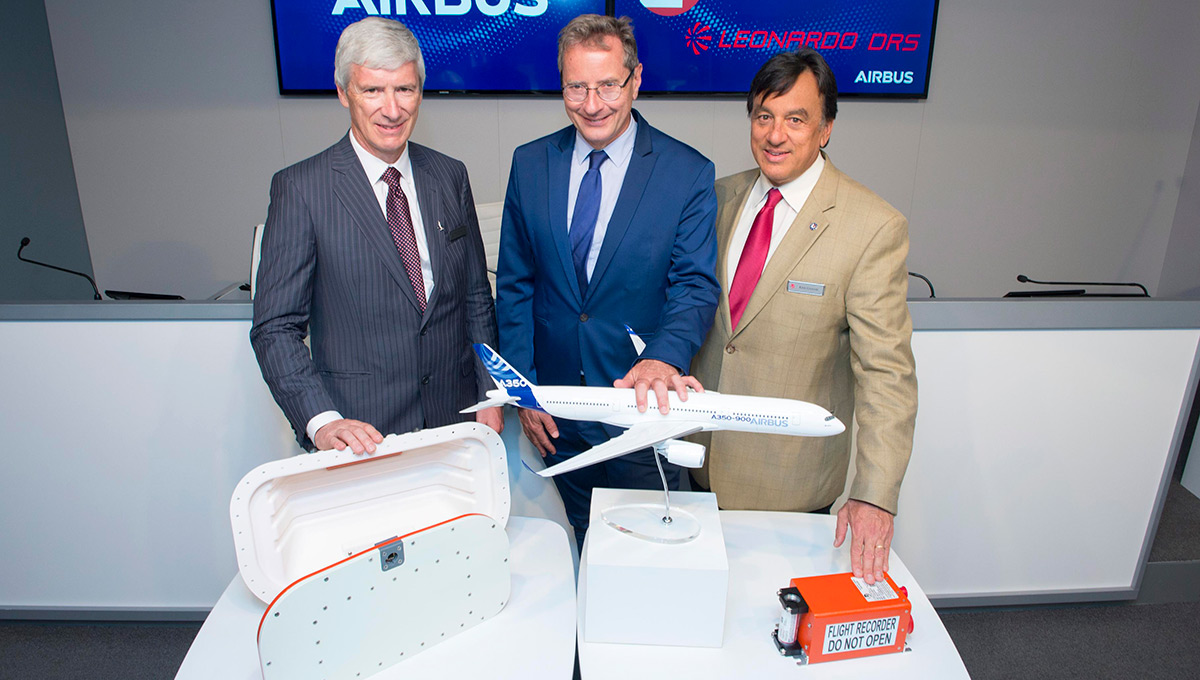 Attracting the Attention of the Aviation Industry
Beginning in 2019, the system will debut on Airbus's A350 XWB jet airliner, marking the first use of deployable recorder technology for civil transport flight operations. The unit will be installed on future Airbus aircraft, with the potential of being retrofitted to the company's existing fleet.
While developing the recorder's GSE application originally began with Airbus alone in mind, Ranasinghe and Guy found themselves having to alter course as the system began attracting the attention of multiple airline manufacturers.
"Since the GSE was originally conceived, additional clients have jumped on board, meaning we now need to provide an application which can support multiple customers and operate seamlessly across a variety of aircraft," Young-Davies explains.
"As a result, our co-op team has had to adapt the architectural setup of the program, designing an omnibus of sorts, which can be adjusted to meet the requirements of different airliners."
Following the lead of Young-Davies, the student duo has enhanced the versatility of the GSE, opening the door to applications beyond crash investigation. By equipping the unit with context-sensitive online help documentation, Ranasinghe and Guy have enabled the diagnostic software to be used for other critical tasks, such as real-time monitoring and post-flight observations.
"If a pilot reports an in-flight issue after having successfully landed, the GSE can now be plugged directly into the aircraft, displaying a history of its most recent flight," Young-Davies says. "Being able to quickly diagnose operational issues using this technique has the potential to be a game-changer for the industry, as it reduces ground time and subsequent lost revenue that commercial airliners experience while maintenance teams try to identify what's in need of repair."
Guy hopes the software add-ons he and Ranasinghe have developed may one day help prevent future aviation disasters.
"By using the GSE to perform routine maintenance, crews may be able to discover a faulty piece of equipment or damaged system while a plane is still safely on the ground," he says. "This would result in the aircraft being grounded before a tragedy strikes."
Plans are underway to extend the application's support to include helicopters and the team's GSE software will likely soon be deployed to airports and maintenance hangars worldwide.
Ranasinghe says he feels fortunate to be a part of something that will potentially impact the industry on a global scale.
"It's been incredible having the chance to work on a project that's so far-reaching. I never expected I'd be able to put something like this on my resume before I've even graduated."
Young-Davies says he's not surprised by the pair's ingenuity.
"Having the opportunity to become involved with industry always brings out the best in students," he says. "It familiarizes them with emerging technology and systems, helps them develop important technical and task planning skills, and teaches them how to become effective communicators among other working professionals."
Young-Davies also highlights the success he's experienced with Carleton's co-op program.
"We are now in our third year of co-ops and we are enjoying top-notch students from a range of engineering disciplines."
During the winter term, DRS Technologies Canada plans to hire more co-op students from Carleton to develop further elements of the flight recorder as it begins rolling out on runways.
"The students we bring in during 2018 will be focusing on the ADFR unit itself," says Young-Davies. "In working alongside our mechanical, electrical and systems engineering experts, they'll be helping to develop and test the recorder's internal components to ensure that when the time comes, everything will be cleared for takeoff."
---
Those interested in becoming a co-op employer or finding out more about Carleton's co-op program are encouraged to contact the Faculty of Engineering and Design's Corporate Relations Officer, Robin McLaughlin, by phone at 613-520-2600, ext. 1868, or by e-mail at robin.mclaughlin@carleton.ca.
Thursday, February 8, 2018 in Research
Share: Twitter, Facebook