By Jena Lynde-Smith
Carleton is having a banner year. Already named one of Canada's Top 100 Employers and a Top Employer for Canadians Over 40, the university has, for the ninth consecutive year, been named one of the National Capital Region's Top Employers and, for the first time, one of Canada's Top Family-Friendly Employers. All four competitions are run by the Canada's Top 100 Employers project.
"These recognitions are a testament to our great community and to the environment we have developed and fostered together at Carleton," says Carleton President and Vice-Chancellor Benoit-Antoine Bacon. "The past few years through the pandemic have been challenging and I am so proud of the ongoing creativity and compassion of our community."
"Being recognized as both a top employer for the Ottawa-Gatineau region and a top employer for those with families reaffirms the many steps Carleton has taken to support our faculty and staff," says Lorraine Dyke, Vice-President (Finance and Administration). "Carleton is a special place – it is a community of people who genuinely care about one another. We are very proud of the culture we have created together."
Carleton's recognition as a one of the National Capital Region's Top Employers for yet another year speaks to the community it has built and maintained. As outlined in Carleton's Strategic Integrated Plan, the university always strives for wellness and is dedicated to encouraging its employees to reach their full potential. As such, it offers countless opportunities for career growth, professional development, networking and connection, and health and wellness. Among these supports is a central priority – fostering an innovative, equitable and welcoming culture.
Fostering a Family-Friendly Environment
Being named one of Canada's Top Family-Friendly Employers is a testament to Carleton's commitment to helping faculty and staff balance their work and family life.
Employees are provided with access to child-care programs right on campus. The Colonel By Child Care Centre is a daycare just steps away from the office. Carleton Athletics runs regular kids' camps including PD Day, holiday and summer day camps, and youth sports programs and leagues. Regular free events such as the Biology Chemistry Magic Show, the Annual Butterfly Show and family skate days provide fun for the whole family.
"There are so many bonuses for our family through athletics, academics and wellness offerings," says Alysha A. Cunningham, a Communications Officer in Carleton's Department of Communications, and parent of two young children. "My family is a part of the Carleton community as much as I am."
Carleton understands that family always comes first and in turn provides employees with a free Employee and Family Assistance program, along with special leave days for life events like marriages, bereavement, taking care of a sick loved one and moving. Flexible working hours and at-home arrangements are also available for those who need them. In addition, Carleton hosts a number of family-focused workshops, including a series on caring for aging loved ones, through the Healthy Workplace initiative.
Understanding the importance of accessible education, Carleton provides employees, along with their partners and dependents, with tuition benefits and subsidiaries.
"Carleton has supported me through many life transitions, including becoming a mother (twice) and losing a parent," Cunningham says. "My parental and bereavement leaves were seamless and provided the comfort and security that I needed."
"I couldn't ask for a more caring and supportive place to work."
The National Capital Region's Top Employers is an annual competition organized by the editors of Canada's Top 100 Employers. It recognizes the employers in the Ottawa-Gatineau metropolitan area that lead their industries in offering exceptional places to work. Comparable organizations are reviewed and evaluated to establish which offers the most progressive and forward-thinking programs.
Canada's Top Family-Friendly Employers is one of the longest-running competitions within the Canada's Top 100 Employers project. This special designation recognizes the employers that do the most to help their employees balance work and family obligations.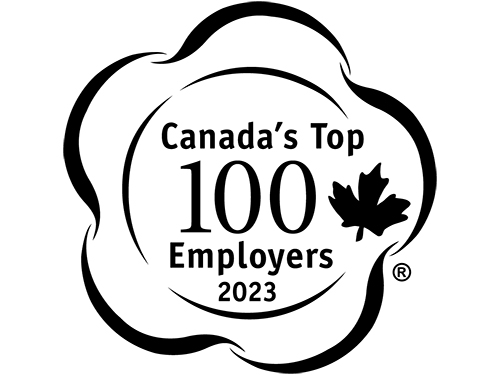 Thursday, February 9, 2023 in News Releases
Share: Twitter, Facebook