The Carleton Ravens are proud to announce Stacey Colarossi as the new head coach of the Carleton Ravens women's hockey program. Colarossi becomes the fifth head coach in the modern history of the program.
Colarossi joins the Ravens after having served as the Associate Head Coach for China Hockey and the Chinese Olympic Team at the 2022 Winter Olympics in Beijing, China. Colarossi was previously the Head Coach of the Laurentian Voyageurs where she served in the role from 2012 to 2021. Colarossi joined Laurentian after spending eight years as an assistant coach with the York Lions.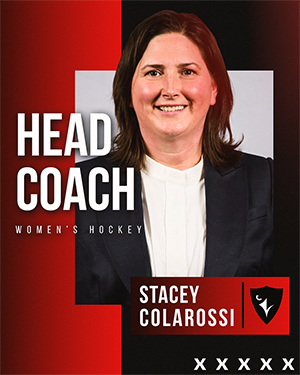 In addition to her Olympic experience, Colarossi served as the Head Coach for Team Canada at the 2019 FISU Games, earning a silver medal. In 2017 and 2018 Colarossi was the Head Coach for the USPORTS All-Star Team at the Hockey Canada Summer Showcase. A current member of the NHL Female Mentorship Program and a Chartered Professional Coach, Colarossi has also served as an Assistant Coach for Team Canada at the 2011 FISU Games and with Team Ontario U18 from 2009 to 2011, capturing a national championship in 2010.
"I am looking forward to the opportunity to work with the leadership team of Carleton Athletics and be immersed in the Ravens culture," said Colarossi.
"There is work to do to build on the current framework and take this program to another level within USPORTS."
Colarossi built the Voyageurs women's hockey program, serving as the program's only head coach from their inaugural season in 2013-2014 through to 2020-2021. Quickly establishing themselves in the OUA, Colarossi's Voyageurs reached the playoffs in just their third season.
While at Laurentian, Colarossi's teams had a 97% graduation rate while an astonishing 71% of the roster achieved Academic All Canadian status from 2016 to 2021. In addition to their academic success, Colarossi's program developed strong ties to the local community establishing school literacy and youth mentorship programs, and actively participating in many community fundraising initiatives.
"We are extremely excited to have Stacey join our coaching staff to lead the women's hockey program in a new direction," said Assistant Vice-President Recreation and Athletics Jennifer Brenning.
"We look forward to working with Stacey and are thrilled about where she can take this program. Her leadership approach, a wealth of experience and technical expertise will be an invaluable asset for the Ravens program as we continue to create a positive experience for our student-athletes."
Media Contact
Steven Reid (he/him)
Media Relations Officer
Carleton University
613-265-6613
Steven.Reid3@carleton.ca

Follow us on Twitter: www.twitter.com/Cunewsroom
COVID 19 Updates: https://newsroom.carleton.ca/coronavirus-covid-19/messages/
Wednesday, June 8, 2022 in News Releases
Share: Twitter, Facebook