Those under 30 are the most likely to decide to subscribe to an online news site as a result of having temporary free access to COVID-19 news that is normally behind paywalls.
The findings are part of a Carleton University School of Journalism and Communication survey of the attitudes of 2,000 Canadians to health information and the media during the COVID-19 pandemic conducted by Abacus Data from May 2 to May 8.
"That's a potential bright spot for news organizations struggling to find new sources of revenue after the continuing collapse of advertising," says Christopher Waddell, a professor in the school and one of the co-researchers overseeing the project.  "But it tempered by the fact that almost four-fifths of those surveyed think all news should be free all the time."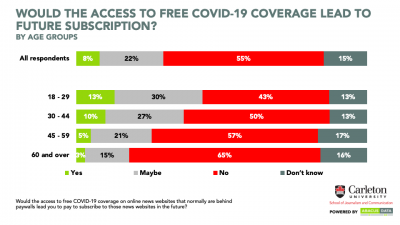 Nationally only 8 per cent of respondents said that access to free COVID-19 coverage on online news websites that normally are behind paywalls would lead them to pay to subscribe to those news websites in the future and a further 22 per cent said maybe. (A series of public opinion surveys in recent years  have consistently found approximately 9 per cent of Canadians are willing to pay for news online.)
In the Carleton survey 13 per cent of those under 30 said free access now would lead them to subscribe in future and an additional 30 per cent said maybe.  Agreement with the statement declined as the age of respondents rose. The greater the education of respondents the more likely they were to consider subscribing in the future.
Not surprising perhaps there as overwhelming support for the decision of some news organizations to move COVID-19 news beyond paywalls with 87 per cent agreeing or strongly agreeing that it should free for all.
But when asked whether all news in general should be free of charge, 79 per cent of those surveyed either agreed or strongly agreed all news should be free with support declining marginally with the education level of respondents. The youngest age group (18-29) was least likely to agree but that still left three-quarters of that age group in agreement.
An almost identical total of respondents (80 per cent) were not subscribing to any news organizations prior to the outbreak of the pandemic. Those between 18 and 29 were outliers here as well, with 12 per cent subscribing to between two and five publications compared to the national average of eight per cent. In British Columbia 11 per cent of respondents had between two and five publications – highest in the country. Nine out of ten respondents neither purchased or cancelled a subscription since the pandemic began.
Despite a recent advertising campaign by news organizations seeking specific additional government assistance in the face of the collapse of advertising during the COPVID-19 pandemic, only slightly more than one thirds of respondents agreed with the statement that the industry is struggling to stay in business due to COVID-19.  There was no significant difference in agreement across age groups.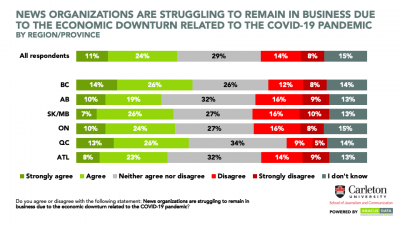 However, there were slight differences depending on where respondents lived with those in urban areas more sensitive to the financial problems of the media while those in rural Canada were somewhat less conscious of the problems the industry faces.
"That seems counter-intuitive," says Waddell, "as research shows most of the more than 200 closures of news organizations in the past decade have occurred in smaller communities, outside of major metropolitan areas."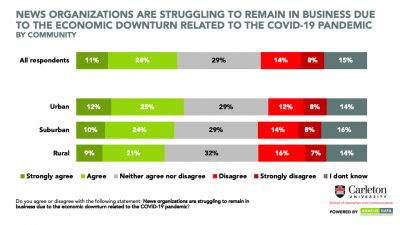 The survey also asked respondents to rate a series of factors they considered important in deciding which sources to rely on for COVID-19 news. Reliability of information was very important to 74 per cent with women rating it eight percentage points higher than men. The older the respondent and the greater their education the more likely they were to see reliable information as important.
'Relevance to where I live' was considered very important by 46 per cent, with only 36 per cent of those under 30 rating it as important. There were no significant differences between urban, suburban and rural respondents on the question. A similar percentage (46 per cent) of all respondents rated the cost of subscriptions as important.
Finally, only 20 per cent said it was very important that their news sources be compatible with their opinion and world view with a further 33 per cent stating it was somewhat important.
Survey methodology
The public opinion survey noted above is a project of the School of Journalism and
Communication at Carleton University funded by its Faculty of Public Affairs and supported by Abacus Data. A second phase of the survey will be conducted in early June, with a comprehensive report to follow.
The first phase of the survey was conducted with 2,000 Canadian residents from May 5-8, 2020.
The margin of error for a comparable probability-based random sample of the same size is +/- 2.19%, 19 times out of 20.
The data were weighted according to census data to ensure that the sample matched Canada's population according to age, gender, educational attainment, and region. Totals may not add up to 100 due to rounding.
For more information:
Christopher Waddell
Professor
School of Journalism and Communication
Carleton University
chris.waddell@carleton.ca
Thursday, May 28, 2020 in News Releases
Share: Twitter, Facebook