Thanks to the support of a community of donors, Tuesday, Dec. 3 – Giving Tuesday 2019 – was the greatest fundraising day in Carleton history.
Over 24 straight hours of giving, donors and volunteers raised $1.025 million for 76 crowdfunding projects, as well as scholarships, bursaries, varsity funds and other critical priorities. Those funds will be matched one-to-one by Carleton, meaning more than $2 million was raised for university projects in one day—a 70 per cent increase over last year's total and an incredible 60 times more than the first Giving Tuesday in 2013.
"Gifts started literally at midnight," said Jenna Hobin, engagement strategy advisor, who led this year's planning.
"By 12:05 a.m., more than $50,000 had been donated through the online FutureFunder platform. By 12:10 a.m., the total was over $100,000. It was clear that something exciting was happening."
"The FutureFunder model is powerful because it is fundraising for the community by the community," said President Benoit-Antoine Bacon.
"I want to thank all the great champions who lead projects and, of course, everyone who made a gift – what a great day for Carleton!"
Momentum continued through the night and a new wave of giving started at 8 a.m. At noon, Bacon invited the community to go even further by lifting the total cap on matching funds and pledging to match every gift made to Carleton that day.
That pledge sparked energy during the afternoon and into evening. Giving continued until literally the last minute. By the time clocks rolled over to Wednesday, there had been 2,190 gifts from close to 1,900 donors (some donors supported more than one fund). Gifts came from across Ottawa and all over the world – from New Edinburgh to New Zealand.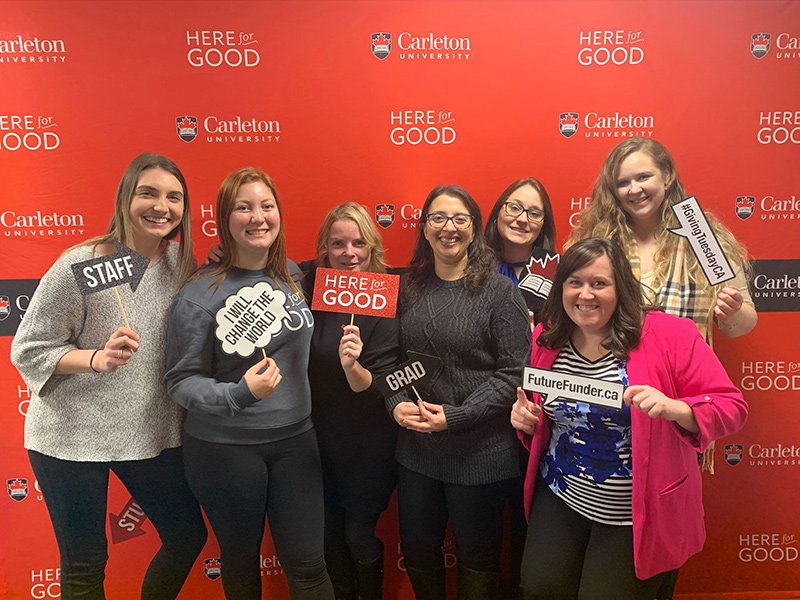 "FutureFunder project champions made all the difference," said Hobin. "They boost their projects through personal outreach and that means people they know, who might not have another connection to Carleton, were encouraged to make an impact. Supporters of the new Chicken and Boots bursary, which provides financial support for homeless or previously homeless youth, were featured on local media. They were out on Ottawa streets with signs asking people to donate, raising the profile of their project downtown."
Social media was crucial as well. Champions and supporters were encouraged to be active online; fun challenges enabled them to win various funding prizes. For much of the day, Carleton's hashtag #TogetherforGood was trending nationally on Twitter—a great boost to the university's profile in the giving community.
For more highlights, and to read some thank-you messages from project champions, visit FutureFunder.ca.
Thursday, December 5, 2019 in News Releases
Share: Twitter, Facebook