By Tyrone Burke
Photos by Chris Roussakis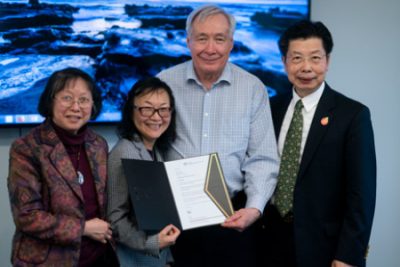 With a $14-trillion economy expanding at a 6.5 per cent annual clip, China is an economic powerhouse driving inexorably toward global economic primacy. Yet for Canadian startups, this massive market can be an enigma.
Relationships are critical to doing business in China. You need to have a network on the ground. A new partnership with the Asia-Pacific Professional Managers Global Network (APPM) will ensure that startups spawned from Carleton University's Technology Innovation Management (TIM) program, Global Cybersecurity Resource (GCR) and Lead to Win accelerator have access to one.
The partnership will connect startups to a network of more than 100 APPM chapters through China. It promises better access to capital, and an extensive network of dealmakers in the world's second largest economy.
"How long would it take you to find a trusted network in China when you're a startup?"  asks Tony Bailetti, director of the TIM program and founder of Lead to Win.
"Probably five years. Now, when you join the Lead to Win program, this is all part of it. You will have that on day one.  APPM's relationships are open to you, all you need is an application. You've got an app, through that app you find the people that are interested in it, and you're up and running".
The partnership launched May 4 at the Innovation Centre at Bayview Yards. Eight Ottawa companies pitched their businesses to APPM Chairman Peter Yip and Vice- President Vivian Chan. Together, the companies represented a cross-section of startups affiliated with the TIM, GCR and Lead to Win programs.
Two were mature companies with a client base that included major industry players, two were budding startups, and four were at more intermediate stages of their business plans. (six to 18 months) Some played to GCR's strength in cybersecurity, while others focused on e-commerce, data analytics and e-learning:
Cypto4A is an established provider of quantum-ready cybersecurity solutions.
Emrads provides enhanced threat intelligence, active security monitoring and advanced analytics.
FitFirst Shoes provides online shoppers with personalized feedback about how their feet will fit in brand-name shoes.
ForwardHop is an online marketplace for university-certified education and training programs.
Global-LTW provides access to tools and certificates of completion.
Transcend sells Yu-gi-oh cards and supplies.
WorkMonitor provides businesses with cybersecurity for online transactions.
Zighra uses behavioural biometric artificial intelligence to detect fraud and verify users in web and mobile applications.
After considering Montreal, Toronto and Vancouver as possible locations for their  Global Network's Canadian headquarters, APPM chose Ottawa. Their downtown offices will provide local tech startups with the opportunity to build relationships at home that can help their growth abroad.
"Around the world, relationships are important," says Yip. "But in Asia, they're especially important. It takes time to learn. Without relationships, many, many companies — even if they have a chance to do business in China — it's not easy to make money.  It's a totally different story there.
"We have trusted partners who have really good relationships with the government and the community. That's how to do business. Because if you find the right person, make sure that he or she is your key stakeholder, then you can start your business, and you can grow your business. That is what we are doing."
TIM, GCR and Lead to Win pride themselves on innovation, so it's fitting that their new relationship with APPM is uncharted terrain for Carleton.  The interdisciplinary TIM program began globalizing in earnest about five years ago after receiving a grant from FedDev Ontario to develop an approach to ensuring companies were "born global."  It adopted the mantra that they must grow early, rapidly and securely.
With more than 13 per cent of the world's total economic output originating in China, the odds of achieving rapid growth are much better if the Chinese market is part of a startup's plans.
"You don't do Ottawa, then Canada, then the Americas," says Bailetti. "That's bad thinking. You cannot grow quickly that way. To be global at the start requires us to have a different type of program, different types of students and different types of systems. We've been building that."
About half of the TIM program's enrolment is among international students and an additional advantage of the new relationship with APPM will be the deepening of  global ties.
"Entrepreneurs are the avant-garde relationship makers," Bailetti says.  "They're the first ones out the door to try to meet people and cut deals and make bridges. We're going to be part of that now, and not just in the traditional, 'I'm going to go to China' . . . Well, you go to Carleton right now." Some of them do and some of them don't.
"This is more of a 'we're going to make money because we work with you, and you're going to make money because you work with us' type of deal."
Tuesday, May 8, 2018 in Feature Stories
Share: Twitter, Facebook