It's not every day that the city dedicates a special day to a local university sports team. But the Carleton Ravens women's basketball squad is not your average group of varsity athletes.
The women posted a perfect 29-0 record in the regular season and playoffs en route to their first national title, sealed with a 69-48 victory over the University of Saskatchewan Huskies in Regina on March 11.
Mayor Jim Watson officially declared March 28, 2018 is Carleton University Ravens Women's Basketball Team Day in Ottawa.
Watson delivered the proclamation in the City Council chamber following a breakfast reception with the team and its staff at City Hall.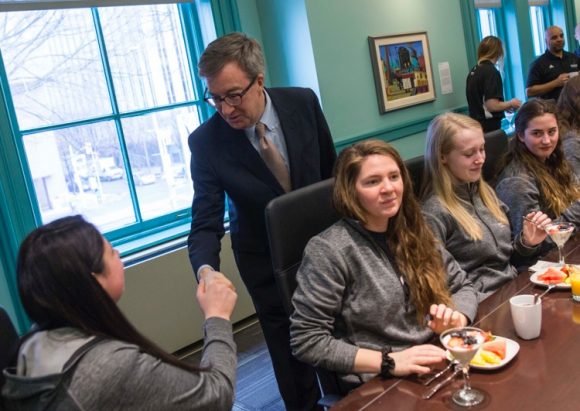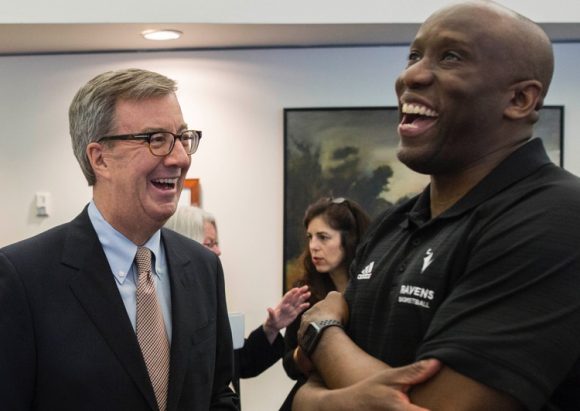 Here is the official proclamation:
"Whereas, Carleton University has over 29,000 students, faculty and staff and over 140,000 alumni worldwide who are part of the Ravens community and share this success; and
"Whereas, on March 11, 2018, the Carleton University Ravens women's basketball team won the U SPORTS National Championship title, their first national title in Carleton University women's basketball history; and
"Whereas, Taffe Charles was named the OUA and U SPORTS Peter Ennis Coach of the Year; Elizabeth LeBlanc named OUA and U SPORTS Defensive Player of the Year and Championship MVP; and Catherine Traer named U SPORTS Player of the Game and Championship All Star.
"Therefore, I, Jim Watson, Mayor of the City of Ottawa, do hereby proclaim March 28, 2018, Carleton University Ravens Women's Basketball Team Day in Ottawa."
Wednesday, March 28, 2018 in News Releases
Share: Twitter, Facebook