By Matt Gergyek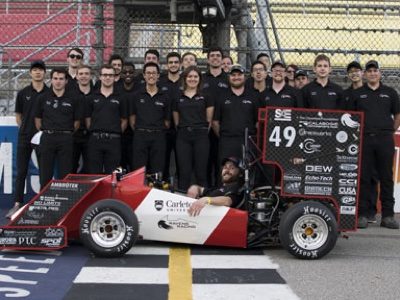 The Ravens Racing team, a group of about 25 Carleton University Engineering students, accelerated into seventh place at Formula SAE Michigan, marking the team's most successful competition to date and first top 10 finish.
"Formula SAE is an international design competition (where) we design and build small formula-style race cars (from scratch) to compete against other universities around the world," said Frank Sorensen, team lead of Ravens Racing.
For Sorensen, the landmark placement has been a long time coming. He first competed at Formula SAE Michigan back in 2013, where the team placed 97 out of 104 teams. This year, the results were dramatically different, to say the least.
"After all that time – to gradually work our way up and finally achieve that top 10 – was pretty satisfying," Sorensen said.
The competition ran from May 9 to 12 at the Michigan International Speedway in Brooklyn, Mich., and saw more than 110 teams from 11 countries vie for gold. The teams are assessed according to eight different racing and non-racing criteria, including cost, design, efficiency and acceleration, to assign a final overall score.
"It's definitely something more than going out and driving a go-kart you can buy pre-made,'' said Mike Forget, one of the team's main drivers. "Not without its challenges, but definitely worth it.''
Sorensen said one of the best parts of being part of the team is getting the chance to apply the skills he learns at Carleton.
"It takes the basics you learn in class and it really takes it to the next level . . .  It challenges how much you can apply your skills and how much you can push yourself to learn more."
The team returns to the racetrack for Formula North in Barrie, Ont., competing against 30 different teams from three different countries. The event runs from May 31 to June 3.
Monday, May 28, 2018 in Info Brief
Share: Twitter, Facebook