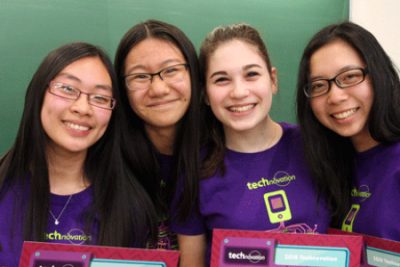 Carleton University will host the annual Ottawa Technovation Challenge Pitch Competition, featuring remarks by MP Catherine McKenna, minister of Environment and Climate Change, and Christiana Cavazzoni, chief transformation and information officer at Heritage Canada.
The pitch competition will bring together 38 teams from 24 Ottawa-area schools to make the case for taking their app-based product to the market.
When: Saturday, May 12, 2018, the formal portion of event is from 3 p.m. to 5 p.m.
Where: Theatre B, Southam Hall, Carleton University
Media are invited to attend.
The Technovation Challenge is a 12-week program where girls, ages 10 to 18, work to solve a problem in their community by developing an app and building a business. Paired with student mentors from Carleton's Technology Innovation Management (TIM) program and the University of Ottawa, as well as an industry mentor, students learn the basics of marketing and programming.
The event will feature expert panel participants Johanne Heald, engineer at the Canadian Space Agency, Suzanne Grant, chief executive officer of iBionics, and Kamal Dhanoa, chief executive officer of Adsaki.
Technovation in Ottawa is sponsored by IBM, Shopify, L-Spark, Adobe, You.i TV, Ericsson, Pythian and Carleton University, and is supported by the federal government.
Media Contact

Steven Reid
Media Relations Officer
Carleton University
613-520-2600, ext. 8718
613-265-6613
Steven_Reid3@Carleton.ca
Carleton Flipboard account: https://flipboard.com/@carletonstories/carleton-stories-0gbu905my
Follow us on Twitter: www.twitter.com/Cunewsroom
Need an expert? Go to: www.carleton.ca/newsroom/experts
Friday, May 11, 2018 in Media Advisories
Share: Twitter, Facebook