Carleton-managed initiative will help Ottawa students with disabilities achieve  entrepreneurial and employment goals
By Elizabeth Murphy
Photos by Josh Hotz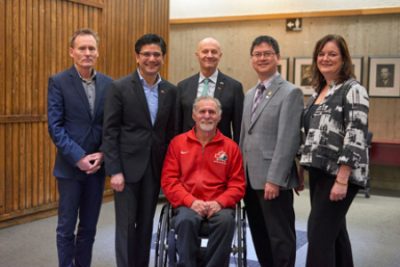 Ontario Attorney General Yasir Naqvi has announced that Carleton University's leadership role in accessible education and career readiness for students with disabilities will continue to grow with the $5-million David C. Onley Initiative for Employment and Enterprise Development.
Naqvi, MPP for Ottawa Centre and a Carleton graduate, announced details of the two-year initiative – a project of the Ministry of Advanced Education and Skills Development – on campus May 4.
"Carleton University, I think you all know and should be very proud, is a leading light among Canadian universities and post-secondary institutions for the work they are doing with students with disabilities," said Naqvi.
"We will be investing $5-million in the creation of the David C. Onley Initiative for Employment and Enterprise Development, right here at Carleton University, so that we can help more students with disabilities be successful once they graduate."
The initiative will assist students with disabilities at all Ottawa post-secondary institutions through support and mentorship for entrepreneurial development; employment support, including connecting students to employers; and one-on-one coaching and mentoring for students.
Carleton works to ensure accessibility for students through the Paul Menton Centre, which co-ordinates academic accommodations and support services for about 3,000 students with disabilities.
The Onley fund was the brainchild of PMC Director Larry McCloskey and Dean Mellway, acting director of the Research, Education, Accessibility and Design (READ) Initiative. Also closely involved in the project will be READ Chair Adrian Chan, Disabilities Specialist Boris Vukovic and Carleton's Career Services.
Carleton is also strongly committed to supporting entrepreneurship – from its business accelerator program Lead to Win and Minor in Entrepreneurship open to all disciplines to its new Master of Entrepreneurship offered by the Technology Innovation Management program.
"The money that is coming is actually for two years, but we have already started to look at ways that we can make that sustainable over a longer time – because what we learn from this we absolutely need to be able to continue," said Carleton Interim President Alastair Summerlee. "And so, Carleton will in fact be working very hard to make sure that this is not just a gift now – but its one that will last in perpetuity and that's the most important aspect of this."
Suzanne Blanchard, vice-president (Students and Enrolment), thanked the Ontario government for its welcome commitment and cited the hard work of the PMC team.
"We are committed to build on our status as Canada's most accessible university," she said, highlighting Carleton's success in raising the graduation rate of students with disabilities. The accomplishment led to looking at next steps in supporting students as they graduate.
"I think this program is going to give us a great kickstart in really pushing the envelope so that we can really make a greater difference – not only in the Ottawa community but across all campuses in Ontario,'' she said.
The announcement follows a recent provincial commitment of $800,000 from the Career Ready Fund to support creating the Carleton University Accessible Experiential Learning (CUAEL) project – an initiative that provides students with disabilities at Carleton opportunities to gain entrepreneurial or work experience during their studies.
The Onley fund will be managed and directed by Carleton in supporting student opportunities at Ottawa-area partners, including the University of Ottawa, Algonquin College and La Cité Collégiale.
"That links very nicely with a separate project we have been engaged in, that comes directly out of our Strategic Mandate Agreement, where we set up a working group between the four institutions that we're calling The Education City – where we will focus on educational pathways for students between colleges and universities," said Summerlee.
"There can be no better name for this fund than the David C. Onley fund,'' he said. "A man who is a remarkable individual in his own right, as the past lieutenant-governor of Ontario, an eloquent advocate for all people no matter where they are in their life or status, a man who has an absolute commitment to social responsibility and to improving the lives of Ontarians.
"Therefore, it is a real privilege for Carleton to have his name attached to this fund."
The university awarded Onley an honorary doctorate in 2011 in recognition of his advancement of disability issues.
Monday, May 7, 2018 in Info Brief
Share: Twitter, Facebook