Photos by Josh Hotz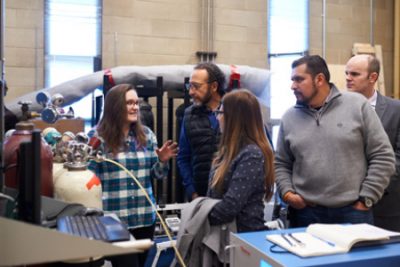 Good neighbours help when and where they can.
A delegation of 25 Mexican government officials, engineers, analysts and environmental experts recently began a week-long Canadian study tour at Carleton University to better understand how Canada is fighting climate change.
"This study tour contributes to the specific objective of black carbon reduction," said Michael Layer, Natural Resources Canada's (NRCan) team lead for oil and gas air issues research. "One of the main objectives is to support Mexico in implementing its contribution commitments to the Paris Accord."
The study trip, said Layer, was partly organized by NRCan to help Mexico reach their nationally determined contribution to diminish greenhouse gas emissions by 22 per cent. "They made the world's most ambitious commitment to reduce black carbon: 51 one per cent unconditional commitment to reduce black carbon by 2030."
To learn about Canadian research initiatives and see how they are applicable to the Mexican industry, the group began their tour with Matthew Johnson, professor in Mechanical and Aerospace Engineering and director of Carleton's Energy and Emissions Research Lab (EERL).
Johnson greeted the group on Monday, Feb. 5, 2018 to present several of his research initiatives before giving the delegation a tour of his flaring lab in the Canal Building. With the rapid proliferation of hydraulic fracturing technology in natural gas production around the world, flaring has risen dramatically in recent years. A key focus of his lab includes research to measure flare-generated pollutant emissions as part of finding ways to regulate and reduce their impacts on climate change.
Global flaring is believed to be a dominant source of black carbon deposition on snow and ice in the Arctic, which is created by the incomplete combustion of fossil fuels. Johnson pointed out that natural gas flaring has become "a dominant national issue" and the role of black carbon in health and global warming has focused international attention.
"How do we make sense of this to make this useful to government and industry?" asked Johnson. "It's one thing to measure this on any one site, but we need some deeper understanding. That's our key goal here: broader understanding on which to build models necessary for effective regulation."
Johnson's research also offers detailed technical analysis in support of regulatory policy, looking into potential ways for the oil and gas sectors to mitigate their broader greenhouse gas emissions.
He touched on several of his studies, including the one published in Environmental Science & Technology that used low-flying planes to measure methane above Red Deer and Lloydminster, both oil production zones. It was estimated that total methane emissions from natural gas and oil production in Alberta is 25 to 50 per cent higher than current federal estimates.
Both Canadian industry and government have responded productively to his findings by increasing monitoring and accelerating development of mitigation regulation.
Organized with the help of the Mexican government, Environment and Climate Change Canada (ECCC), the delegation tour included independent regulators, state-owned extraction companies, and governmental departments, including the Mexican ministries of Energy, Environment, and Natural Resources.
The study trip continued in western Canada, where the group met with regulators, producers and other members of the industry, as well as researchers at the University of Alberta in Edmonton.
Monday, February 12, 2018 in Info Brief
Share: Twitter, Facebook