By Elizabeth Murphy
Photos by Caleb Groeneweg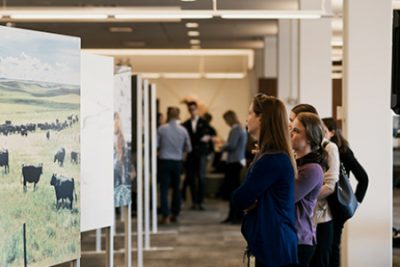 The travelling photographic exhibit To What Degree? Canada in a Changing Climate opened Thursday, March 1, at Carleton University's MacOdrum Library. The collection, created by Ingenium, an organization comprised of Canada's museums of Science and Innovation, features captivating photography that educates visitors on avenues of adaptation and resiliency in the face of a warming planet.
"At Ingenium, we believe in exploring climate change realities and in creating exhibitions and content that help us to connect people in Canada with these realities," said Christina Tessier, director general of the Canada Science and Technology Museum.
To celebrate the Carleton launch, Ingenium's Let's Talk Energy initiative hosted a panel discussion with the project's federal government partners. The experts, hailing from numerous departments – each with their own area of knowledge on climate change's impact on the daily lives of Canadians, discussed how the Government of Canada is responding to the challenge.
Panellists spoke to their departments' ongoing research on climate change and the importance of working across departments to share expertise on the multi-faceted issue.
"Adapting to one part of the climate change question and not addressing one of the others is not going to give us a solution that we can live with," noted panellist Christopher Jennings, director of the Climate Change Impacts and Adaptation Division of Natural Resources Canada.
The exhibit, a partnership between the federal government and Canadian Geographic, features 18 photo panels and a three-sided interactive pillar. With captivating photography, the exhibit collects compelling stories of Canadian resiliency in a time of change and discusses potential effects on Canadian livelihoods, habitat changes, scientific research needs and extreme weather events.
The gallery features topics ranging from the leadership of Indigenous people responding to climate change impacts in their communities and the risk of extreme hail to north-shifting wine regions as temperatures rise.
Panellist David Morin, director general of the Healthy Environments and Consumer Safety branch of Health Canada, discussed the need to provide centres of refuge, such as cooling zones or extended hours of public pools, in areas experiencing extreme heat events.
"These are all little things that could be put in place by municipalities in the local level to essentially mitigate or prevent, essentially, the ultimate impact of extreme heat events," he noted.
The exhibition is the second travelling climate collection Ingenium has produced. The first iteration focused on climate change impacts from a global perspective, while the current collectiontakes a Canada-specific approach to exploring this pressing issue.
The exhibit will remain open to the public in MacOdrum Library until mid-April.
Friday, March 2, 2018 in Feature Stories
Share: Twitter, Facebook