By Joseph Mathieu
Photos by Chris Roussakis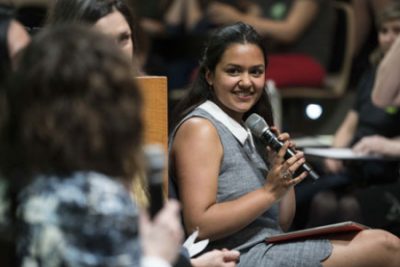 Who runs the world? Girls do.
That was clear at the fourth annual Ottawa Technovation Challenge Pitch Competition, where nine teams out of 38 Ottawa-area schools pitched empowering and innovative mobile apps in the finals at Carleton University.
The Technovation Challenge is a global mentoring and skill-learning program that gives girls the opportunity to learn basic coding, marketing and business development. After 12 weeks of product development and working with mentors, a Carleton theatre brimmed with excitement as the girls in elementary and high school made their final pitches to teachers, parents and judges.
"Whatever happens in the next hour and a half, you're all so awesome," said Jennifer Francis, regional ambassador for the Technovation Challenge.
Eden Nowiski, Maddison Leppard, Elizabeth Vroom, and Seyla Wickeramasinghe from Summerside Public School won gold in the elementary school category for a suicide prevention and mental health support app called 321Help. They created a free app to give teens a discrete way to seek help if they aren't comfortable speaking to someone they already know.
Sawmill Creek Elementary School students won silver for their informal language dictionary called SlangIt! The well-versed teens pitched themselves as experts who could help parents and children avoid miscommunication. The team from J. H. Putman Public School won bronze with Recipeazy, an app designed to help families find healthy food and learn inexpensive recipes.
"We have so many big challenges in the world, whether it's access to food, access to mental health services, climate change problems, equity problems, diversity problems," said  Environment Minister Catherine McKenna, who attended to cheer on the teams.
"There's a lot that we can find solutions for, and it makes me really happy to see that we have awesome girls here who are doing just that."
In the high school category, the gold-winning senior team from Colonel By Secondary School presented Doof as a solution for both food waste and food scarcity. Rica Qiu, Cherish Zhang, Divya Menon, Grace Gao and Shannon Cui pitched their idea to tackle the 1.3 billion tonnes of food thrown out annually around the world. Their easy-to-use app would help a wide range of people — parents, students and seniors —reduce food waste while helping those less fortunate in their communities through food bank donations.
The bronze medallists were also from Colonel By Secondary School. They created a virtual learning community called Lumen. Silver went to a group from St. Mother Teresa High School who created Eleos, a resource application for special needs families to find local services, activities and summer camps for children with developmental issues.
They attracted the attention of Christiana Cavazzoni, chief transformation and information officer at Canadian Heritage, who presented winning teams with their medals. As she encouraged all the girls to be ambitious and to find mentors, she addressed the four girls from Mother Teresa who had created the accessibility app.
"We should talk," she told them. "I'm always looking for creative thinking, and I don't have a youth advisory board."
Before the final pitches, McKenna introduced a panel of three women in science, tech, engineering, and math (STEM) careers who were interviewed by Lisgar Collegiate Institute student Aliya Frendo, a member of last year's Technovation Challenge gold winning team.
They explained how they started their careers and their current projects, and they gave advice to girls interested in STEM jobs.
Johanne Heald, engineer at the Canadian Space Agency, urged them to feel confident in taking on any challenge and in seizing opportunities as they come up, while the CEO of Ottawa-based marketing tool Adsaki, Kamal Dhanoa, said that every experience should be a formative one.
"I will guarantee you if you're shooting for the stars you're going to have some trouble, you're going to have some challenges," said Suzanne Grant, CEO of iBionics, a company that helps blind people see again through bionic transplants.
Taking stock of each success and failure can help, but she said the biggest piece of advice she could give to the girls in the room was: "If somebody complains that you're bossy, just don't listen."
Monday, May 14, 2018 in Info Brief
Share: Twitter, Facebook