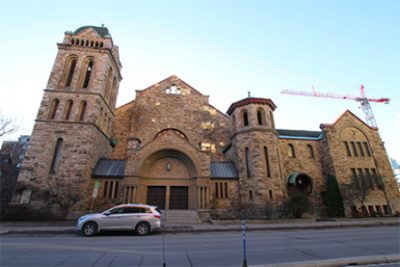 Carleton University is pleased to announce a $2-million gift in support of its new performance space in a renovated Dominion-Chalmers United Church complex in downtown Ottawa.
"We are very grateful to the Crabtree Foundation for this gift," says Carleton University Interim President Alastair Summerlee. "The Foundation's long commitment to education and community is inspiring, and the new performance centre will be a marvelous gathering place for students and will strengthen Carleton's roots of serving the community."
On May 24, 2018, Carleton's Board of Governors approved the purchase of the church for use as a multi-purpose performance space for Carleton students and faculty, and a hub for artists and community groups. Dominion-Chalmers is already home to one of Ottawa's best concert halls.
"We see this as an opportunity for our family's Foundation to support the entire Ottawa arts community," says Sandra Crabtree. "We are appreciative of Carleton's vision for the space and the university's commitment to helping the local community. Dominion-Chalmers has many wonderful facilities and our family is excited at what the future holds. My husband and I have attended concerts there and know how much the venue is loved by music enthusiasts and performers."
The Crabtree Foundation's gift will support renovations and Carleton looks forward to announcing additional support for the project.
"The university has long considered options to develop more space for its performance arts programming," says Summerlee. "The new performance centre will greatly expand opportunities for students in music, drama and other disciplines. Music students, for example, will have access to one on the city's best acoustic concert halls and numerous rehearsal rooms. This is an amazing time for Carleton."
The generosity of the Crabtree Foundation counts toward Carleton's $300-million Collaborate Campaign. This campaign is dedicated to Carleton's Here for Good ethos — raising funds so that together we can contribute more to the good of society, its economy and institutions, and the health and well-being of people around the world. Thanks to donors, the campaign is now more than 90 per cent of the way toward its goal.
About the Crabtree Foundation
The Crabtree Foundation is a private family foundation established in Montreal by Harold Crabtree. It subsequently moved to Ottawa where its operations have been based for the last thirty years. The Foundation's capital, the source of its grants, has been donated by family members. Its activities represent the philanthropic interests of the Sandra Crabtree and Gerald MacGarvie family. A number of the arts organizations who will use the Dominion-Chalmers facility have been supported over the years by their Foundation.
About Carleton University
Located in the nation's capital, Carleton University is a dynamic research and teaching institution with a tradition of leading change. Its internationally recognized faculty, staff and researchers provide more than 30,000 full- and part-time students from every province and more than 100 countries around the world with academic opportunities in more than 65 programs of study. Carleton's creative, interdisciplinary and international approach to research has led to many significant discoveries and creative works.
Media Contact
Steven Reid
Media Relations Officer
Carleton University
613-520-2600, ext. 8718
613-265-6613
Steven_Reid3@Carleton.ca
Carleton Flipboard account: https://flipboard.com/@carletonstories/carleton-stories-0gbu905my
Follow us on Twitter: www.twitter.com/Cunewsroom
Need an expert? Go to: www.carleton.ca/newsroom/experts
Tuesday, June 5, 2018 in News Releases
Share: Twitter, Facebook