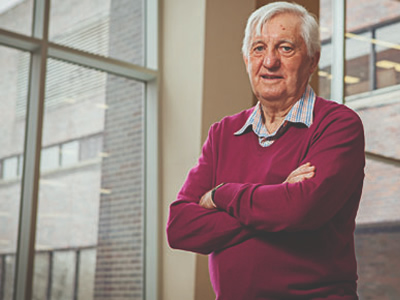 Carleton University's Fraser Taylor, distinguished research professor and director of the Geomatics and Cartographic Research Centre (GCRC), has received more than $44,000 from the Commission for Environmental Cooperation (CEC), to support work on encouraging environmentally responsible economic development.
"This grant represents a recognition of the important work of GCRC which now enters an exciting new phase in the international field," says Taylor. "We are the world's leading centre on cybercartography and the Nunaliit platform is a powerful open source platform used to build cybercartographic atlases.
"These atlases allow communities to tell their own stories. A cybercartographic atlas is totally different from a conventional atlas and is a metaphor for all kinds of qualitative and quantitative information linked by location and presented in multimedia and multi-sensory form. Innovative community storytelling is at its heart."
The Nunaliit platform project had previously been awarded $123,000 from the Social Sciences and Humanities Research Council.
The CEC received more than 300 applications, with just nine selected: three in Canada, three in the United States and three in Mexico. Taylor's grant is the only one involving co-operation between Canada and Mexico.
The project will install the Nunaliit Atlas Platform at CentroGeo, Infotec and Terra Peninsular and will train researchers, technical personnel and community members from Yuman communities, enabling them to document their traditional knowledge of the complex forest environment.
The GCRC is developing cell phone functionality for Nunaliit so that local people can input knowledge directly and use the atlas in their own communities. This will contribute to better outcomes for projects already under way at Terra Peninsular involving Indigenous knowledge of forest pests and their impact on environmental conservation in Baja California, including the impact on local economic activities and overall sustainability of the forest environment.
The CEC Council, composed of environment ministers of Canada, Mexico and the United States, choose innovative community projects across North America to receive grants under the CEC's North American Partnership for Environmental Community Action (NAPECA) program.
The grants are part of an effort to support and highlight the importance of small, local initiatives in addressing environmental issues and creating a shared sense of responsibility for stewardship of the environment.
"Behind each of the organizations selected for NAPECA is an inspiring group of people committed to making a difference for the environment," said César Rafael Chávez, CEC executive director. "We are proud to support local organizations across North America that are making a tangible impact in their communities."
 About the CEC
The Commission for Environmental Cooperation (CEC) was established by the governments of Canada, Mexico and the United States through the North American Agreement on Environmental Cooperation, the environmental side agreement to NAFTA. An intergovernmental organization, the CEC brings together citizens and experts from governments, nongovernmental organizations, academia and the business sector to seek solutions to protect North America's shared environment while supporting sustainable economic development. Find out more at: www.cec.org.
About NAPECA
The North American Partnership for Environmental Community Action (NAPECA) was created by the Council of the Commission for Environmental Cooperation (CEC) to support North American-wide environmental efforts through partnerships with a broad base of hands-on groups and organizations in communities throughout Canada, Mexico and the United States. The projects will play an important role in achieving the CEC's priorities by supporting healthy communities and ecosystems, encouraging activities that address climate change through the transition to a low-carbon economy, and advancing innovative projects that could assist in greening the economies of the three countries.
Media Contact
Steven Reid
Media Relations Officer
Carleton University
613-520-2600, ext. 8718
613-265-6613
Steven_Reid3@Carleton.ca
Carleton Flipboard account: https://flipboard.com/@carletonstories/carleton-stories-0gbu905my
Follow us on Twitter: www.twitter.com/Cunewsroom
Need an expert? Go to: www.carleton.ca/newsroom/experts
Wednesday, January 3, 2018 in News Releases
Share: Twitter, Facebook