By Ellen Tsaprailis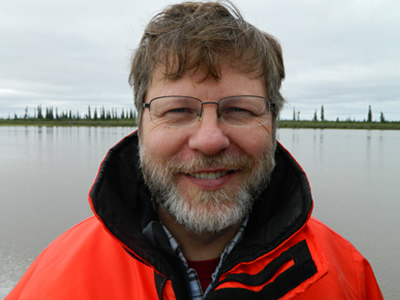 Carleton University Chancellor's Professor Chris Burn was awarded the rare designation of a Higher Doctorate of Science (DSc) in Geography from Durham University in the United Kingdom on Thursday, Jan. 11, 2018.
The university located in Durham, England has awarded just 10 higher doctorates since 1999. Its Geography Department consistently places among the top 10 in the world in the QS World University Rankings.
"The award of a DSc from a British university is a great academic honour and is only earned on the recommendation of international examiners,'' said Burn. "Since Durham has one of the best departments of Geography in the world, it is a truly distinctive recognition of the research I have been able to undertake since 1992 at Carleton. It is a reflection of the supportive and happy working environment I have enjoyed in our Department of Geography and Environmental Studies and the excellent graduate students with whom I have worked.
"I was able to receive the DSc because my first degree is from Durham, and through this process I have renewed academic friendships with members of that department which will lead to further joint projects."
According to the U.K. Council for Graduate Education, a higher doctorate is an award that is at a level above a PhD.
"Carleton is pleased to have one of our outstanding researchers and scholars recognized in this distinctive manner," said Dean Wallace Clement in the Faculty of Arts and Social Sciences.
"A DSc is an earned higher doctorate, awarded in recognition of a body of work that has been submitted for examination. This comprised over 100 papers and two books.
"The higher doctorates are like the old doctorates of the medieval ages, for superior distinction."
Burn is the supervisor of Carleton's new Northern Studies graduate programs. He held an NSERC Senior Northern Research Chair at the Department of Geography and Environmental Studies from 2002-'12.  He came to Canada in 1981 as a Commonwealth Scholar and completed both a master's (Geography, 1983) and PhD (Geology, 1986) at Carleton.
Burn's primary research focus is on field investigation of permafrost environments in northwest Canada. He credits his 28 years of work with Canada's foremost expert on permafrost, J. Ross Mackay, who taught Burn to emphasize field investigations.
"I have also been fortunate to work since 1997 with Douglas Esagok of Inuvik, who has a unique ability to relate Indigenous knowledge to western science," said Burn.
"These two people have enhanced the research in terms of their vast knowledge of the western Arctic and have enabled me to place the detailed studies I have conducted at several sites in a broader context both in time and in space."
Friday, January 12, 2018 in Info Brief
Share: Twitter, Facebook