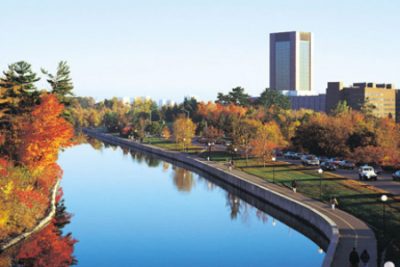 Carleton University will announce its 2018-2021 Energy Master Plan – the second phase of its sweeping multi-year sustainability strategy launched in 2014.
Darryl Boyce, assistant vice-president (Facilities Management and Planning), will provide an update on the university's progress and announce what the future holds for energy conservation measures at Carleton.
When: Thursday, May 17, 2018, from 11 a.m. to noon
Where: Atrium, Richcraft Hall, Carleton University

Media are invited to attend.

The announcement will outline Carleton's key energy sustainability goals and projects for the years to come – informed by the results of a comprehensive review of Carleton's utility data and projected campus growth.
Luis Rodrigues, vice-president and general manager of the Energy Services Group at Honeywell, will speak about Honeywell's partnership with Carleton.
Carleton has a strong commitment to environmental sustainability. Recently, its food court was recognized for having achieved a zero waste facility.
Media Contact

Steven Reid
Media Relations Officer
Carleton University
613-520-2600, ext. 8718
613-265-6613
Steven_Reid3@Carleton.ca
Carleton Flipboard account: https://flipboard.com/@carletonstories/carleton-stories-0gbu905my
Follow us on Twitter: www.twitter.com/Cunewsroom
Need an expert? Go to: www.carleton.ca/newsroom/experts
Tuesday, May 15, 2018 in Media Advisories
Share: Twitter, Facebook