By Ellen Tsaprailis
Photos by Justin Tang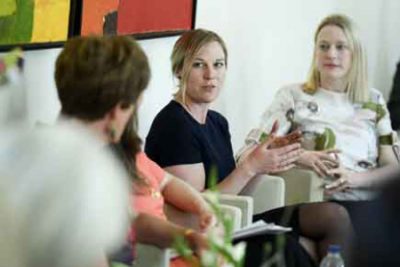 The Carleton Initiative for Parliamentary and Diplomatic Engagement (CIPDE) and the ambassador of Germany to Canada, Sabine Sparwasser, hosted an expert panel Women in International Trade: Driving Economic Empowerment and Growth on May 7, 2018 at the German Embassy Residence.
Ambassador Sparwasser told the audience of more than 100 members of Parliament, the diplomatic community, senior government officials, political staffers, business representatives and Carleton faculty and students that gender equality is a main priority for the G7 and the Canadian and German governments.
Women compose a mere six per cent of executive positions and run only one-third of companies, she said. Those numbers fuel the World Economic Forum position that it will take 217 years to close the gender gaps worldwide.
MP Pamela Goldsmith-Jones, parliamentary secretary to the minister of International Trade, noted that the government is planning its largest-ever trade mission for women and advocated for more programs to help facilitate women entrepreneurs. Currently, women contribute 30 per cent of Canada's GDP, but Goldsmith-Jones said equality within businesses would add another $150 billion to Canada's GDP in five to six years.
When asked by CIPDE Director Maureen Boyd, who moderated the panel, how to get more women-owned businesses to export, Chief Trade Commissioner of Canada Ailish Campbell called for mainstreaming women into programs, trade missions, exporter conferences, outreach, tradeshows and CEO roundtables.
"Only 11 per cent of those female-owned businesses export," said Campbell. "When women are in the right places, good things happen."
Said CEO of OMX Nicole Verkindt: "I've always thought that procurement is the most powerful lever that government and corporations have."
The panellists agreed that persuasion would not be enough to close the gender gap and it is necessary to set quotas and hard targets. When asked by Boyd if trade negotiations that focus on gender are different than genderless negotiations, Carleton Prof. Meredith Lilly responded.
"Trade negotiations that have a gender chapter are very different than trade negotiations that think about gender throughout," said Lilly. "I would like to see women not treated as chapters at the end of a trade agreement but instead (that) gender be addressed much more fundamentally throughout'' to ensure there are hard targets allowing women access to temporary entrance provisions, financial services and procurement programs.
Wednesday, May 9, 2018 in Feature Stories
Share: Twitter, Facebook