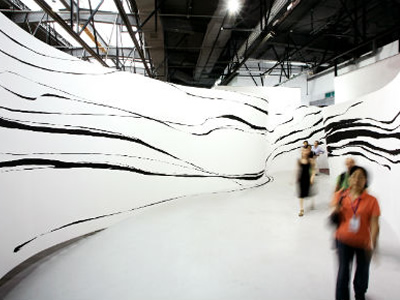 The Carleton University Art Gallery (CUAG) is hosting a reception celebrating the opening of three winter exhibitions: Robert Houle: Pahgedenaun, Sun K. Kwak: Untying Space_CUAG and Linda Sormin: Fierce Passengers.
When: Monday, Jan. 15 2018, from 5:00 p.m. to 7:30 p.m.
Where: CUAG, St. Patrick's Building, Carleton University
Info: This event is free and open to everyone. CUAG is a fully accessible space, with barrier-free washrooms and elevator.
"We are honoured to be opening three distinct and powerful solo exhibitions," said Sandra Dyck, CUAG's director. "Sun K. Kwak's monumental and ephemeral wall "drawing" in Untying Space_CUAG activates the inertia of architectural spaces. The sculptor Linda Sormin explores states of uncertainty, upheaval and change in her ambitious installation, Fierce Passengers. Robert Houle's extraordinary works in the exhibition Pahgedenaun embody acts of truth-telling, survivance and healing."
Background
Robert Houle: Pahgedenaun
Curated by Sandra Dyck
January 15 – April 29, 2018
Pahgedenaun brings together recent drawings and paintings by the Saulteaux artist Robert Houle, grounded in his memories of the traumas he experienced as a child, while attending the residential school located in his home community of Sandy Bay First Nation. Houle has said that it is sometimes difficult to be an artist, because it makes him feel so deeply. At the same time, he attributes his survival to artmaking, which has long afforded him a means of expressing what residential school sought to extinguish in him.
Sun K. Kwak: Untying Space_CUAG
Curated by Euijung McGillis
January 15 – April 29, 2018
For the Korean artist's first solo exhibition in Canada, she has used black masking tape to create a poetic and site-specific "Space Drawing" on CUAG's mezzanine level. Kwak's complex, fluid compositions weave their way through the architectural grid. She understands these monumental, performance-based works as extensions of herself.
This exhibition is generously supported by the Korean Cultural Centre and Shurtape.
Linda Sormin: Fierce Passengers
Curated by Heather Anderson
January 15 – April 29, 2018
The Bangkok-born Canadian sculptor has radically transformed CUAG's high gallery with a massive ceramics-based installation evoking a ship's dry dock. Sormin is attentive to how we seek stability in the midst of chaos and transition, how we might pause during times of upheaval, and how we hold onto the familiar through experiences of migration and change.
For more information on these exhibitions, please go to cuag.ca.
Media Contact:
Steven Reid
Media Relations Officer
Carleton University
613-520-2600, ext. 8718
613-265-6613
Steven_Reid3@Carleton.ca
Carleton Flipboard account: https://flipboard.com/@carletonstories/carleton-stories-0gbu905my
Follow us on Twitter: www.twitter.com/Cunewsroom
Need an expert? Go to: www.carleton.ca/newsroom/experts
Wednesday, January 10, 2018 in Media Advisories
Share: Twitter, Facebook