By Dan Rubinstein
Photos by Chris Roussakis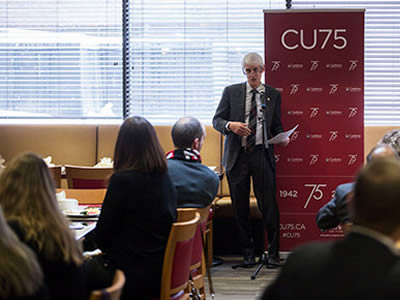 Contributions by members of the Carleton community who helped the university celebrate its 75th anniversary in 2017 were recognized at the Carleton University 75th Anniversary Volunteer Thank You Breakfast at Bakers restaurant on Jan. 18.
"It was a really fantastic year in so many ways," said Vice-President (Academic) Jerry Tomberlin, chair of the 75th Anniversary Steering Committee. "Thank you for all of the support you gave to Carleton. Our anniversary celebrations would not have been possible without the energy of all the people in this room."
The university hosted nearly 80 anniversary events last year. More than 60 were initiatives spearheaded by Carleton faculties, schools, and academic and administrative departments, while external groups hosted another 15 or so special events, such as international and national conferences, which brought thousands of visitors to campus, showcasing Carleton's superb facilities and community spirit.
In addition to the 75th anniversary events, four academic departments celebrated milestone anniversaries in 2017: It was the 75th anniversary of French Studies at Carleton, the 60th anniversary of the School of Indigenous and Canadian Studies, the 50th anniversary of Law and Legal Studies, and the 50th anniversary of Music at Carleton.
It was also the 75th anniversary of Accounting at Carleton, noted Tomberlin, former dean of the Sprott School of Business.
Tomberlin mentioned some of the highlights of the 75th anniversary celebrations, including the kick-off event in the University Centre with former Carleton student Maestro Fresh Wes, the godfather of Canadian hip hop; the gala Founding Day reception at the Fairmount Chateau Laurier; the creation and unveiling of a birchbark canoe built by Indigenous and non-Indigenous students; and the special citizenship ceremony for new Canadians held in Richcraft Hall.
Looking to the future, Tomberlin noted that Ontario's Ministry of Advanced Education and Skills Development recently approved Carleton's new Strategic Mandate Agreement (SMA), a document that addresses how the university will differentiate itself from other Ontario universities and stabilizes our enrolment and funding for the next three years.
The SMA also details how Carleton will collaborate with other post-secondary institutions, including Algonquin College, La Cité Collégiale and the University of Ottawa, which is part of the university's effort to play a leadership role in Eastern Ontario and work with post-secondary, government and community partners to help drive the region's economic development.
This spirit of partnership is evident on campus in the ARISE project, which is creating a new home for collaborative applied research in clean technology, health technology and information and communication technology.
On the new building front, Carleton is getting closer to officially opening the Health Sciences Building, where faculty and students from the Health Science and Neuroscience programs will work together to improve health outcomes from people across Canada and around the world. Construction will soon begin on the Nicol Building, a new home for the Sprott School of Business.
Carleton is also moving toward a purchase agreement for the Dominion-Chalmers United Church. This historic church in downtown Ottawa will be used as a multi-purpose performance space for Carleton students and faculty, and will serve as a new hub for artists and community groups, enhancing the university's already strong connections to the Ottawa community.
Tomberlin ended his speech by announcing the Carleton community has once again come together to meet the needs of students and re-affirm its commitment to be "Here for Good" with a new Carleton University 75th Anniversary Scholarship, which will be endowed at $75,000.
There will actually be two new scholarships, one awarded annually to an undergraduate student entering or continuing in any program of study at Carleton, and the other awarded annually by the Dean of Graduate and Postdoctoral Affairs to an outstanding graduate student entering or continuing in any program of study.
These have been endowed through the support of the Carleton University Alumni Association, corporate partners such as Manulife Financial, alumni donors, and the Board of Governors, which will provide matching funds.
To thank volunteers for their anniversary contributions, the Ottawa 150 book titled O Canada! A Celebration of 150 Years was handed out.
Thursday, January 18, 2018 in Info Brief
Share: Twitter, Facebook